The Skinny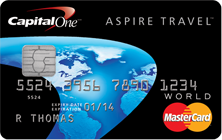 Capital One Aspire World Mastercard Application Link (Get $75 from Great Canadian Rebates)
The Capital One Aspire World Mastercard is probably the best credit card in the Canadian marketplace for general spend (ie in categories that don't earn a bonus) when used properly. This card can yield a 2% return on spending and has benefits in line with a higher level card. The annual fee is modest as low as $20 (net of the annual bonus).
Earning Rewards – Simple 2 pts / dollar spent
Redeeming Rewards – Based on a travel redemption schedule. Split your travel purchase such that the statement shows charges just below the thresholds ($150, $350, $600) or above $600 to extract maximum value.
Strategies for getting the right amount charged:
Split charge when booking on www.flyporter.com
Request multiple charges when checking out of hotels
Buy gift cards for airlines and hotels
Capital One Aspire World
| | |
| --- | --- |
| Type: | Mastercard |
| Rewards: | 2 pts / dollar on all purchases |
| Annual Fee: | $120 |
| Annual Bonus: | 10,000 pts (~$100) |
| Sign-up Bonus: | 35,000 pts (~$350) 5/2015 Lowered to 10,000 ($100) |
| Point Value: | 1 pt = ~$0.01 towards travel (when used properly) |
Overview
The Capital One Aspire World Mastercard is one of my favorite cards in the Canadian credit card marketplace. This card can yield a 2% rate of return on all purchases if you understand the reward redemption structure and do a little planning before redeeming your rewards.
The card has the insurance coverages in line with premier level cards and the annual fee of $120 is offset with an annual bonus of 10,000 Rewards Miles. When redeemed properly, these can be worth $100, reducing the annual fee to only $20. Furthermore it is a Mastercard which means it is accepted pretty much everywhere.
This card, although it is considered a travel rewards card, should really be thought of more as a cash back card where the returns will vary based on how you put charges on your card. The connotation of a travel points card is that you are earning points that can be redeemed for travel at a discount. The rewards of this card will be used to reimburse you for travel charges made to your card, but will not help you to buy travel at a discount in the way that Aeroplan or Delta Skymiles might.
Rewards
The Capital One Aspire World Mastercard is a card that is marketed as a travel card. With this card, the points you earn (Capital One Rewards Miles) are going to be used towards travel purchases with a specific redemption schedule.
This is one of the cards where you really don't have to put in much thought when earning your points, but your earnings can be dramatically affected, depending on how you redeem your points.
Earning Rewards
Earning rewards with the Capital One Aspire World Mastercard is very simple. You earn a simple 2 Rewards Miles for every dollar you spend. There are no opportunities to earn any extra Rewards Miles outside of spending.
Redeeming Rewards (for travel)
There really is only 1 good way to redeem your Capital One Rewards Miles and that is for a statement credit against a "travel" purchase. There is a specific redemption schedule here and it is very important to be aware of how it works. I'll show you how to ensure you are gaining maximum value from your points by structuring your travel purchases appropriately. As I mention below, a "travel" purchase is any charge coming from a travel provider, including hotels and their restaurants.
The non-travel options are significantly less valuable. The merchandise redemptions are generally severely overpriced as are the gift card options. The cheque / statement credit options are not nearly as lucrative as the travel redemption, but these at least set the minimum that you should ever redeem your points for. If you are looking to use the rewards from this card for one of these options, you should consider a different card, such as the Capital One Aspire Cash Mastercard instead.
Pointster's Pointer: If you are actually looking to redeem your Rewards Miles for a gift card, you would almost definitely be better off redeeming your Rewards Miles for a cheque / statement credit (or for a statement credit against a travel purchase if you have a travel purchase) then using that money to buy the gift cards as you will be better off.
How Travel Redemption Works
Travel purchases are things such as charges from airlines, hotels, car rental places etc. To redeem your miles, you make a travel purchase to your credit card. When that charge shows on your online banking (or your statement), you inform Capital One that you are interested in redeeming your Rewards Miles against this purchase. There is an online interface that allows you to do this and clearly shows how many Rewards Miles it will cost to "pay for your travel". In reality this works out to a statement credit for the value of your purchase. Note that sometimes, you can claim your charge was for multiple airline tickets or for multiple nights at a hotel or multiple tickets (as noted below for the subway tickets) and you can redeem for part of the charge that way.

The travel redemption schedule is shown below. This is based on the entire charge to your card, and is independent of what the breakdown of the taxes and fees are. It is purely based on the charge that shows up on your statement. Understanding how to structure your charges will benefit you greatly here.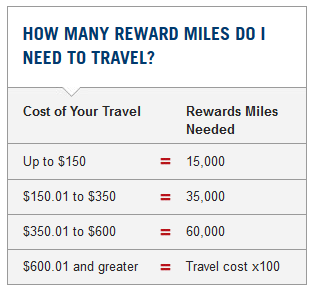 If you notice, there are a few tiers here and the bands are very large.
If you have a charge of $149.99, that is going to cost you 15,000 Rewards Miles, giving you a redemption rate of 1 Rewards Mile for 1 cent of value. Given that you earn 2 Rewards Miles per dollar spent, you would get a final cash back rate of 2% on your spending if you redeem at this rate.
If you have a charge of $150.01, that is going to cost you 35,000 Rewards Miles, giving you a redemption rate of 1 Rewards Mile for 0.42 cents of value, which is significantly worse.
Pointster's Pointer: If you must redeem your Rewards Miles for a charge of just under $300, you should tell Capital One that it represents 2 charges of $150 each. This way you can redeem 15,000 miles each, for a total of 30,000 miles, as opposed to 35,000 miles for the aggregate.
Here is a breakdown of your returns depending on the value of the charge that you want to redeem against.
| Travel Charge | Rewards Miles Required | Redemption Rate (cents per Rewards Mile) | Credit Card Cash Back Rate |
| --- | --- | --- | --- |
| $100.00 | 15000 | 0.66667 | 1.33% |
| $150.00 | 15000 | 1.00000 | 2.00% |
| $200.00 | 35000 | 0.57143 | 1.14% |
| $250.00 | 35000 | 0.71429 | 1.43% |
| $300.00 | 35000 | 0.85714 | 1.71% |
| $350.00 | 35000 | 1.00000 | 2.00% |
| $400.00 | 60000 | 0.66667 | 1.33% |
| $450.00 | 60000 | 0.75000 | 1.50% |
| $500.00 | 60000 | 0.83333 | 1.67% |
| $550.00 | 60000 | 0.91667 | 1.83% |
| $600.00 | 60000 | 1.00000 | 2.00% |
| $650.00 | 65000 | 1.00000 | 2.00% |
Getting the Appropriate Charge on Your Statement
Given that we are trying to get the most return for our spend, we want to structure our charges so that they fall just below the threshold. It is important to try to figure out how to get your travel provider to split your expense into 2 charges. I find this is easiest to do when your airline booking engine allows for this or your hotel allows you to put a deposit in the amount you wish. The strategies that I find easiest are:
Dine at a hotel restaurant
Book Porter flights at Flyporter.com
Buy gift cards from hotel chains or airlines
Request your hotel or car rental company to split your charge upon checkout
Dine at a Hotel restaurant

I think the easiest way to get maximum value from this and get the appropriate charge on your statement would be to dine at hotel restaurants. This method requires very little effort beyond understanding how the system works, and does not require doing anything slightly out of the ordinary.
I recently dined at the Ruth Chris restaurant in Niagara Falls, which is a part of the Sheraton Niagara Falls. I noticed this charge show up as travel / hotel charges and eligible for travel redemption. This seems like the most obvious way to set the charge to your credit card to be exactly what you want it to be. At restaurants, the waiter literally brings you a credit card machine and asks you to select the tip and define the amount to charge to your card.
What I would do is apply this whenever I have a dining charge in the range of $130 – $150, prior to tip. I would just add the tip to the bill to make the total charge at $149.99 (so that shows up on my statement) and pay the balance of a tip in cash. Alternatively, you can just request a waiter to split the charge. They usually oblige. Whenever I would get 15000 points, I can just pull the rewards out as a $149.99 statement credit against one of those hotel restaurant charges.
Booking flights on Porter Airlines
When you book a flight on Flyporter.com, and go through to check out, you are literally forced to indicate how much you want to charge to each method of payment. If you are booking a flight for $185 for example (and you want to redeem your miles for a $150 statement credit), you should make a charge for $149.99 to your Capital One Aspire card and then make a charge for the balance. You can even make the charge for the balance on your Capital One Aspire card.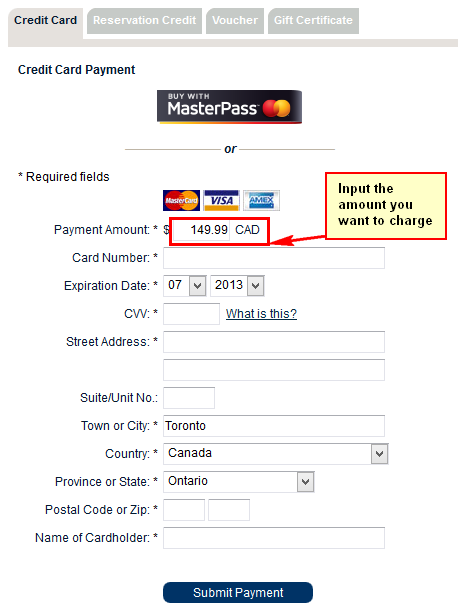 Request a Split Charge
When you check out of a hotel or return your rental car, often your credit card has not been charged. You can usually request that your charge be split in the exact amount that you want
Buy Gift Cards from Hotel Chains or Airlines
If you buy gift cards from hotel chains and airlines, you can ensure that you have the appropriate charge made to your card. You can buy 1 gift card of $150 from Air Canada (for example) and that would show up as a charge from Air Canada, and would qualify as a travel purchase.
Note, that the redeemability of the Rewards Miles is based on the place that charged your card, not the actual item purchased. Buying hotel gift cards from Shoppers Drug Mart will not qualify you for travel reimbursement.
Pointsters Pointer – If you are interested in this route, make sure that you do a test to make sure that the charge is from a travel provider (and not a 3rd party). I suggest buying a small gift and seeing if Capital One considers it a valid travel purchase before buying large amounts of gift cards.
Airline Gift Card Purchase Pages:
Westjet – Gift Cards Not Sold (discussion)
Delta – Gift Cards Not Sold
Hotel Gift Card Purchase Pages:
Rewards Comparison
I always like to use my "smell test" to see if any card is reasonable. I say that the standard earn rate should be 1.5% return on all purchases, since everyone can get that from the Capital One Aspire Cash Mastercard, with no annual fee.
This one is a pretty easy no-brainer if you are going to redeem your miles properly. Your annual fee would be $20, but you get a 10,000 bonus, which can be worth $100. Your annual fee is only $20, which means that you only need to spend $4000 to make this card worthwhile.
Annual Fees
The Capital One Aspire World Mastercard comes with an annual fee of $120. There is no additional user fee, which is nice.
That $120 annual fee is offset by a 10,000 mile annual bonus. If you use your miles properly then you can get about $100 of value from the annual bonus, making the annual fee close to $20.
The current sign up bonus is a whopping 35,000 Rewards Miles. This can be redeemed for $350 of travel, which is really a lot. I think that even if you have no intention of using this card, the signup bonus is a great reason to sign up.
Additional Benefits
This card comes with many of the benefits you would expect on a upper tier card, which is in line with the annual fee of $120.
Insurance Benefits
The Capital One Aspire World Mastercard comes with the following insurance coverages:
Travel Emergency Medical
Flight Delay
Travel Accident Insurance
Trip Cancellation
Baggage Loss
Car Rental Collision / Loss Damage Waiver
Trip Interruption
Baggage Delay
Travel Assistance
Price Protection
Extended Warranty
Purchase Assurance
Concierge Service
Zero Liability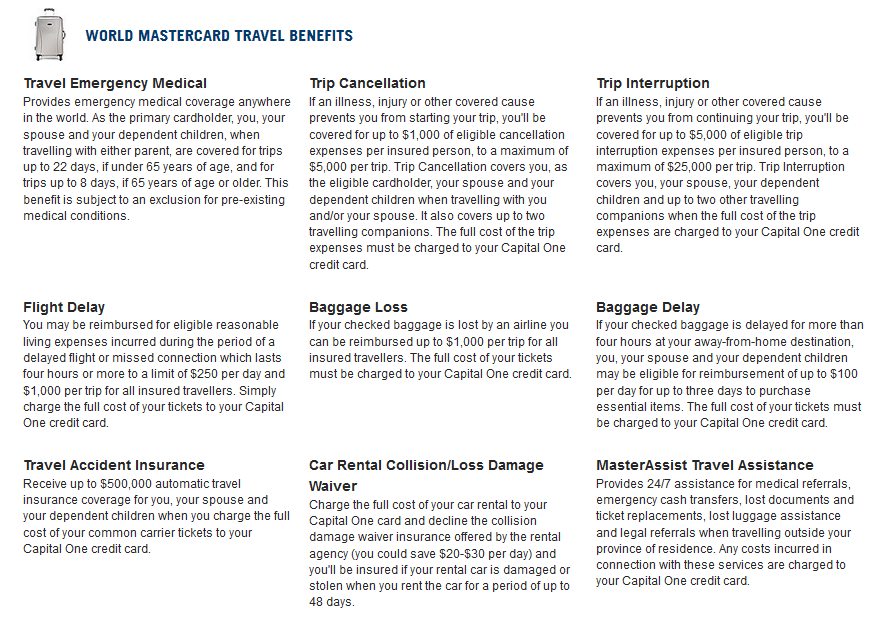 Conclusion
The Capital One Aspire World Mastercard is a great card if you are looking for a 1 card solution for all your purchases in Canada AND you are willing to do some work when it comes time to redeem your rewards.
If you are going to redeem your rewards in a suboptimal way, this card can end up being significantly worse than most other cards.
When redeeming your rewards, make sure to redeem them as close to the tier maximums as possible by getting the charges to be the correct amount. Split your travel charges by using flyporter.com, or requesting it at a hotel checkout. Also try buying gift cards in the right amount.
The Good
This card has a great earning rate or 2 Rewards Miles per dollar spent on all purchases. If you redeem your Rewards properly, by structuring certain travel charges appropriately, this card will yield as high as 2% back in the form of statement credits.
The sign-up bonus of 35,000 Rewards Miles can be redeemed for up to $350, which makes this card great just to try out. The travel insurance coverages are more than acceptable for a card of this level.
The Bad
The major knock on this card is that redeeming your rewards in an efficient way requires planning.  If you are not interested in splitting your travel charges or buying gift cards, for redemption, you might end up getting poor value for your rewards.
Capital One Aspire World Mastercard Application Link
Capital One, Credit Cards