This is an article in a series where I answer questions people pose to me about credit cards and travel.
This is part 2 of a 2-part series on lounge access:
The Skinny
Reader Barry wants to know how to access the lounges when he is flying a carrier other than Air Canada. He doesn't have status on any other carrier but sometimes flies on other carriers for work and would like lounge access then.
For Barry's specific situation, the best way to get access is by enrolling in a Priority Pass membership or the American Express Platinum Lounge or Airport Club programs. He can then access lounges regardless of which carrier he is flying.
In this article I talk about a few ways to actually access the lounges through memberships. In the next article I'll talk about the best ways to get that membership paid for through having the correct credit cards.
Lounges at airports are great ways to have some escape from the chaos of the airport terminal.
There are few ways to access the clubs including:
Flying on certain classes
Having status with a carrier
Purchasing a membership
Purchasing a day pass
There are a few different membership programs that will let you access the lounges. 2 of them are valuable to Canadians.
American Express Platinum Lounge Programs

Access both private lounges and airline lounges
Only available as a perk with certain American Express Platinum level cards
Priority Pass

Access to private lounges not affiliated with any given airline
Fees can be paid for as a credit card perk
Air Canada Maple Leaf Club

Access to Air Canada Maple Leaf lounges only when flying on Air Canada or Star Alliance flights
Scenario
I was recently in an email conversation with someone who wanted some help getting lounge access.
Barry asks:
Hello Pointster,

I currently travel quite regularly for work. I have accrued status on Air Canada, so I receive airport lounge access when I fly on Air Canada and other Star Alliance carriers. Of late, I have been put on a project that requires me to fly on Delta flights. Unfortunately, I don't have status on Delta to get me airport lounge access when I fly on Delta. Are there any ways for me to easily get lounge access when I fly on Delta flights even though I don't have status with Delta?

Thanks.
Thanks, Barry. I'll try my best to answer your question.
Short Answer
Let's digest this and figure out what he is really asking.
Question: Is there a way to access the lounge at the airport when you don't have status on the carrier you are flying with?
Answer: Yes. You can get lounge access as a benefit provided on some credit cards.
For the specific cards, please see the second part of this series. In this article, I'll comment on the lounges, and the programs that allow you to get access.
What is the value of the lounge access?
To the average person, who travels seldom, there might be a question as to the value of the use of the lounge. Personally, I have only had access to the lounge in Dubai and in Chennai when I went to India. In Chennai, the use of the lounge got me a significantly cleaner bathroom than the public one. In North America, this is generally not a problem, so personally, I might not pay too much for lounge access.
Although, for people who travel a lot, and need to be able to work in a relatively quiet area while waiting for their plane, the lounge can provide extreme value.
Here are some of the things that the lounge might provide someone:
Quiet place to work and make phone calls
Comfortable seating area
Business services (including printers and fast internet access)
Travel services, including flight changes and reminders when your flight is departing
Food and beverages
A less stressful environment than the chaotic airport terminal
Not all airport lounges are created the same. In fact, the Toronto Star recently wrote an article comparing the lounges at Toronto Pearson Airport.
Ways to access the lounge
To access the lounge on any given day, the blanket rule is generally that you must be flying that day on an eligible flight. For Air Canada lounge access, regardless of whether you have a lounge pass or not, you will not be eligible to access the Air Canada (Maple Leafs) lounge unless you are flying on an Air Canada plane that day.
There are several ways to access the lounges.
Have status with the carrier / alliance you are traveling with
Fly an eligible flight

Often those flying first class or business class might receive access to the lounge as part of the first class amenities

Purchase club access

Some have high upfront costs, with low cost per visit
Some have low upfront costs, with high costs per visit

Buy a single day pass

Some independent lounges sell passes by the day
Often guests of those with lounge access can buy a pass for a single guest
People sometimes sell single day lounge passes on reseller sites like craigslist or kjiji
Many credit cards will offer travel perks, including the purchase of lounge club access or a set number of day passes each year.
Different Lounge Programs
For Barry's situation, it looks like he gets Air Canada lounge access through his status and flying eligible flights. Unfortunately, since he sometimes flies on Delta, on those days, he is unable to access the Air Canada lounge.
For Barry, it is important to understand the different types of programs that exist that might get him lounge access. We know that Barry lives in Toronto, so we will focus on the ones that people in Toronto might want to access.
Here is a summary of the various programs that Barry might access:
Type
Which Lounges?
Annual Costs
Included Visits (Primary Member)
Subsequent / Guest Visits
American Express Platinum Lounge
Private Airport Lounges
$0
(incl. with some Amex cards)
Unlimited
$0
(up to 2 guests)
American Express Airport Club
Airline Clubs
$0
(incl. with some Amex cards)
Unlimited
$0
(up to 2 guests)
Priority Pass
Private Airport Lounges
$99
0
$27
Airline Specific Programs
Varies by airline
Platinum Club Program and Airport Club Program (American Express)
The Platinum Club and Airport Club programs are 2 lounge access programs that American Express offers to its best cardmembers. Basically these allow you access to the partner lounges by simply showing your Platinum American Express card. In general, the list of covered lounges is very long and includes most of the private lounges in Canada as well as the American Airlines Admirals Club location in Toronto .
The great thing about these is that they have partnered with so many lounges that you have your pick if you are flying. If you are flying on Delta, you can access the Delta lounge even if you don't have status with Delta or a membership with Delta's lounge program.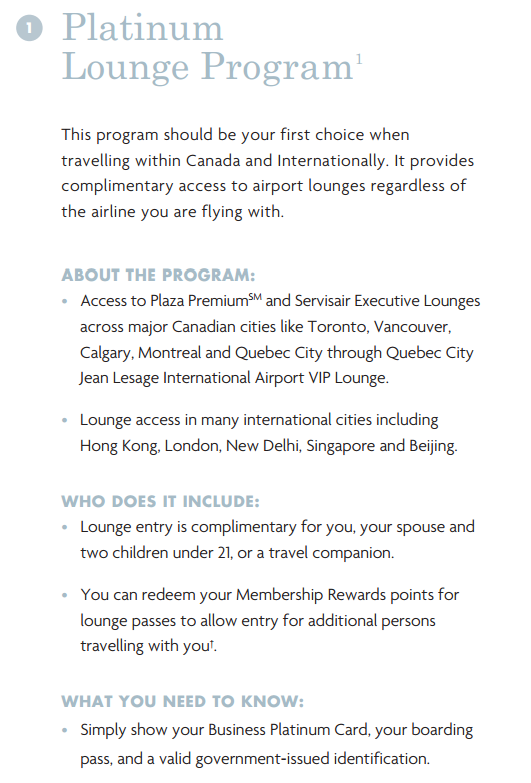 Priority Pass
Priority Pass is the largest independent airport lounge access program. For most major airports in North America and around the world, there are usually lounges that are supported by the Priority Pass Program. Within Canada, there are lounges in the following airports:
Toronto Pearson (YYZ)
Vancouver (YVR)
Calgary (YYC)
Montreal (YUL)
Edmonton (YEG)
Quebec (YQB)
There are 3 membership plans with Priority Pass:
| | Annual Fee | Number of Free Visits for Member | Cost of Guest Pass or Additional Member Pass |
| --- | --- | --- | --- |
| Standard | $99 | 0 | $27 |
| Plus | $249 | 10 | $27 |
| Prestige | $399 | Unlimited | $27 |
(all figures in USD)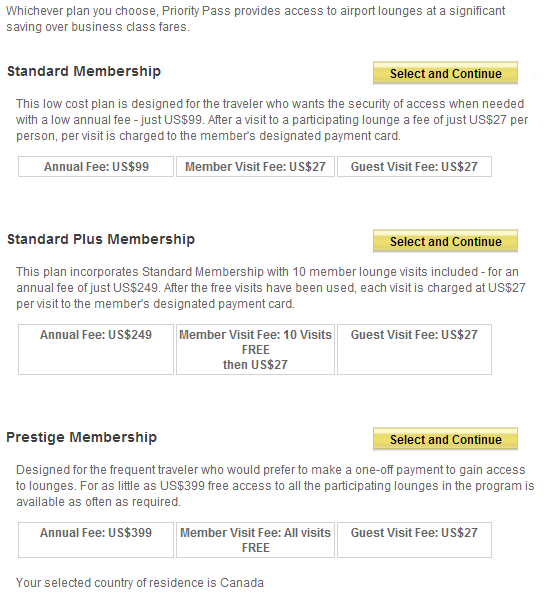 When credit cards offer lounge access as a perk, generally, they are paying for a membership in PriorityPass.
For Barry's situation, he might want to look at buying the Plus or Prestige membership in Priority Pass. In the next article, we will show how this cost can be paid for if you carry the correct credit card(s).
Air Canada Maple Leaf Club
The Air Canada Maple Leaf club is a program that is specifically dedicated to people who fly regularly on Air Canada and Star Alliance partners. For people who fly often enough to value access to the program
There are Maple Leaf lounges in every major (and most minor) airports in Canada including Toronto, Vancouver, Calgary, Montreal, Ottawa, Edmonton, Halifax, Quebec, Winnipeg.
They also have a few international lounges in New York (LGRA), Los Angeles (LAX), London (LHR), Paris (CDG) and Frankfurt (FRA).
There are 3 types of membership for Air Canada Maple Leaf Club: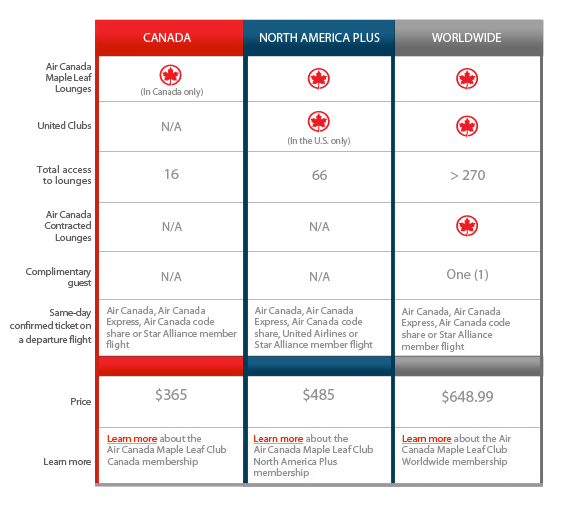 Barry already receives access to these lounges through his status as an member with Elite or Super Elite status with Air Canada. His Star Alliance Gold status should get him access when he travels internationally so buying up membership would not be the best
Other Airline Specific Clubs
In Canada, no other airline except American has specific lounges dedicated to them. They simply use the private, 3rd party lounges. Memberships in the airline specific programs will provide access to those. In general, these are almost always available through Priority Pass or American Express. In pretty much every case, Canadians would be better off buying a Priority Pass membership or getting the American Express Platinum Lounge benefits than an airline specific membership other than Air Canada.
Westjet
Westjet does not have any specific program, but does partner with specific lounges. These lounges and their rates can be found here. Rates start at $16.00 / day and go up from there. Also, access to these are only valid when flying specifically with Westjet.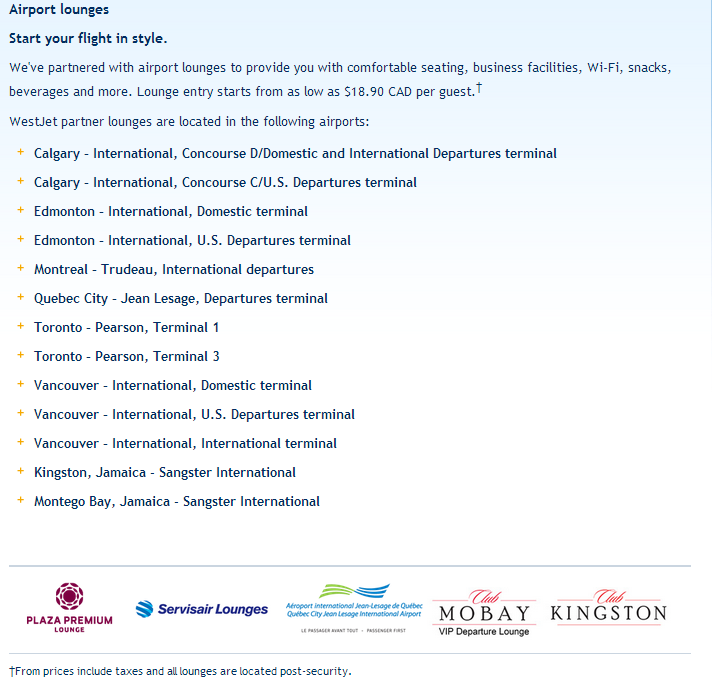 Delta Airlines Sky Club
Delta has a club program as well. For Barry, assuming he wanted a specific airline club membership, this would be the one to get as he flies regularly with Delta.
Delta doesn't have any of their own lounges in Canada. They simply partner with the private lounges in Toronto and Montreal. If you are traveling through any other city in Canada, this won't help you.
American Airlines Admiral Club
American Airlines has a club program where they allow access to the clubs for various membership fees.
With some lounges, any flight on that carrier is eligible for access to the lounge provided you have a pass. In the case of the Admiral Club, those who receive their access via the American Express Platinum card are required to have a revenue ticket (ie no award miles tickets will gain access to the lounge).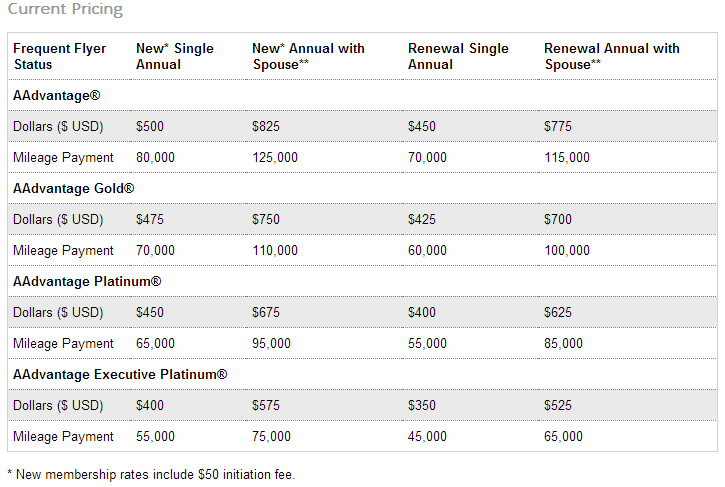 Something to note about these is that they are not nearly as abundant in Canada as the Maple Leaf Lounges. For example, the only airport in Canada that has one is Toronto Pearson.
United Airlines Club
The United Club program is probably not the best one to go with if you are a Canadian looking to travel. Since Air Canada and United are partners, generally access to United lounges can be achieved through Maple Leaf lounge access. The pricing is also higher for the United Club access than the for the Maple Leaf lounge. As a result, it would probably be better for those who are looking to buy United Club access to buy it through the Maple Leaf Lounge program instead (assuming it makes sense).
Other Airlines
There are other airlines who have lounge access programs, including US Airways and Alaska Airlines among others. These are very similar in pricing to the other carriers specific lounge programs. For those interested in accessing those lounges, I still believe that a accessing those through the Priority Pass or American Express Platinum programs would be the way to go.
Recap
Barry wanted to know how to get access to the clubs when he flies someone other than Air Canada.
He should enroll in the Prioirity Pass program or the American Express Platinum Lounge Program. Depending on how many passes he needs in a year, he can find the right membership level.
For people who will be flying exclusively on Air Canada and Star Alliance carriers, the Maple Leaf lounge club might be a good way to go if you don't have access through your status.
Day passes and guest passes can be had for $16 and up, depending on when and how you buy them.
In the next article, I'll discuss the different credit cards that provide lounge access as an included travel benefit.
Credit Cards, Frequent Flier