Which are the best countries to retire for Canadian citizens? It may seem like a simple question, but as it turns out, the answer isn't quite so cut and dry. As with just about everything pertaining to travel, it's contextual.
Dear Nora,

What are the best retirement destinations for Canadians? I'm done shovelling snow, and my retirement pension is limited so I'd like it to go as far as possible. But I'm also concerned about things like health care and feeling isolated. Got any suggestions for an old fart like me?    – Dan
There are a lot of things to take into account when considering retiring abroad. While a quick internet search might reveal a one-size-fits-all list of best countries to retire to, it's not that basic. First of all, citizenship/residency is a huge factor that may affect your ability to retire abroad, and there isn't a ton of information about easy places for Canadians to retire to in particular.
So, let's fix that, right here. Here's everything you need to know if you are considering retiring abroad as a Canadian.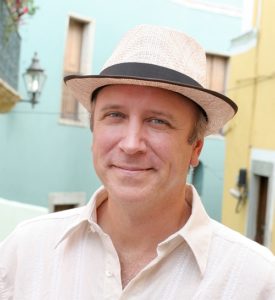 But I can't do this alone. So I've brought in Tim Leffel, editor of PerceptiveTravel.com, founder of the Cheapest Destinations Blog, travel writer for almost 25 years, and author of five books, including A Better Life For Half the Price. It's a clear-eyed, realistic guide to moving abroad, covering both logistical details as well as the psychology of making a big change like retiring abroad. It lays out pros and cons of a selection of featured countries using real pricing information gleaned from 60+ people who are already living abroad.
Leffel walks the talk when it comes to living abroad as an expat; he lived in Turkey and South Korea teaching English, owned a beach house near Merida, Mexico for many years, and lived for three years in Guanajuato, Mexico with his family. Now that his daughter is off to college, Leffel is making their Guanajuato home a permanent base.
Advantages of Retiring Abroad
According to Leffel, the two main motivators for and advantages of retiring abroad are money and climate.
Money
When it comes stretching the buying power of a fixed retirement income, you may be able to enjoy a considerably higher standard of living abroad than in Canada (depending on the destination).
Climate
Tired of shovelling and shivering through half the year? You're not alone. "Almost anywhere you would move in Latin America or Asia is going to be warmer than Canada or the northern USA, and many of the beaches have water warm enough to swim in all year," says Leffel. If tropical heat isn't your thing, no worries; "by gaining altitude in a place like Mexico, Colombia, or Ecuador, it's possible to have what feels like a year-long spring season."
Of course, there are far more motivators for retiring abroad than just money and climate.
"Some people want a fresh start, to reinvent themselves. Some like being in a more human-scaled city where they can walk everywhere and not need a car. Or conversely a couple may want a lakeside house with lots of land, or a beach house, and those options are out of their price range where they live now. Some are tired of TV news fighting and politics, or the workaholic culture they've been around for decades. Others want to be able to afford to go to any doctor they want at any time and not sweat the costs. The advantages can be many, depending on finances and priorities," says Leffel.
Challenges of Retiring Abroad
One of the things I adore about Leffel's writing is that even when he's enthusiastic about a topic, he presents it objectively; and that means covering both sides. (In his book Travel Writing 2.0, for example, he does a great job suggesting to aspiring travel writers that they might have better luck in another line of work.)
Likewise, Leffel spends a whole chapter of A Better Life for Half the Price suggesting that some people are just not cut out for the expat lifestyle and dissuading these people from making the leap.
Here are some of the challenges, that may or may not apply to you:
Community/Family Ties
"If you've been tied to one community your whole life and all your friends and relatives are in the same town, it may be hard to just pack up and move to a whole different country. This is especially true if you haven't travelled much in your working years. For some, it may make more sense to be a snowbird at least so they keep those local connections part of the year and still see the grandkids often."
Language
"In many countries, especially in Latin America, you can't assume you're going to be able to get by in English only. You may need to get to at least a basic level of communication in Spanish, Portuguese, or something more obscure. There are many expat enclaves, of course, but life is a lot easier when you can communicate with the people whose country you're a guest in. Some struggle with this when trying to teach a 65-year-old brain new tricks."
Different Customs/Cultural Norms
"It's inevitable that your new home won't be like your old one. Convenience, punctuality, and work ethic expectations may be very different than what you think is "normal." There may be nobody with the same religious beliefs. You may not recognize what's in the store or on the restaurant menus. Living in another country almost always requires adjustments in expectations."
If these drawbacks don't have you running for the comfort of your squishy mattress, then read on.
Criteria for Choosing a Place to Retire Abroad
The world is a big place. Where to begin? Leffel says there are three key elements to this decision: Wallet, Head, and Heart.
Cost of Living (Wallet)
"If you have unlimited funds, you can go live in Monte Carlo or London or Malibu. If not, the cost of living should probably be the first consideration. In A Better Life for Half the Price I've got individual chapters on countries where you can make a city-to-city or rural-to-rural move and be instantly spending half or less what you're spending now on expenses, assuming you're coming from a developed, wealthy nation," says Leffel.
And since many (if not most) people are looking for cheap places to retire abroad, and/or best places to live on a fixed income, it's important to get clear on exactly how much money you have to work with.
Logistics (Head)
"After you've narrowed down the options for the wallet part of the equation, then comes the head part. This is what you can get on paper: climate, distance from family, internet speed, health care quality, time zone, language, air connections—all the things you can quantify and research. These are the pros and cons, the deal breakers and the must-haves. If you're a couple, it's really important to get on the same page–literally–with this part of the decision."
How the Place Feels (Heart)
"The last one is the heart factor and this part is almost impossible to ascertain at a distance. Only by travelling to a place and doing some kind of trial run will you really know if it's right for you or not. There are places that looked close to perfect for me on paper that I didn't want to linger in for more than a few days once I travelled there. The first time I visited my current home of Guanajuato, however, I sent an e-mail to my wife within 24 hours and said, "I've found the place!" I eventually brought the family down for a month, they liked it too, and it became our temporary then permanent home over time."
It's important not to rush this entire process, and also to budget for a few test-runs before you settle on your perfect retirement destination. Leffel suggests doing as much research as possible to determine what's really important and what is affordable.
Then, when you visit each possible retirement destination, rent an apartment, shop where the locals shop, and take language lessons. "Ideally go there when the weather is not at its best too, so you're not over-idealizing based on the optimal time of year to be there," stresses Leffel. I can't agree with this more; some of my favourite places in the world when the weather is great, are my least favourite places in the off-season.
Logistics to Consider
While it may feel like there are a thousand details to take care of before moving abroad, the main ones can be broken down and tackled strategically. On his Cheapest Destinations Blog, Leffel outlines six of the main nagging details to address. He suggests figuring out the logistics at least six months ahead of your anticipated departure date. Here are a few matters to consider specific to Canadians:
Affordable and Efficient Health Care
As Canadians, we have provincial health care systems that provide a welcome safety net when it comes to prescriptions, medical expenses, and medical emergencies. And while we might complain about wait times or increasing numbers of expenses that aren't covered, it's a whole lot better than what our neighbours south of the border get (and in turn, often try to escape in their own retirement years by moving abroad).
There are two ways to deal with this: spend six months of each year in Canada to maintain your coverage, or simply cut the cord and self-insure your medical expenses year-round. Leffel says health care is not exorbitantly expensive in a lot of places. "In much of Latin America, a visit to a specialist will often cost less than $60 and they'll give you their cell phone number if you have questions later. People get surgery at a hospital for a few thousand dollars, or in the case of Argentina, next to nothing because it's all subsidized, even for tourists."
Advantages of medical systems outside of Canada include faster and more thorough care, being able to pick any doctor for any procedure, and not having to contend with waiting lists.
If you're still worried about being financially sideswiped by unexpected medical expenses, you can invest in an international expat insurance policy. The down side is that they can be pretty pricey, especially the older you get.
What you decide to do will depend on the country you choose, and the underlying cost – and quality – of medical care there. "When I interviewed one foreigner in Granada, Nicaragua, he held up his credit card and said, "This is my insurance plan." He said that even if he had to spend a month in a hospital in Managua, it wouldn't come close to making a dent in his savings or hitting his card lending limit, so he wasn't concerned."
Visas
Residency requirements and visa application processes vary from country to country, and in many cases will determine what options you have. "You usually have to meet some kind of minimum income level, which can be as little as $600 a month in some Latin American countries. In Mexico it's a multiplier of their minimum wage and is more than $2,000 per month, plus more for dependents. In Malaysia you get a fast pass by buying property, and in Thailand it's quite straightforward as long as you're willing to deposit a substantial sum in a Thai bank," says Leffel.
In some cases you start the application process from your home country (Mexico, Portugal, and Thailand for example). In other cases you can arrive on a tourist visa and take care of the paperwork in-country (eg: Panama and Ecuador).
In all cases, be prepared to provide a stack of documents (some understandable, others baffling), and make multiple trips to the immigration office – and possibly even back to Canada – to get it all sorted. I remember looking at residency requirements whilst in both Ecuador and Peru, and in both cases, getting the required paperwork was difficult and/or exorbitantly expensive to acquire from outside Canada.
"You will likely need months of bank statements, your marriage license if applicable, and some kind of proof that you're not a felon. You will need to provide fingerprints and fork over your passport while the application process is happening, which means no leaving the country in the meantime," says Leffel. He covers visa requirements for each country he profiles in his book, but the requirements are always changing, so it's important to visit the embassy websites and local expat forums online.
Also, a local notary or attorney can help the process along for a fee – but a fee that is often well worth paying if the requirements are complicated, since foreign bureaucratic procedures can be absolutely baffling to our Canadian "sensibilities".
Banking
Leffel says opening a local bank account (which can be difficult) is not often a requirement to retire abroad, as long as you're not running a local business or working for a local company. You can simply maintain your Canadian bank account and rely on ATMs, wire transfers, and other online systems to access your money. However, fees can add up, so be savvy about account structures and strategies to keep these fees to a minimum. (See also: 21 ATM Mistakes to Avoid While Travelling)
Don't forget to use a credit card that doesn't charge a foreign transaction fee – which for Canadians, doesn't give us a lot of options. Personally, I'm a big fan of the Scotiabank Passport Visa Infinite card because it's has no foreign exchange fees (saving approximately 3% on every single transaction abroad), comes with free Priority Pass airport lounge access (that alone worth more than the annual fee), and has a nice rewards points sign-up bonus.
Mailing Address
Unless you're cutting all ties with Canada, you'll need to maintain a residence address. (Here is some more information about dealing with legalities such as your residency for CRA purposes). If you don't have a family member who is willing or able to receive your mail, then consider using a Virtual Mailbox service, which allows you to easily receive and manage mail from abroad.
Decide What to Do With Your Stuff
If you are selling the lot to move abroad, do yourself a favour and allow lots of time to do this. It consistently takes longer than you might anticipate to divest yourself of a lifetime of accumulation! I had a small loft and it still took me six months. Plan accordingly. (See also: How to Sell Everything)
Easy Places for Canadians to Retire To
I asked Leffel to outline a few of the best places for Canadians to retire to, along with some reasons why they are ideal destinations. Here's what he said:
Mexico
"Mexico is close, with a high number of air connections, and has a wide variety of locations with different climates. There are more retired Canadians here than in any other country, and certain beach enclaves (such as Huatulco and Melaque) are full of snowbirds and year-round residents waving their maple leaf flag."
Ecuador
Having long been the darling of the publication "International Living", Ecuador is extremely popular for expat retirees. "Ecuador is one of the cheapest countries in the world to retire to and getting a residency visa is quite straightforward. There are beaches, lush highland towns, and big cities to choose from, plus retirees get a long list of perks, including flight discounts."
Colombia
"Colombia is the home of Avianca airlines and has plenty of affordable flight options from Canada. Medellin provides year-round stable temperatures and sunshine for big city life, while there are dozens of picturesque towns with bargain prices on rents and restaurants. Getting a retirement visa is straightforward and the income requirement is less than US$800 per month."
Thailand
While Thailand isn't a cheap as Cambodia or Vietnam, it's arguably the best country to retire in Asia. "It has an easy retirement visa scheme, great food, and a wealth of beaches give it the edge. It's fairly easy to live here for half of your current expenses in Canada, with year-round heat and warm sea water if you're looking for that. Bangkok has great flight options to nearly everywhere." (Check out my take on the popular expat neighbourhood of Nimman, in Chiang Mai). 
Eastern Europe
"The former communist countries of Europe are a great bargain for retirees. I'm lumping these together because personal preference will determine which is the best bet for you. All have four seasons, so you won't escape the cold winters, but you can ski in them for about 1/5 the price of Whistler. You can buy a house for the price of a new car, and rents are cheap in Hungary, the Czech Republic, Bulgaria, Romania, and the Balkan countries like Montenegro and Albania–right across the sea from Italy. (Croatia is not a bargain though, unfortunately.)"
Final Thoughts
While this article is already pretty long, it merely scratches the surface of exploring various retirement destinations for Canadians, as well as dealing with logistics and determining the criteria for you to make the best decisions for yourself and your situation.
Tim Leffel's A Better Life for Half the Price will save weeks of research time going down unnecessary internet rabbit holes, and will help you avoid many costly, frustrating, or time-consuming mistakes made by people not armed with the information this guide provides.
There are a few tiers available depending on the level of assistance you require, including insider newsletters and recorded interviews, access to a private Facebook group, and even conference calls and private coaching sessions. Click here for more information and to get your copy.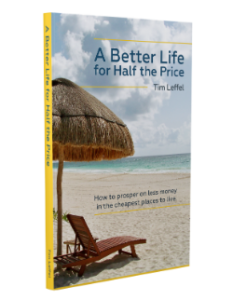 Feature Photo Credit: Aaron Burden on Unsplash
expat destinations, places for canadians to retire to, retirement, retirement destinations