In comparison with our neighbours to the south, Canadians get a bum deal when it comes to travel hacking and how to earn frequent flyer miles. But all is not lost! In this article, a panel of professional Canadian travel hackers will share the best Canadian credit cards for travel, along with some awesome strategies to make this the most comprehensive travel hacker guide just for Canadians.
Best Canadian Credit Cards for Travel Hacking
I polled a panel of professional travel hackers for their best travel credit card (Canada) choices. Many of us use the same cards! Here are the most popular credit cards in Canada for travel:
(Note: If you click on some of the links below and apply for some of these credit cards, CreditWalk may receive a small commission. Our recommendations are not influenced by commissions; rather they 100% generated by our expert travel panel, for which only some pay commissions).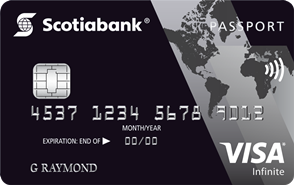 This card came in at number one, primarily because it is one of the only one of the best Canadian credit cards with no foreign exchange fee (we'll discuss how to make the most of this travel hacking strategy later). It also includes free Priority Pass membership, which unto itself is worth much more than the annual fee. Everything else is gravy. Scotiabank Passport Visa Infinite benefits include:
No foreign exchange fee markup (also called a foreign transaction fee)
Priority Pass membership with 6 free lounge passes per year
Earn 2 points per dollar for groceries, restaurants, daily transit, and entertainment
Earn 1 point per dollar for everything else
30,000 bonus points when you spend $1,000 in the first three months (worth $300)
10,000 bonus points when you spend $40,000 in a calendar year
$139 annual fee
Free supplementary card
It's worth noting that if your income doesn't allow you to qualify for this card, the  Scotiabank Gold American Express is a worthy alternative. It offers lower overall benefits (eg: 15,000 bonus points, and a discounted but not free Priority Pass membership) and the foreign transaction fees aren't free. But the earning potential is awesome at 4 points per dollar for groceries, restaurants, daily transit, and entertainment! Annual fee is $99.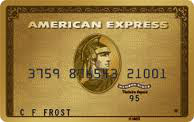 This came in as a close second choice for best credit card for travel points in Canada. Amex on the whole offers the best travel rewards program (Canada), which is why half of the recommendations here are Amex! The American Express Gold Rewards card includes the following benefits:
25,000 bonus points when you charge $1,500 in expenses in the first three months (worth a minimum of $250, more depending on how you use them)
Earn 2 points per dollar on travel, gas, drug stores, and grocery stores
Earn 1 point per dollar on everything else
Transfer points to various airline partner programs, including Aeroplan and Avios on a 1:1 basis
Hotel and car rental upgrades
$150 annual fee
Free supplementary card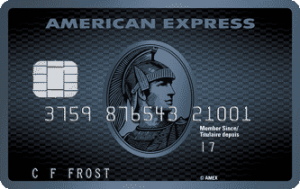 While not quite as travel-versatile as other Amex cards, The American Express Cobalt demonstrates the most value in everyday earning potential, and it has the cheapest annual fee of the three listed here. Benefits include:
2,500 bonus miles per month where you spend at least $500 (applies to first year only, totalling $30,000 bonus miles – worth $300)
Earn 5 points per dollar on food and drinks (including grocery stores)
Earn 2 points per dollar on gas, transit, and travel
Earn 1 point per dollar on everything else
$120 annual fee
Free supplementary card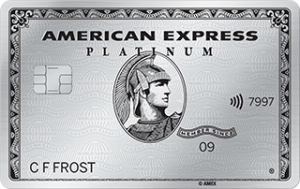 Rounding out the collection of American Express travel credit cards, the platinum has a hefty annual fee, but it pays for itself if you travel often. Owners of this card say it's one of the best credit cards for international travel with lounge access, concierge service, and more. Key benefits include:
50,000 bonus miles when you spend $3,000 in the first three months (worth $500)
Earn 3 points per dollar on dining (in Canada)
Earn 2 points per dollar on travel
$200 annual travel credit
Free lounge access (AMEX Centurion and Priority Pass)
Transfer points to various airline partner programs, including Aeroplan and Avio on a 1:1 basis
Platinum concierge service
Gold/Elite status on Hilton, Shangri-La, Marriott, and Radisson hotel chains
Valet parking, priority boarding, and priority security line access at Toronto Pearson
$699 annual fee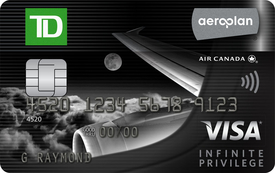 Interestingly, of the credit cards listed here, TD cards are the only specific airline credit cards, and this is the best credit card for flights if you're using Aeroplan miles. It's also one of the only priority boarding credit cards in Canada.
TD offers a few different Aeroplan-branded visa cards. The TD Aeroplan Visa Infinite Privilege is the highest tier (and also requires the highest household income to qualify); alternatives include  TD Aeroplan Visa Infinite, and TD Aeroplan Visa Platinum. The TD Aeroplan Visa Infinite Privilege card has the best credit card signup bonus (Canada) of the three at 50,000 Aeroplan miles. Benefits include:
25,000 bonus miles with first purchase
25,000 more bonus miles when you spend $1,000 in the first 3 months
1.5 miles per dollar for grocery, gas, drugstore, and Air Canada purchases
1.25 miles per dollar for all other purchases
Concierge service
Hotel upgrades and rental car discounts
Air Canada benefits like free checked bag, lounge access, priority boarding, and 50% discount on companion ticket
Fast Track lanes and parking discounts in some Canadian airports (including Vancouver, Ottawa, Montreal, but not Toronto)
Free Priority Pass membership with 6 lounge passes per year
$399 annual fee (the other two cards are $120 and $89 with similar but fewer benefits than above)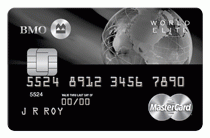 When one of the travel experts below recommended this card, I liked what I saw enough to apply, but my income didn't allow me to qualify (snap). But if you have the income, the BMO World Elite Mastercard may warrant a spot in your wallet with the following benefits:
35,000 bonus points on sign-up (worth $250)
3 points per dollar on travel, dining, and entertainment
2 points per dollar on all other purchases
Free LoungeKey membership with 4 lounge passes per year
$150 annual fee (waived in first year)
Travel Hacker Guide – 14 Canadian Credit Card Hacks That Work!
Believe it or not, that was just the appetizer. Here comes the meat (vegan-friendly of course) of this article, with all the travel hacks Canada's best travel hackers love to use. So, sit back and learn how to earn frequent flyer miles and credit card miles effectively, how to get free flights, and so much more.
Don't Pay Foreign Transaction Fees!
The release of the Scotiabank Passport Visa Infinite card was a game-changer for me and many of the expert Canadian travel hackers profiled in this article, including Rick Orford – best-selling author of The Financially Independent Millenial and co-founder of the Surplus Academy (a community that shares a variety of personal financial topics).
When you charge something in a foreign currency, almost all Canadian credit cards invisibly tack on an additional 2.5% to the standard exchange rate as a foreign transaction fee. So for every $1,000 you spend on a credit card, you're paying $25. This adds up – big time.
"I travel 4-6 months out of the year, and I spend upwards of $35-40k CDN a year on my card outside Canada; this alone saves me upwards of $1000/yr on needless FX charges," says Rick. He speaks for many of us profiled here, who exclusively use the Scotiabank Passport Visa Infinite card while abroad.
Choose Cards With Big Sign-up Bonuses
Everyday spending on a credit card is a slow way to accumulate points. It's all about the sign-up bonuses. Adrienne Clement writes about travel, food & wine, and unique experiences at Bucket Half Full.
"Some credit cards have promotional offers which include extra perks if you sign up for the card or spend a certain amount within a given time frame; make sure to look out for this when choosing a card. The  BMO World Elite Mastercard is currently waiving their fee for the first year ($150) and offering $250 worth of travel points when you sign up, which makes the deal even sweeter!" She also loves the BMO World Elite Mastercard for the travel points, extra points on purchases, and lounge passes.
It the spending requirement to qualify for the sign-up bonus seems high, strategize your purchases. For example, if you have upcoming trips, apply for the card in time to charge the flight and accommodation to it. "If you have friends or family travelling with you, ask them if you can book their flights as well (you can give them access to the airport lounge in return!)" suggests Adrienne.
To take this strategy a step further, keep track of credit card sign-up bonus offers; most cards offer beefed up bonuses once or twice a year.
Churn, Churn, Churn
Churning takes sign-up bonuses to another level entirely. Credit card churning is the process of signing up for a credit card solely to take advantage of a big sign-up bonus, then to cancel the card a year later (before the annual fee is charged again). The "churn" happens when you reapply for the same card a few months later to get the sign-up bonus again. This allows you to accumulate miles at a dramatically accelerated rate than if you were simply to accumulate points through daily spending.
Will Tang of the outdoor adventure and experiential travel site Going Awesome Places is an advocate of churning; this (and other travel hacking strategies) have allowed him to travel all around Asia and plan his honeymoon on points, and accumulate more Amex points than he even knows what to do with.
"The best example of churning comes from American Express thanks to their generous sign up bonuses. You sign up for an American Express Gold Rewards card and pay the $150 annual fee. Spend $1,500 in the first three months and you get 25,000 in Membership Rewards points. These points can be transferred to Aeroplan [or Avios] 1:1 which is the best value from a traveller point of view. Make sure you cancel the card before the next year rolls around. Wait 6-12 months before applying again and you'll get another 25,000 in points without breaking a sweat."
Will applies this strategy to multiple credit cards, and has built up over 500,000 American Express points alone, in addition to TD, Scotiabank, and other points. On average, he applies for three credit cards per year.
When I asked him about risks to churning strategies, he said they're minimal. "The main thing to think about is your credit score. Every application for a credit card will take a small hit on your credit score. It's difficult to quantify this effect for each person, but the impact on your score is minimal. Even with all the churning I've done over the years, I had no issues in getting a mortgage."
Use Credit Card Flight Delay Insurance (and Accrue Hotel Points)
Most Canadian credit cards automatically come with some kind of travel insurance. (In my Travel Insurance Guide for Canadians I outline the different kinds of credit card insurance available). But how many people are actually familiar with the various types of insurance – and how to make the most of it?
Andrew D'Amours is one of those people. As a travel hacker of over 10 years, he is the co-founder of  Flytrippers: a Canadian website where he shares travel hacking tips to travel more often for less money.
"I love when my flights are delayed and cancelled, because my $1,000 insurance coverage kicks in," he says. While not all Canadian travel credit cards offer $1,000 of flight delay insurance, most decent ones offer at least $500.
The money covers hotels and meals while you await your next flight. Andrew takes this strategy to another level: "Choose a hotel chain with a great earning promo and accumulate points for a future free night thanks to that night paid for by your credit card insurance."
For the flight delay insurance to kick in, your flight needs to be delayed at least four hours (some cards stipulate a minimum six hour delay, so read the fine print). They will then compensate you via cheque for "reasonable" hotel and food expenses.
While you might question what is considered "reasonable", in Andrew's experience $400 rooms at the Hilton are reasonable, so pretty much anything goes. Taxis to and from the hotel are included, as are meals (so if your credit card has a $500 maximum you might actually need to be careful about how you choose to spend it).
I'm generally leery of not recuperating my money with reimbursement schemes, so I asked Andrew about the process to make a flight delay insurance claim. "I call the number on the back of my credit card as soon as I get notice of the delay, before incurring expenses (just to be safe). Then I choose the insurance option, or ask the agent to transfer me to the insurance provider. I tell them the details and open a claim file. I reconfirm the coverage and rules. Then I screenshot every proof I can find of the delay (airline email, airline flight status on their website, airport flight info screen marked "cancelled") and then I book my hotel/Uber and that's it. Finally, when I get home I send in the claim document they sent me to fill, and all the supporting documents (proof of delay and receipts). Within a couple of weeks I get a cheque in the mail."
It's important to note that to qualify for this insurance, you must either pay for the flight with your card, or if it's a rewards ticket, pay for the taxes with your card (always check the fine print).
Andrew's last trick to this strategy is booking at an expensive hotel chain. "When my flight was cancelled last fall, I had to wait two days for the next flight. So I paid for expensive rooms at Hilton hotels (points earning is often based on the amount spent) and I got 14,000 Hilton Points thanks to the "Double Points" promo at the time. I got refunded in full, so it didn't cost me a thing, and got 14,000 Hilton Points."
Buy Gift Cards in Grocery Stores for Bonus Points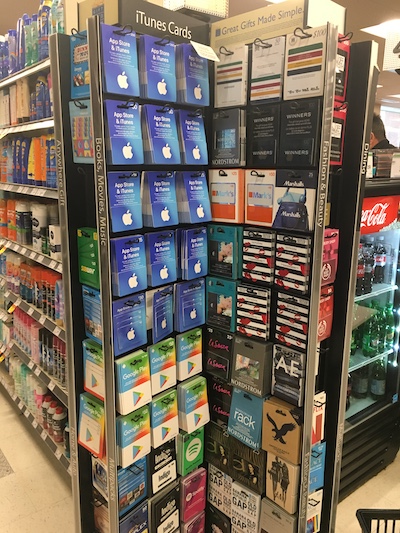 Most of the credit cards featured in this article offer bonus points for grocery store purchases. And most grocery stores sell gift cards and pre-paid cards – which can allow you to accrue bonus points for purchases that are ultimately made at vendors that wouldn't normally qualify!
Andrew's favourite Canadian travel credit card is the American Express Cobalt because it offers an unprecedented 5X points bonus for grocery store (and other food/drink) purchases. When combined with the first-year bonus plan offering an additional 2,500 points per month, Andrew says "spend $500 a month to get a $50 credit each month. That's a 10% return, and no other card even comes close."
But how do you reach $500 in grocery/food/drink purchases? Buy gift cards for money you'd spend elsewhere.
"Gift cards are free and let you earn 5X on everything instead of just food. And for all other vendors who don't have their own gift cards sold in food stores, the $500 pre-paid Mastercard is a great trick." Even with the activation fee, you come out ahead.
"Collect" Both Aeroplan and Avios With Amex
One of the reasons the American Express Gold Rewards Card is a top choice for many the travel hackers featured here (myself included) is because it offers multiple ways to redeem the rewards points for travel, including the ability to transfer them to various airline frequent flyer mile programs. The best deals come from Aeroplan and Avios, which offer a 1:1 transfer rate.
Andrew plays the programs against one another to get the best value. "The exact same YYZ-MIA route will cost 25,000 Aeroplan points but only 20,000 Avios. Not to mention with Avios you'll save on surcharges."
I can attest to this; I recently booked two return flights to  Guatemala (worth over $1,600) by transferring some of my Amex sign-up bonus points (which are essentially free) to Avios, and paying $140 in taxes and fees.
Don't Avoid Annual Credit Card Fees Just Because
When evaluating credit card deals and mileage programs, advanced travel hackers calculate value per mile. Andrew says in many cases it makes total sense to pay annual credit card fees (and get perks like free insurance coverage). "It's better to get a sign-up bonus worth $500 and pay $120 than get a sign-up bonus of $0 and pay $0."
Save Aeroplan Points for Long-Haul (Business Class) Flights
Users of any of the TD Aeroplan branded Visa cards need to be careful about how they redeem their Aeroplan miles; if you do it right, you can get more value per mile than most of the other cards profiled in this article. But, it takes work.
Janice Chung travels between Toronto and France frequently (more than 30 times so far!), as she collects unique experiences to write about on her site France Travel Tips. She refuses to use her Aeroplan points to travel in North America or in economy class as it's not worthwhile for her.
"I flew to Philadelphia last year for $412 (taxes included). Had I used my Aeroplan points, it would have cost me 15,000 points (worth about $300) and $200 so it would actually have been more expensive," says Janice. "But the bigger problem was that the possible flights I could take had awful departure times. It wasn't worth leaving really late in the day or too early in the morning. By paying for my flight I could pick and choose when I wanted to leave." And of course, she earned miles and status points for her cash flight.
Compare this to her return flight to Bangkok in business class. While the taxes were hefty at about $1,000 (this can be reduced dramatically depending on the airline and airports you select), this fare which cost her 155k Aeroplan points would have cost her $6,500 in cash – and it allowed her to lie flat and arrive in Thailand refreshed and ready to go. The same flight in economy would have cost 90k miles, which doesn't translate to anywhere near the same value per mile.
Double-Dip With Aeroplan Promotions
In addition to accumulating points on daily purchases, Janice is signed up for Aeroplan's promo newsletter so she's notified of specials. "I like it when Aeroplan has special promotions (ie. 5X points for Amazon purchases). These can really help add on more points." And the points add up, when you get miles (plus bonuses)just for shopping online, plus miles for charging the expense to your credit card. Personally, I actually save my Amazon purchases for these promo sales because the miles can add up quickly.
Use Your Card for Everything
Every dollar – or rather, mile – counts. Kashlee Kucheran is a full-time traveller, author of  The High Maintenance Minimalist, and creator of  Travel Off Path, a Canadian travel blog that shares travel hacks and guides. Early on she learned one of the keys to frequent flyer mile accumulation: go cashless. "Since I've gone cashless and only charge things to my credit card, I rack up points faster than ever. I take 2-3 flights per year just on the points I earn. Some are even lie-flat seats in business class! It's also a great way to track my spending at the end of the year."
Get the Supplementary Card
Some of the credit cards featured here offer supplementary cards for free. Even if there's a fee, it can be worthwhile. Kashlee has a supplementary card for her husband. "This means hubby can have his own card, but all the spending and points are linked together with my card. We earn points twice as fast this way, making the benefits far outweigh the small annual fee. With his spending alone it has helped us get an extra business class awards flight in this year."
Another benefit of the supplementary card is that when travelling as a family and using a credit card's lounge access, not all members can get in with one card (it's usually limited to the cardholder plus one guest). With the supplementary card, you'll get enough passes for everybody (assuming a family of four).
Know Your Cards and Where to Charge What
Not long into the travel hacking game, I started carrying multiple Canadian frequent flyer mile credit cards. I usually have around three going at any time. The trick is to maximize value by charging strategically.
Without fail, I use the Scotiabank Passport Visa Infinite card for all foreign currency purchases, which earns points and saves me the 2.5% foreign transaction fee on all expenses. When I'm in Canada, I use my  Amex Gold Rewards card; Amex points are a bit more flexible (and valuable) with the option to transfer them to Aeroplan or Avios.
While both cards offer double points for gas, grocery, and entertainment expenses, the Scotiabank card also offers double points for daily transit purchases (buses/subways/taxis/etc). So, even when I'm in Canada and would normally use Amex, I get bonus points by using Scotiabank for transit expenses.
Save Money at the Airport With Lounge Passes
Even before I started travel hacking, I often found it was cheaper to buy a lounge pass and eat/drink/relax before a flight than it was to buy expensive airport food and coffee and scrounge for WiFi. Tara Cannon of the family adventure travel site Pint Size Pilot uses the American Express Platinum card to get her whole family into lounges and save mega bucks.
The Amex Platinum card offers access to Amex Centurian, Delta, and Priority Pass lounges, and because Tara's husband has a supplementary card, they can get the whole family into a lounge. "It is not always the best lounge (The Centurian Lounges, for example, are much nicer than some of the Priority Pass ones – but the former are only in a few cities.), but still, it has been worth it for the meals and for having a quiet place to wait. I'm 100% sure we get [the Amex Platinum annual fee] back in meals alone that we would otherwise be purchasing at airports."
And if an applicable lounge isn't available, credits are offered. "As an example, we recently flew through Denver International and were offered a $112 USD credit for our family of four (between the two cards) at the Timberline Steak & Grille in Concourse C. We used that on the way to and from our destination of Jackson Hole, WY. Basically, that is $300 CAD that we quite possibly would have spent on meals anyway."
Are you a travel hacker? What's your best Canadian credit card strategy?