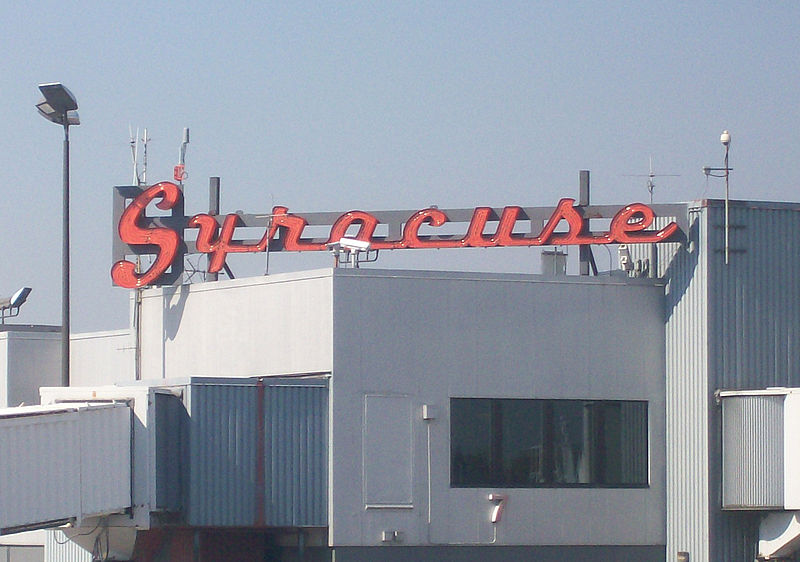 About Syracuse Airport (SYR)
Syracuse Airport is a mid-size regional airport located in upstate New York. Syracuse is about 2 hours south of the Canadian border at the Thousand Islands bridge. Syracuse is about 2 hours from Kingston and closer to 3 hours drive to Ottawa.
Syracuse is a regional airport and the major airlines all fly from Syracuse to their hub airports: Air Canada, American, Delta, Jetblue, United, US Airways.
Contact
Syracuse Hancock International Airport
1000 Colonel Eileen Collins Blvd
Syracuse, NY 13212
http://www.syrairport.org/
Wiki
Considerations
Syracuse is a great airport for people looking to save money when flying to the US.
For people in Kingston, who really don't have a viable airport close to them, Syracuse is a very reasonable first choice as compared to Ottawa MacDonald Cartier or Montreal Trudeau. For those in Ottawa, there can be significant savings on many flights, but it should really be considered the airport to fly out of when trying to save money on flights, especially to the US.
Syracuse is a smaller airport, so compared to the bigger airports, there will be some time savings at the airport. Otttawa Macdonald Cartier is a relatively small airport in Canada and my understanding is that by itself, it is relatively efficient.
For those in Ottawa, I set a savings threshold of $50 / person / way over Ottawa Macdonald Cartier Airport for it to be worthwhile. For those in Kingston, both Ottawa Cartier and Syracuse are equally viable options.
Transportation
From Kingston and Ottawa, the only real options to get to Syracuse are to drive your own car. The drive is about 2 hours from Kingston or less than 3 from Ottawa.
There is a new shuttle service called Shuttle Kingston that started in April 2013, which charges approximately $150 for up to 6 people in the shuttle. This may be a viable option to investigate.
Parking
If you drive your own car, parking can be had for $8 – $10 / day on the airport grounds depending on your preferred lot. Reservations can't be made online. There don't seem to be any other lots around the airport.