I always like to use my "smell test" to see if any card is reasonable. I say that the standard earn rate should be 1.5% return on all purchases, since everyone can get that from the Capital One Aspire Cash Mastercard, with no annual fee.
The Scotiabank Gold American Express card will net you an extra 2.5% return on your spending in the gas, grocery & restaurant categories above the 1.5% that you can already get from Capital One. For this card to be worthwhile, you would have to spend $4800 over the course of the year, or $330 / month in total in the privileged categories to offset the annual fee. You are also getting the benefits of having a gold level card by having the Scotiabank Gold American Express as well.
(The Math)
Spending Required = Annual Fee / Extra gain from this card
$330 / month = $3960 / year = $99 Annual Fee / 2.5% Extra Gain
Annual Fees
The Scotiabank Gold American Express card does have an annual fee of $99. There is also an additional user fee of $29 should you want that. That $99 fee is probably a little bit below the industry standard of $120 for a Gold level credit card.
The current sign up bonus does cover more than 1 year's annual fee, however so you can think of this as free for the first 1.5 years. The sign-up bonus is currently 30,000 pts, or $300 towards travel after your first purchase.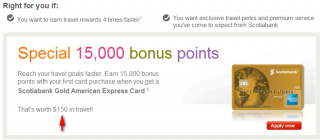 With all the points you'll be accumulating imagine the destinations you could travel to. Not only that, book business class for less!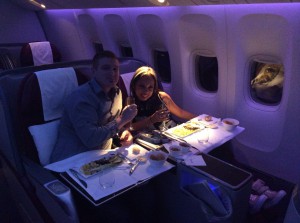 See you in business! Apply now below.




Maybe in Italy?