Scotiabank has classified this card as 'travel' rewards card, when it is really more of a cashback card. Purchases made with this card earn Scotia Rewards Points. Scotia Rewards Points can be redeemed as a statement credit against a travel purchase. They are redeemed at a rate of 1 Scotia Rewards Point = $0.01, with a minimum redemption of 5,000 pts ($50).
I say this is really a cash back card since the value of the rewards points is fixed and will come back to you as a statement credit. You only need a travel purchase to release those rewards from your bank of points.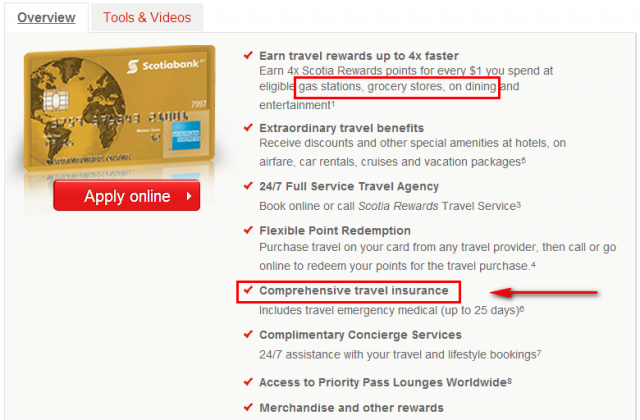 Earning Rewards
Earning rewards with the Scotiabank Gold American Express card is very simple. You earn 4 pts for every dollar spent at merchants classified as gas, grocery, restaurant / dining establishments or entertainment. You earn 1 pt for every dollar on everything else.
When you sign up, there are ways to earn extra Scotia Rewards by interacting with the program in various ways. For example, the first item you put in your wishlist will earn you 250 points.
Redeeming Rewards (for travel)
The best use of Scotia Rewards is as a statement credit against a travel purchase. There are 2 options here: purchase your own travel and redeem for a statement credit against that travel or use Scotiabank's full travel agency to make the booking for you. Redeeming for any non-travel purchase will be poor value. Since many things qualify for travel, you will likely have some eligible purchases on your card that you didn't realize qualify. If you haven't started earning yet, click here to apply.
The redemption is not restricted to the value of your travel purchase, which makes these points quite flexible. The minimum redemption, however, is 5,000 points, so be conscious of that
Scotiabank's suggests:
It's simple and convenient. Select the "Travel" tab above to book online or call the full service travel agency at 1-800-665-2582 (option 1).
Here are the steps to redeeming your Scotia Rewards points against a travel purchase that was made independent of the Scotiabank travel agency. (see the screenshots below the bullets)
Log in to your Scotia Rewards account at www.scotiarewards.com
At the homepage, click on the "Travel" tab
Choose "Apply Points to Travel"

You may need to scroll down
Select the appropriate time period of your travel purchase to display eligible purchases
Click the checkbox next to the purchase you want to redeem against
Click on "Add to Cart"
Verify the cart and choose "Proceed to Checkout"
Verify that your information is correct and click "Next"
If you are happy, select " Place Order Now"
You are done!

Click below to Apply!