In a previous article on communications while traveling, I recommended the T-Mobile prepaid plan. I think that it is the best plan for the frequent or infrequent traveler to the US.
The Skinny
I recently learned a few things about the T-Mobile plan:
Reducing the cost of your refills

Buy from Walgreens to avoid tax
Buy from Staples if you want to use a Gift Card to pay for it
eBay and CallingMart.com are hit and miss ways to buy at a discount
Shifting your clock on the daily plans

For daily plans, your day resets at midnight based on the time zone of your phone's area code
Pick an area code in California or Hawaii if you prefer to have your day reset later on
Pick an area code on the East Coast if you prefer to have your day reset earlier
Avoiding unnecessary fees

Route your calls through Google Voice and avoid long distance charges
Refill your account using refills and avoid going to the T-Mobile stores if possible
Deciding between the daily and monthly plans for a 10+ day trip

For long trips, a monthly $30 plan might make more sense
Overview
In this article, I will talk about a few of the tips I have learned about how to maximize the value you get from your T-Mobile prepaid service. There are a few things I have learned so I thought I would share:
Reducing the cost of your refills
Shifting your clock on the daily plans
Avoiding unnecessary fees
Deciding between the daily and monthly plans for a 10+ day trip
Related articles:
Background
There are 3 types of plans
Daily Plan
Pay by the Minute
Monthly Plan
In my previous article, I noted that I think the best plan for most travelers in the T-Mobile prepaid daily plan, but the pay by the minute or monthly plans could be good solutions for some people.
I personally do the $2/day plan that gets me unlimited calling, text and data (at the slower Edge speed). I am currently on a 11 day trip traveling to Dallas and San Francisco and I thought I would share some of what I have learned by using my US phone outside of my normal usage patterns.

Reducing the Cost of your Refills
T-Mobile refills can be bought at pretty much any retail establishment or you can refill your account by calling T-Mobile directly from your prepaid phone and giving them a credit card number.
I recently refilled my account a few different ways and this is what I found:
Refill by calling in

I was charged the sales tax based on the billing address of my credit card

Refill bought at Walgreens

Charged no tax, but unable to use a general Walgreens dollar off coupon or gift card

Refill bought at Staples

Balance was able to be paid using a Staples dollar off coupon (Staples rewards) but the tax portion had to be paid separately and could be paid for by a gift card
The smallest denomination of T-Mobile refill cards I was able to find at a Staples in San Francisco was $30
The letter of the law on Staples gift cards states this is not allowed but the computers allow it

CallingMart.com

Google around for coupons that get you 10% off. They are available regularly.
My experience was that the billing address verification could not complete so the transaction was cancelled. I was requested a water or cable bill to prove my residence to make the $10 purchase. Likely not worth the effort.

eBay

Generally I find the prices on eBay to be very close to face price and require you to buy large denominations. These are all hit and miss. If you can find discounted low-value T-Mobile refills here then this is a great avenue to investigate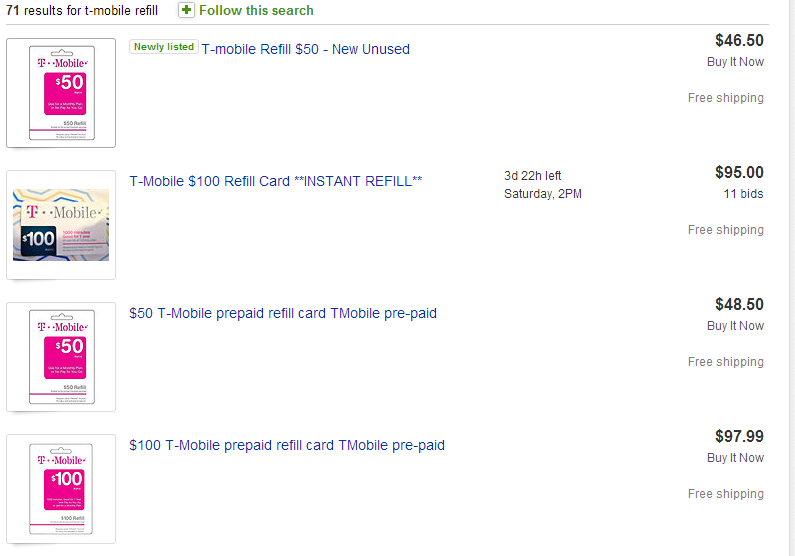 Suggestion
From this, I have realized the 2 best ways to consistently reduce your cost:
1. The easy way
Buy the refills from Walgreens using any payment method you prefer
2. The profitable, but more painful way
Buy Staples gift cards or Staples rewards from eBay or other places where you can get a discount and use those gift cards to buy your refills. Staples gift cards usually sell for about 10%-15% discount on eBay so you will save a larger percentage.
Shifting your Clock on Daily Plans
My T-Mobile SIM card has a Boston phone number connected to it. When I was in San Francisco, I was in a text messaging conversation with someone right around 9pm when my text messages stopped going through. After I reassessed what happened, I realized that my day of usage ended at midnight EST, which was 9PM PST.
Empirical evidence indicates that the T-Mobile calculates your day as midnight to midnight in the time zone where your phone number is based.
How do we use this information?
In reality, what this tells us is that we have the option of having our clock be from midnight to midnight EST by choosing a a number in the eastern time zone. We could also make our daily clock be from 3am – 3am EST by choosing a number in the pacific time zone, or from 6am – 6am EST by choosing a number in the Hawaiian time zone (area code 808).
For me, personally, I currently live in the Eastern time zone and most of my time is spent in the eastern time zone. However, when the clock strikes midnight, I don't really consider it a new day. I usually consider it a new day when I wake up in the morning around 7am. Ideally, for me, I would want my T-Mobile day to be calculated at 6am – 6am EST. The day that I make a road trip to Buffalo NY might have me entering the US at 10am but not coming back until 2am.
I believe that most people would probably benefit from having a phone number from a more western time zone, assuming they treat their travel days the way that I do. If you are in the western areas, it is probably even more imperative to have a phone number from the western time zone so you don't have your phone stop working at 9pm (PST), as happened to me.
| | Area Code(s) | Zip Code | Time Zone | Clock Reset (in EST) |
| --- | --- | --- | --- | --- |
| Boston Phone Number | 617, 857, 781 | 02201 | Eastern | 12am – 12am |
| Dallas Phone Number | 214, 469, 972 | 75201 | Central | 1am – 1am |
| San Francisco Phone Number | 415, 650, 510, 925 | 94101 | Pacific | 3am – 3am |
| Honolulu Phone Number | 808 | 96802 | Hawaiian | 6am – 6am |
For daily plans on T-Mobile, it appears that a new day starts at midnight in the time zone that the phone number is based. Choose your number accordingly. Further west would likely benefit most people.
Avoiding unnecessary fees
I recently had some bad experience with T-Mobile, when I gave my dad a phone to take to New York on his 4 day trip there. It turns out, he somehow spent $20 at a T-Mobile store on Thursday morning and by midnight, his account balance was less than $1. Here are some of the things I learned from the experience:
Make sure to route all the calls through the Google Voice app

My dad and his friends (all Canadian) went to New York for a few days and decided that they would communicate with each other by calling each other. I had set up Google Voice as the default method to route all calls so he could call Canada or US numbers for free but those settings were changed when the SIM card was reactivated. As a result, all of his calls were charged the $.49 / minute to Canada. In total, for the 1 day, I am willing to bet that they spent about $50 or more in phone calls between the 4 of them.
Using the Google Voice app, you can have all calls be routed (seamlessly) through Google Voice. You would make all your calls normally through the native dialer but the calls would route through Google Voice, which means you don't pay the Canada long distance toll to T-Mobile that my dad paid
I also suggest texting through the Google Voice app so you don't potentially get hit with long distance text messaging prices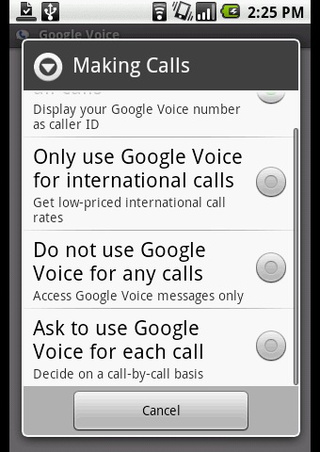 Know how to use your phone

I gave my dad the phone but since he didn't really understand how the apps worked, he couldn't troubleshoot it (ie answer the phone when it rang)

Refill your account by calling into T-Mobile or buying  a refill at Walgreens or Staples (suggestion above)

Apparently when my dad tried to refill my account at a T-Mobile store (instead of using a refill or calling it in), they reactivated the SIM card with a new number and charged him $10 for that "privilege"
Avoid the $10 charge at T-Mobile stores.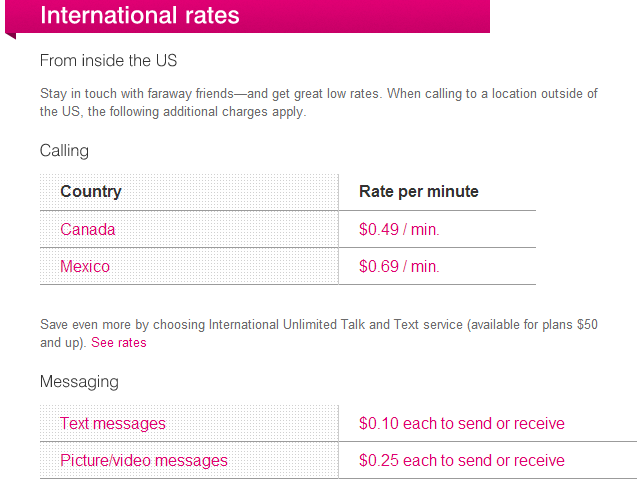 Deciding Which Plan to Use
As I mentioned, I am on a 11 day trip to the US. Given that I am on the $2 / day plan, my cost for the cell phone usage is going to be $22.
I recently discovered that if I were to stay for a  few days longer, I would be better off taking a $30 / month prepaid plan.

This monthly $30 plan is actually slightly better for many people's usage and it reduces your costs if you are in the US for more than ½ the month.
| Plan | $2 / Day | $30 / Month |
| --- | --- | --- |
| Voice Minutes | Unlimited | 100 Minutes / Month |
| Text Messages (to Canada / US) | Unlimited | Unlimited |
| Data | Unlimited @ 2G | Unlimited (5GB @ 4G) |
There are 2 versions of the $30 / Month plan. If you use any significant amount of data, then the $30  / Month plan with data is the one to go with. You limit your voice minutes, but using the apps I suggest for Android or iPhone, you can make your calls use data instead of minutes. This would mean that your voice minute limitation would be irrelevant.
Recap
Here are a few insights I had on saving some money when using a T-Mobile prepaid phone plan when traveling to the US.
I recently learned a few things about the T-Mobile plan:
Reducing the cost of your refills

Buy from Walgreens to avoid tax
Buy from Staples if you want to use a Gift Card to pay for it
eBay and Callingmart are hit and miss ways to buy at a discount
Shifting your clock on the daily plans

For daily plans, your day resets at midnight based on the time zone of your phone's area code
Pick an area code in California or Hawaii if you prefer to have your day reset later on
Pick an area code on the East Coast if you prefer to have your day reset earlier
Avoiding unnecessary fees

Route your calls through Google Voice
Refill your account using refills and avoid going to the T-Mobile stores if possible
Deciding between the daily and monthly plans for a 10+ day trip

For long trips, a monthly $30 plan might make more sense
Google Voice, Long Distance, Travel cell phone