Apply for the TD® Aeroplan® Visa Infinite* Card today
Overview
TD recently announced their newest card offering: The TD Aeroplan VISA Infinite card. This card is going to be taking over the Aeroplan brand from CIBC and is meant to replace the CIBC Aerogold Visa Infinite / CIBC Aerogold Visa cards.
My personal thought is that TD is putting out a very lackluster card offer here. The base earning rate is 1 Aeroplan mile / dollar spent with a 50% earning bump to 1.5 Aeroplan miles / dollar spent at gas, grocery and drug stores. Even the "additional benefits" are almost insulting to the card user, with most of the Air Canada benefits only being offered on reward flights.
The value of Aeroplan miles has been dropping significantly each year with award chart inflation (the number of miles required for a flight has been going up each year) and increases in fuel surcharges. This year, the number of flights that Aeroplan miles would be useful for has gone down significantly with the exit of US Airways from the Star Alliance.
I think the best way to exploit this is to apply for the signup bonus (15,000 Aeorplan miles) and then throw the card in the sock drawer until next year. There are much better cards out there that give you much better return for your spending.
This card is going to be a good card for you if you:
Fly in business class AND are willing to pay a large premium to do so
Live in a small market and travel underserved routes
Know, with absolute certainty, that you can consistently redeem Aeroplan miles for over $0.02 of value
Here are some of the main additional benefits of this card:
1st Checked Bag Free when travelling on an Aeroplan flight reward operated by Air Canada (for Primary Cardholder)
Priority Check-in when travelling on an Aeroplan flight reward operated by Air Canada (for Primary Cardholder)
Priority Boarding when travelling on an Aeroplan flight reward operated by Air Canada (for Primary Cardholder)
Annual Maple LeafTM Lounge One Time Guest Pass when travelling on an Aeroplan flight reward operated by Air Canada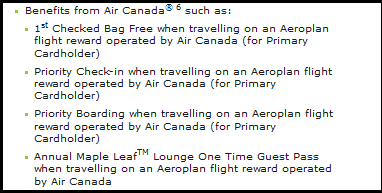 Rewards
The TD Aeroplan Visa Infinite card earns 1.5 Aeroplan miles for every dollar spent at gas, grocery and drug stores, and 1 Aeroplan mile for every dollar spent everywhere else.
Gas, Grocery, Drug -> 1.5 Aeroplan miles
Everywhere else -> 1 Aeroplan mile
Something to bear in mind is that the miles you earn on this card are in addition to any Aeorplan miles you might earn through retail partners. For example, if you swipe your Aeroplan card when you fill gas at Esso and pay with your TD Aeroplan Visa, you will get the Aeroplan miles from Esso (as a partner) as well as the Aeroplan miles from TD for using the card.
Redeeming Rewards
The Aeroplan miles that are earned are deposited into your Aeroplan account (which is independent form your TD Aeroplan credit card) when your statement is printed. It is important to note that your Aeroplan miles then become subject to the rules of the Aeroplan program, not TD.
In terms of getting value from your Aeroplan miles, I have many write-ups on  this here.
Some quick points on maximizing the value of Aeroplan miles:
Avoid flying on Air Canada planes due to high "taxes and fees"
Avoid flying popular routes
Make use of your free stopover

Ie include some time in Calgary the next time you go to Vancouver
(Toronto –Vancouver-Toronto costs the same as Toronto-Vancouver-Calgary-Toronto)
Be conscious that Aeroplan is inconsistent in enforcing / allowing stopovers
Valuing your Rewards
I find that most people really struggle to get more than $0.0150 of value from each Aeroplan mile. Most Canadians live in Toronto, Montreal, Calgary and Vancouver and travel in economy. Many people who use my award travel booking service tend to be so frustrated with the Aeroplan program and are happy to get $0.01 of value from their Aeroplan miles and be done with it.
When you decide on the rewards from your credit card spend, it is important to understand the concept of opportunity cost. By earning Aeroplan miles, you are sacrificing the earnings you could have had by using a different card. You are essentially "buying" the Aeroplan miles with the points you gave up.
In this case, I like to look at what other cards we could have used. Since the TD Aeroplan card is a premier card with a $120 fee, we can look at other cards that compare.
BMO World Elite
The BMO earns you 2 cents / dollar spent on all purchases. Your rewards can be used towards travel with a certain dollar value attached to them. This card also comes with the added benefit of lounge passes and better than average insurance benefits.
If you are redeeming your Aeroplan miles at a rate of $0.015 each (as most people do), then you would be much better off taking the exact value from the BMO World Elite and buying your flights with those points. It would take less spending on the BMO World Elite to accrue the same flight.
If you spend a significant amount of money on gas, grocery and drugstores, then you would earn slightly more value from the Aeroplan card (1.5 Aeroplan miles @ $0.015 each = $0.0225 return / dollar spent). You have to look at your spending profile to see what makes sense to you.
Scotiabank Gold American Express
The Scotiabank Gold American Express card earns 4% on gas, grocery and restuarants and 1% on everything else. These can be redeemed against a travel purchase. If you spend a significant amount of money in these categories, you are going to do much better with the Scotiabank American Express card. It isn't even close. If your spending profile allows for this, and you use an average value for your Aeroplan miles, then the TD card simply doesn't compete.
Annual Fees
The annual fee on the TD Aeroplan Visa Infinite is $120. This is in line with most of the other cards in this range. It is being waived if you apply by Feb 29.
Sign-Up Bonus
The sign up bonus is 15,000 Aeorplan miles after your first purchase.
Reward Travel Benefit
s
As mentioned earlier, this card comes with a few additional benefits, such as priority boarding, priority check-in and free first bag. Unfortunately these benefits only are given to you when you are flying on an award flight.
Personally, I don't really like that my benefits are only given to me when I fly on the award flight. I can understand that giving out priority boarding and priority line access very freely will make those priority lines very long. However, the giving card holders a free checked bag doesn't hurt the product. If you compare this to other airline branded cards, in the US, for example, a free checked bag on all flights seems to be the standard fare. I almost feel like it would be better for TD to not advertise these features as only on rewards flights as a great benefit. It shows how weak the "great" benefit is.

I would have liked to see some real benefits that actually increase my loyalty to Air Canada. These features in no way encourage me to buy an Air Canada flight over an American Airlines flight, and mean that TD / Aeroplan's investment is ultimately wasted.
2-For-1 Flight Offer
This is no longer available.
Another additional benefit of this card is that you receive 2-For-1 offer for reward travel. The restrictions on this one also make it one of those dubiously valued features. Basically, your voucher works as follows:
Classic shorthaul flights will cost you 15K Aeroplan miles + taxes and fees for each person. This offer allows a second person to fly the same reward flight and pay only the taxes and fees. This works out to a 15K Aeroplan mile savings on a 2 person short haul redemption, although you are responsible for the taxes and fees for both passengers.
I actually signed up for this card (only for the sign-up bonus) and when trying to redeem this for a potential trip, I realized that for pretty much all my preferred flights, this companion pass was basically useless due to unreasonably high "taxes and fees". In most cases, the taxes and fees on eligible flights ended up being more than what I would pay for the flight. I actually do an analysis here showing the value of Aeroplan miles for many of these short-haul flights is actually pretty bad.
Insurance
This card comes with the standard insurances offered to all the other Visa Infinite level cards.
Travel Protection
Travel Medical Insurance

Trip Cancellation and Trip Interruption Insurance

Delayed/Lost Baggage Insurance

Flight/Trip Delay Insurance

Common Carrier Travel Accident Insurance

Auto Rental Collision/Loss Damage Insurance

Emergency Travel Assistance Services

This is really not a differentiating feature of this card. The insurances offered by the TD Aeroplan Visa Infinite Privilege are much better, athough that cards comes with a $399 annual fee.
Conclusions
The TD Aeroplan Visa Infinite card is a reasonable card for people who are sold on collecting Aeroplan miles. Personally, I feel that Aeroplan miles are overvalued by the market, so I wouldn't suggest this card for spending. Most people will struggle to get value out of their Aeroplan miles and would be better off with a cash-esque card such as the Scotiabank Gold American Express or the BMO World Elite cards.
I suggest taking the welcome bonus of 15K Aeroplan miles and the first year free, then putting this card away.
Pros
15K Aeroplan mile welcome bonus
No fee first year

 
Cons
Aeroplan miles are tough to use for good value (for most people)
Increase in category spending is relatively weaker than other category specific cards

Gas and Grocery – TD card = 1.5 Aeroplan miles, Scotiabank Gold or Momentum = 4%

Air Canada benefits (free checked bag, lounge pass etc) only valid on reward flights, not all flights