Hot on the heels of last month's post about the good, bad, and ugly aspects of Solo Travel, a reader wrote in to me about travelling as a couple:
Dear Nora:

My boyfriend and I want to take a few months to travel the world together. But our relationship is still kinda new, and I'm afraid we might kill each other on the road! Do you have any advice for how to survive travelling as a couple? – Marianne
Great question! Over the years I've travelled solo, as well as with partners, and travelling as a couple is a different way to see the world. In general, I find that travelling with a partner can be very rewarding, but it's not without some challenges of course. I wrote about this a few years ago when I broke up with a partner after travelling with him for three years: Breaking up While Travelling.
But this isn't just about me; below you'll find profiles of 10 professional travelling couples who share their experiences and advice. Funnily enough, when I asked them to share their "Ugly" stories about travelling as a couple, no couples had any! Instead, they shared some sage advice for aspiring travelling couples. Enjoy!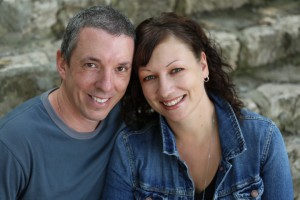 Dalene and Pete Heck have been nomadic for over six years. They were recently honoured as National Geographic Travelers of the Year.
The Good: Sharing the Workload
Splitting some of the less glamorous duties of travel like planning (we both hate it!), neatly packing the abundance of electronic cords we have to carry with us (Pete's job), and saving me from all the unknown creepy crawlies that we encounter in tropical locations (also Pete's job). Oh, and sharing beautiful memories together of course!
The Bad: Couples are Less Approachable
I think that travelling as a twosome makes us less approachable by locals or even other travellers. Whenever we've ventured out solo, even for short whiles, we're more likely to have new people engage with us than when we're together.
Advice: Trust Your Instincts
We ventured on a hike into Colca Canyon in Peru during the height of rainy season. Even though red flags were everywhere, the company we went with assured us it was safe. On the last day of the hike out of the canyon we were nearly swept off the side of a mountain with a mud slide. It was terrifying, and we've since then learned to better trust our own (and each other's) instincts. If one of us feels uncomfortable in any situation, we can call it off for both of us, no questions asked.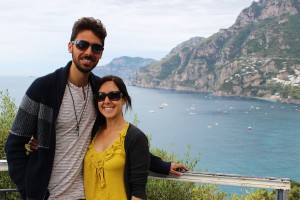 Justin and Lauren are part-time travellers from Canada and love to travel as much as possible while working as freelance video editors.
The Good: Spending Time Together
One of the best things about travelling as a couple is spending so much time together and sharing so many wonderful memories! It's always better to visit beautiful places and have such incredible experiences with Justin by my side. We will cherish these memories for the rest of our lives.
The Bad: Compromising
The biggest challenge is compromising our ideas of travel! Justin tends to be a more relaxed type of traveller and I'm always raring to go! While he would like to spend time relaxing on the beach, I'm the type who likes to travel from place to place to see everything. Thankfully, I also enjoy relaxing a bit and he also likes to visit historical places, for instance. He helps me to travel more slowly and take it all in, while I sometimes push him a little more than he typically would go. I like to think that something that could be considered "bad" is actually not such a bad thing as we compliment each other quite well.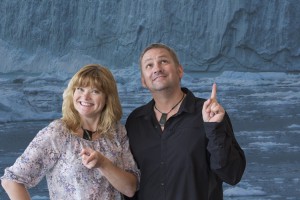 Canadian travellers Dave and Deb founded ThePlanetD after cycling the continent of Africa. Now well-known travel personalities both in online and mainstream media, they've visited more than 100 countries on all seven continents aiming to inspire people with their motto "Adventure is for Everyone".
The Good: Sharing Inexplicable Experiences
There are so many things we love about travelling together, but most of all, it's being able to share special experiences. There are many moments that can't ever truly be explained so to be able to experience them together is priceless. Each time we see something new or take on a challenge, we change and grow, and doing that together allows us to change and grow together. Plus, it's great having someone watch your bags when you have to go to the bathroom!
The Bad: Lack of Friends on the Road
One of the biggest challenges we find is having a strong circle of friends. Because we are on the road so much, we have lost many friends along the way. It's mostly because we are never around, they go on with their lives and we change too, and when we get together we find we don't have a lot in common. That's something we miss, having friends to hang out with.
Advice: Communicate
Our best advice is to communicate, don't hold onto grudges and be willing to forgive each other. Tensions can run high on the road and you may say things you regret, but don't take it personally. Realize that you might be jet lagged, hungry, or frustrated with the situation. You only have each other to take it out on so sometimes you lash out.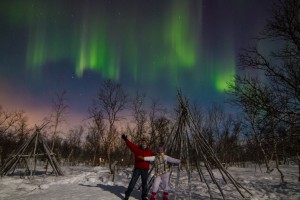 By day, you'll find Jennifer and Tim out on some crazy adventure like snorkelling in Iceland in winter or on a long distance hut-to-hut hike in the Dolomites. But by night, they're creatures of comfort. Their award-winning travel blog, Luxe Adventure Traveler, is about heart pumping adventures, world class accommodations, and luxury experiences.
The Good: Pushing Each Other
Tim and I are not only a couple; we're best friends. We push each other to do things that are outside of our comfort zones and that creates a lot of special memories we'll share for the rest of our lives. I would have never slept in a camper van (sometimes on the side of the road) in Iceland if it weren't for Tim, and my outdoorsy husband would have never chosen to stay in the lap of luxury at some of the world's best hotels if not for me. As long as there's wine, we're both happy!
The Bad: Silly Fights and Lack of Time Alone
The biggest downside to couple's travel is that when you get in a fight, which is going to happen, there's no where to get some down time away from each other. Especially when travelling in foreign countries, little things like figuring out how to take the metro can make you more quickly irritated with each other. But you learn to read your partner and take measures to prevent stupid fights. Tim likes to have breakfast as soon as he wakes up, and even though I don't like to hop right out of bed, I know he'll be much more patient while I get showered and ready for the day if his stomach is happy.
Advice: Do a Test Trip
Pretty early on (I think about a month) in to our relationship, we went on a getaway to San Diego over a long weekend and we enjoyed travelling together. If travel is something that's important to both of you, start small with a little getaway close to home. If you're not compatible travel companions, I hate to say that the relationship probably isn't going to work long term.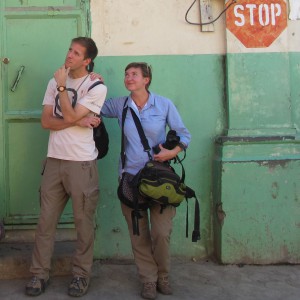 Travel has been part of Audrey and Dan's relationship from the very beginning – they went skydiving on their first date, took scuba diving lessons after that to prepare for an upcoming trip, and spent most weekends of their first year together visiting different parts of California. Then they got married in Tuscany, backpacked around Europe for five months on their honeymoon, lived five years in Prague, Czech Republic, and then left their jobs at the end of 2006 to travel around the world together. More than 90 countries later, they're still travelling…and still married.
The Good: Comparing Viewpoints
Dan and I have different personalities and observe different things, even when we're in the same place. So we each might walk through the same market or city street, but we'll come away with different impressions and observations. It's really fun to sit together over a glass of wine or beer at the end of a day and compare our notes and impressions as we often learn from each other's experiences and observations. Our travels together have created a library of shared stories and life experiences.
For more about their travels together, check out Traveling, Working, and Staying Together on the Road: Our Story
The Bad: Living in Close Quarters
One of the challenges of travelling as a couple is that you are with each other 24-hours a day, 7 days a week, 365 days a year. Add to that the stress that can come from travel with things going wrong, cancelled buses, getting sick, etc., and it can be easy to turn on your partner and get angry at them instead of acknowledging the real root of the problem. That's where it's so important to take a deep breath to realize that what you are getting angry about really isn't a big deal in the grand scheme of things, find the humour in the situation, and actively communicate.
You can find more advice on how to handle these challenges of travelling together as a couple here: How to Travel the World Without Killing Each Other
Advice: Even Though There's Two of You, Get Help When you Need It
When we travelled in Kazakhstan we read in our Lonely Planet guidebook about a 2-day hike in the Tian Shan mountains outside of Almaty. On the second day of the trek we followed the map and description in the guidebook up and over a mountain pass, and then down through a river bed to get back to the main road to Almaty. Well, neither of us has a good sense of direction, and we ended up taking the wrong river bed down and we found ourselves stuck in a few situations where we wondered if if would ever get out (we had no mobile signal). Eventually, we found a rubber hose attached to a waterfall and we rappelled down, found our way to a road and hitchhiked back to Almaty. But there were times during that day when we wondered if we would ever make it out of the mountains alive.
I would advise other couples to understand their personal and physical limits before going into the mountains or another situation where they could be at harm. Neither of us has a good sense of direction and have experience navigating the mountains. After this experience, we almost always hire a local mountain guide when we go on multi-day treks so that we don't put ourselves in unnecessary and preventable danger.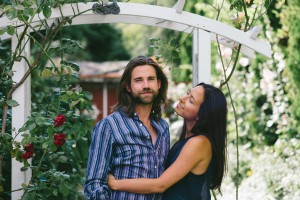 Elin and Oliver are a multinational couple based in Dublin, who have taken over 50 trips together in the last two years alone.
The Good: Doing What you Love
Other than each other's company, the best thing about travelling together is that we love the same things. We love the same hotels, we love walking – aimlessly for hours and hours until our feet ache – we love finding the best cup of coffee, the quirkiest interior stores and the best photo moments. But most importantly – we love getting the tastiest food and we're ready to go far to get it.
The Bad: Returning Home
One of the only issues with travelling around the world and going on new adventures with your significant other while having a full-time job is that it's very easy to start day dreaming about living the 'holiday-life' every day. You get kind of addicted to travelling and discovering new things once you start exploring the world with the one you love.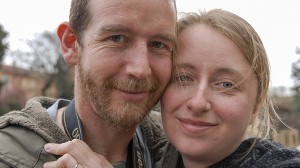 Margherita and Nick are a writer from Italy and a photographer from Australia, who have been travelling together (on and off) for the past eleven years. They recently became full time digital nomads and all is good so far for them, even though they do terribly miss their cat Tappo who is being looked after by Margherita's parents.
The Good: Having Company
We both love being with people, so the best thing for us about travelling as a couple is always having company. We also do relish spending time by ourselves, and when that happens, we take a little 'time out' – from a few hours to a few weeks. But most of the time, being able to share experiences is what makes travel special for us.
The Bad: Taking Travel Stress out on Each Other
Sometimes, travelling is stressful. Things don't work out, buses and trains are late, and people try to rip you off; when that happens, we tend to get grumpy with one another. I guess it's normal – when we travel we only have each other, so it's obvious that we pour our angers and frustrations on the person that is closest to us.
Advice: Take Some Time Out
Being together all the time is not really 'natural' for a couple, so we have had some of our most epic rows while travelling. For instance, once Nick wanted to go home for a while after 15 months on the road, while I wanted to keep going. We had a massive fight in the middle of Paharganj in Delhi, and there I understood that Nick was right. It was time to go back.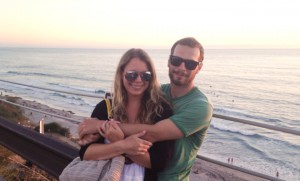 Christy and Scott met in 2006 and they have been travelling the world together ever since. On their blog, they provide trip ideas for people with limited vacation time and hope to introduce off-the-beaten-path destinations that you may not find on other travel blogs.
The Good: Strengthens the Relationship
My favourite aspect of travelling as a couple is that it allows me to share life-changing travel experiences and laughs with my favourite person in the world. It gives us time away from our daily to-do lists and the ability to spend more quality time together. I think travel strengthens our relationship because it forces us to work as a team, especially when things don't go as planned.
The Bad: Wanting to do Different Things
We don't always want to do the exact same things or travel at the same pace, which can cause arguments. Luckily, we both love the outdoors and will choose that over a museum, so these disagreements don't happen too often.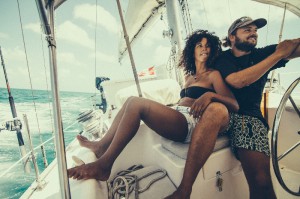 Makaela and Dane ("Cap") are a Canadian couple who decided to uproot their lives for awhile and sail the seas on their 41' sailboat 'Sea Otter.' They are the creators of a new app called "Journo: The World's Most Sophisticated Journal App", which is jam packed with goodies for fellow travellers.
The Good: Relying on Each Other
You always have a partner in crime – someone to explore, get into mischief, and create lifelong memories with. And in doing so, you learn to rely on each other in ways you wouldn't back home (shark-watch, beer-watch, etc.). Bonus: you don't have to single-hand the sailboat.
The Bad: Lack of Time and Space Apart
Everyone jokes about how we must want to kill each other living in such close quarters for so long, but the truth is that this hasn't happened to us (fingers crossed). The biggest downside we can think of, though, is this difficulty of getting space and time to ourselves. This is, of course, easily solvable with a solo dinghy ride to a cafe.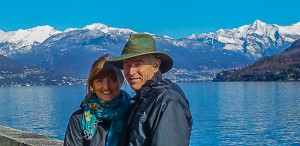 Bob and Jane just completed their first year of living around the world. They spent six months in Pallanza, Italy, three months in Cuenca, Ecuador, and two months in Cusco, Peru. Next they will be living in Malaga, Spain for three months. After that they'll be two months in Tangier, Morocco and two months in Las Terrenas, Domincan Republic. They have no end date to their travel adventures.
The Good: Living and Learning Together
We love experiencing new things and spending more time together. Because we're settling in to each new location for 2-3 months, we kind of have the best of both worlds – the intensity of travel but with the relaxation of not having to run out and do everything in a few days. (Plus, that's the only way it works economically. When you rent apartments for a few months and do most of your own cooking, it doesn't cost much more to live overseas than it does to live at home.)
The Bad: Planning, Without Planning (too Much)
One challenge for us is allowing time and creative space for future plans to develop. When you're planning travel six months to a year ahead, there's a tendency to want everything to be all clear from the start. But often it's better to embrace uncertainty and let a variety of options hang out there for awhile. Eventually, the path will become clear if you don't force a decision too early.
Advice: Nurture Individual Interests
We love doing things together, but we also give each other plenty of space to do things individually as well. I played a lot of tennis with my Italian friends in Italy. Jane doesn't play tennis, but she loves going to yoga classes. Enjoy being together, but give each other a lot of space, too. That's our formula.
Do you have experience travelling as a couple? What are your good, bad, and ugly stories? 
couple's travel, Dear Nora