If you're under the age of 30 (and in some cases, 35), you can get working holiday visas that allow you to travel and work in a variety of countries for one to two years (per country)! Here's how to take advantage of this awesome opportunity.
Dear Nora:

I recently finished school and I want to travel before I get tied down with a house and career and all that, but I don't have much money saved. How easy is it to get work around the world? What's the scoop on working holiday visas, and how do I get one? – Victor
Victor, I wish I knew about working holiday visas when I was in my 20s, because they're an incredible way to travel the world long-term, earn money while you go, build work experience (in your field of study or otherwise), and get a sense of what it's like to live in various locations around the world.
But working holiday visas aren't the easiest things to understand or acquire, and there are a few things you need to know before applying (for example, you'll need to demonstrate that you have some money in savings; a figure that varies by country).
Read on for the full scoop on working holiday visas for Canadians, along with experience-based advice, lessons learned, mistakes made, and anecdotes from fellow Canadians who have travelled with working holiday visas.
(See also: 11 Ways to Earn Money While You Travel)
Working Holiday Visa Basics
A working holiday visa is a one or two-year visa that allows you to work in the issuing country. You can work at any type of job you apply and are accepted for. Some people use working holiday visas to find jobs in their chosen field of study, and others choose to work temporary or seasonal jobs mainly to fund their lifestyle as they travel around the country.
Countries Offering Working Holiday Visas to Canadians
Here is a list of countries Canadians can get working holiday visas for:
Australia
Belgium
Chile
Costa Rica
Croatia
Czech Republic
Denmark
Estonia
France
Germany
Greece
Hong Kong
Ireland
Italy
Japan
Korea
Latvia
Lithuania
Mexico
Netherlands
New Zealand
Norway
Poland
Slovakia
Slovenia
Spain
Sweden
Taiwan
Ukraine
United Kingdom
To get a fully up-to-date list of countries offering working holiday visas to Canadians along with the application requirements, check out the government site for Canadians abroad, and click on the country you're interested in to learn what the basic requirements are and find links to the corresponding immigration websites.
Age Restrictions and Visa Durations
For most countries, you have until the age of 31 to apply for and have your visa processed. In some countries (e.g. New Zealand, Ireland, and Germany) you have until the age of 35.
For most countries, the duration of your visa will be one year, with a couple of exceptions that allow up to two years (or the ability to extend to two years).
Conditions
Each country has a different set of conditions that must be met in order for your working holiday visa application to be accepted. Here are some general conditions that apply to most countries:
You must be in Canada when you apply for the visa. (So, although you can enjoy working holiday visas in many countries, you will need to return to Canada in between, or apply for multiple working holiday visas in advance – where possible).
You have to demonstrate that you have a certain amount of funds in your bank account (or equivalent type of savings account). The amount of funds varies from $1,500-$5,000. The reason? You need to show that you can cover your expenses while you look for a job or if you find yourself between jobs.
There's usually a fee to apply for the visa, ranging from free (Japan and France) to over $400 (Ireland).
You need to either have a return ticket, or prove that you have the funds to buy your onward ticket.
You need to show proof of travel insurance, since in most cases, you won't be covered under the host country's healthcare plan.
Increasing numbers of countries require biometrics, which involves fingerprints and a photo, and a small fee.
In some cases, you'll need to show various forms of documentation such as medical certificates or proof of employment history.
Helpful Services
Although far from impossible, the process of applying for working holiday visas is a bit intimidating, not to mention the process of finding work in the host country. Here are some services that can help you through the process – for a fee, of course:
SWAP Working Holidays works with about half the countries on the above list and will help you with issues such as: obtaining your visa, helping you find a job, opening an overseas bank account, applying for your tax number, filing taxes (because you have to file taxes in your host country as well as Canada when working on a working holiday visa), finding accommodation, and they provide you with other on-the-ground support in your host country.
If you're interested in getting a working holiday visa for Australia, New Zealand, United Kingdom, Costa Rica or France, GO International will give you the info you need to apply for your visa, and then give you assistance once you arrive in your host country including getting a bank account, applying for tax numbers and filing taxes, finding a job, and more.
Anywork Anywhere shows you where you can get jobs, leads you to the right government site for working holiday visa requirements, and there's a handy job search function as well so you can browse job opportunities and choose your next working holiday destination based on what work is available.
Experiential Advice
Learn from the pros! These Canadian travellers have working holiday visa experience in a variety of countries, and share their experiences below, including lessons learned (sometimes, the hard way):
MIRANDA CARRUTHERS
Two Years in the UK (Beware of Visiting Afterwards as a Tourist)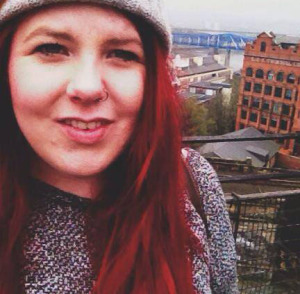 Miranda Carruthers of Endlessly Changing Horizon lived and worked for two years in Edinburgh, UK from 2013-2015. She had a great experience overall, although she suffered a costly complication afterwards. Here's what she had to say about the experience:
Did you get 2 years right away, or did you get 1 year to start and then extend it?
As a Canadian applying for a UK working holiday visa you automatically get two years. You can also work with the same employer for the entire two years if you wish.
Talk to us about the application process.
The application process was pretty easy, it just involved a lot of paper work. You also need to set up a biometric appointment where you get photographed and have your fingerprints taken. They have Biometric centres is almost every major Canadian city, although if you're not located in one of these cities you will have to travel to one.
The cost to apply for the visa is £225 (approximately $453CAD). When you send your application away you will also need to prove that you have £1890 in savings (approximately $3800CAD). You may also be asked once you enter the UK about your savings; when I went they only asked how much I had in my bank, but did not ask for proof.
After your biometric appointment you will then need to send all the paperwork and your passport to New York for processing. If approved you should have your passport and visa stamp within three weeks.
What kind of work did you do in Scotland? Was it easy to find jobs?
The majority of my time I spent working at a call centre in Edinburgh, but I also did an office job, and a job delivering leaflets. It took me about a month to find my first job and about four months to find a decent full-time job that I wanted to do.
Did you use any sort of service or agency to help you apply for the visa and/or find a job?
The first job I found through Gumtree.co.uk which is similar to Kijiji. But after that I used an agency to get a job and eventually got hired directly for the company I was temping for.
Agency's are great for finding work quickly; some of the work might be temporary but the agency is usually good about finding you more work once your contract is up.
What would you recommend to somebody thinking about applying for a working holiday visa?
Working holiday visa's are only available for youth, so if you're interested in doing one, do it before it's too late.
I'd also recommend having closer to $5,000 in savings. I only had the recommended amount and struggled at times, but I was still able to pay student loan bills back home, and still managed to put some money away every month for savings.
A couple more tips: make sure your passport is good for the entire two years of your visa, or longer if you plan on travelling once your visa is done. It's possible to transfer your visa to a new passport if you have to, but it's just best to avoid the headache.
Once your working holiday visa is expired you may not be able to enter the UK as a visitor. I travelled for about a month once my visa was up, and tried to enter the UK to pick up the rest of my things. I had a plane ticket leaving Scotland to Canada a week later, but was detained at the border for eight hours, and was told I needed to leave the next day – despite already having a plane ticket leaving in a couple days. The new ticket costed $1,000, and the old one went to waste, an expensive mistake.
Miranda wrote some interesting posts about her working holiday experience, including:
7 Reasons You Should Take a Working Holiday
You've Moved to the UK. Now What? – with information on how to open a bank account, get a tax number, find a job and a place to live, and more.
CANDICE WALSH
Currently in Berlin (Dealing With Paperwork)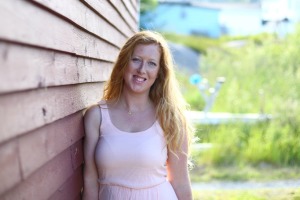 Candice Walsh of FreeCandie.com has been travelling for about seven years, and is a full-time writer/blogger currently living in Berlin, Germany on a working holiday visa. Here is how it's going for her:
What's the scoop with your visa?
I'll be here in Germany until August 2016. The process was quite easy as a Canadian, but since I lived in Newfoundland and the consulate was in Toronto, I could only partially apply. Now that I'm in Berlin I have to "extend" my visa until August, which has involved a great deal of paperwork and total confusion. I'm getting through it, somehow. Hiring a translator helps.
Why did you choose Germany?
I've always been interested in German culture, and Berlin just seemed like a fun city to live in for a while. I lucked into an apartment straight away, so that helped. Berlin is so central in Europe, it makes travel easy. And it's just a weird and wonderfully quirky place with lots of young people. I went to an erotic film festival last night. I can't think of too many places in the world where you can do that.
How was the application process?
Germany is notorious for its complicated bureaucracy. Applying in Canada was easy – the application was straightforward. But as I mentioned, I had to "extend" my visa after arriving in Germany, which was way more complicated than I thought. I had to show up at foreign affairs with a translator to review my application, and I needed additional passport photos and a bank statement (which the government website does NOT tell you). I came ready with those, fortunately, since my translator advised me in advance.
But I also needed to be registered as a resident, which I hadn't known until then. This involves a different appointment at a different office, and since there is such a backlog in applications, I couldn't schedule my appointment until November 2nd…a few days after my temporary visa expired. Fortunately the folks at the foreign affairs office rescheduled my appointment to return after November 2nd, so it should all be fine. (Confused yet?)
Still, way more complicated than I could have imagined. But also, it's Berlin. This experience would have been different in another German city.
What kind of work are you doing?
I'm still on the job hunt, and am currently living off my savings. It's hard to find work in the service industry because I don't speak German, but there are lots of opportunities in start-up companies. Berlin is probably the best place for English speakers. Working at hostels or as tour guides are also popular options.
Did you use any sort of service or agency to help you apply for the visa and/or find a job?
I've hired Expath.de to help me with the translation process and visa extension, but that's it.
What would you recommend to somebody thinking about applying for a working holiday visa?
Yes, absolutely. It's such an easy way to live in and explore a country, and not too many people in the world have the opportunity to do so. We're lucky, as Canadians. Take advantage of it.
HELEN SUK
Two Years in London Changed Her Life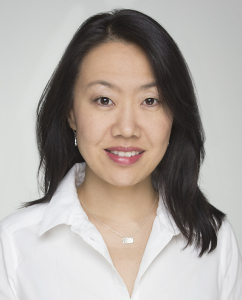 15 years ago after earning her university degree, Helen Suk of Not Without My Passport did a two-year working holiday stint in London, which actually stoked her inner travel bug and inspired her to travel full-time and work as a freelance travel photographer and writer!
Why did you choose London?
I chose London because it's an English-speaking city so there was no language barrier, which I knew would make my job search easier. Also, the strong currency allowed me to start paying off my student loan with ease.
How was the application process?
The process was pretty straightforward – no surprises. I don't remember what I had to provide or how much it cost (this was 15 years ago) but the price was reasonable.
What kind of work did you do in London?
I had no problems finding work. I registered with a temp agency and held multiple roles as an administrative assistant. The assignments lasted anywhere between one week to six months. This was ideal, as it allowed me to travel through Western Europe between assignments.
Did you use any sort of service or agency to help you apply for the visa and/or find a job?
I used SWAP to obtain my visa, and a temp agency to find work. For SWAP, I thought it was worth the money simply for the [help attaining the] visa. The orientation was basic, but they offer a lot more now than when I participated in the program.
What would you recommend to somebody thinking about applying for a working holiday visa?
It's a fantastic way to see the world and earn an income at the same time. When we complete our post-secondary education, we're adults but still young and in a stage of self-discovery. My experience abroad allowed me to reinvent myself and claim my independence. It fed my curiosity for the world and was the catalyst for a life of travel.
B
É

ATRICE BERNARD-POULIN
Tried and Failed in Australia (Jobs Aren't so Easy to Come by)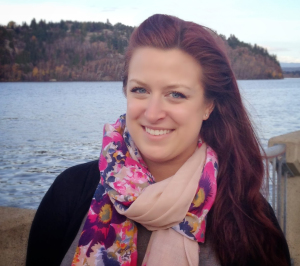 Béatrice Bernard-Poulin is a freelance writer and marketer from Montreal running two French-language websites: Eille la cheap! (to help readers achieve the life of their dreams with the budget they actually have), and AustralieQC.ca (the first French-Canadian site entirely dedicated to Australia). In 2013, she had a working holiday visa for Australia with the hopes of offsetting the costs of a six-month trip around the country, but it didn't work out as she had anticipated once she got there. Here's more on her experience:
Why did you choose Australia?
I absolutely fell in love with the country when I first visited, in 2010. This was a chance to spend more time there.
How was the application process?
The application process was very very easy. You can do it all online. It took less than a half hour to fill out the forms, and I got an approval the next day. I know that the Working Holiday Visa program changed a bit in 2014 and is now more expensive, but I think it is still just as easy to get approved for Canadians.
What happened when you got to Australia?
Australia used to be THE destination for working holiday makers. Now, there are so many people looking for temp jobs, they've actually become harder to find. Also, some backpackers have lied to employers to get work (i.e. saying they're planning to stay for at least six months and take off after two weeks), so now the employment process can actually be harder than it is back home, even for farm work!
Some friends had to fly out to Brisbane, get a bus to a farm in the middle of nowhere and meet the farmer before he would hire them. It's a lot of gambling. Also, if you wish to work in a restaurant or bar you need to have a Responsible Service of Alcohol licence, and if you wish to work where there are pokies [poker machines], you need another certificate.
And let's not forget that farm work is really dependant on the weather, so you could do all the right things (be prepared to stay the minimum of two months, be in the right season, in the right city) but still not find work because of the drought.
And then there are shady employers – some farms have been sued for not paying their workers or for terrible work conditions. The company I (finally) got hired at (a fundraising company) fired me after four days because I asked questions about where the money was actually going and why we were being asked to target "people who don't really understand English or look confused".
I ended up doing a lot of volunteer work to cover my housing and sometimes food.
Did you use any sort of service or agency to help you apply for the visa and/or find a job?
I signed up on farm work websites, as well as made a profile on employment websites saying I was looking for temp work (I believe it was called Seek, but it's been a while!) and I browsed Gumtree (the Australian version of Kjijiji) a lot.
What would you recommend to somebody thinking about applying for a working holiday visa?
In Australia, be prepared to spend at least four months in a city: one month to find a job and three months to work. Otherwise, you may fail your working holiday visa experience like I did.
You can read more about Béatrice's experience (in French) here: Est-ce que trouver un emploi de backpacker est réellement facile?
KATIE MATTHEWS
Taught English in Japan (Got the Job Through her University)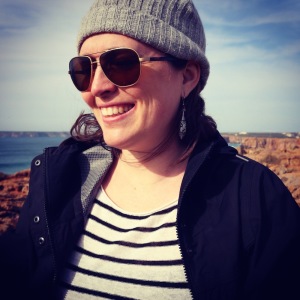 Katie Matthews and her husband Geoff met in Taiwan in 2005 and have been travelling together ever since, hitting over 50 countries and permanently on the road since 2013. Prior to that, Katie had a working holiday visa in Japan from 2003-2004. As a freelance writer, Katie now earns a living writing about the recruitment and hiring industry, and blogs for fun at Wandertooth.
What was your working holiday visa experience?
I completed a working holiday visa in Japan from 2003 to 2004 as part of a part-time co-op education job through UBC [University of British Columbia]. While many Canadians completing working holiday visas choose the country first, and land a job second, for me it was the opposite.
How was the application process?
Getting the visa for Japan was quite simple, with no surprises. I lived in Vancouver at the time, so went to the consulate in person to apply for and pick up my visa. In addition to my passport, I had to submit an application form, photo, resume, and letter explaining why I wanted to go to Japan, and what I intended to do while there; things like travel around the country and work part-time to support myself.
I also had to prove I had enough money to support myself initially, which meant showing a bank statement with at least $2,500. I don't recall having to get a health check, but I know that's a requirement now. When I picked up my visa, I had to show a return airline ticket.
One of the best things about the Japan working holiday visa is it's free!
What kind of work did you do in Japan?
I was hired to teach English part-time in Sapporo, which is on the northern island of Hokkaido. On a working holiday visa [in Japan], you're not allowed to work full-time. The company that hired me knew this, and arranged my schedule to work around 20 hours per week, which meant I made enough to support myself, and had plenty of time to enjoy the "holiday" part of the visa.
Japan has a lot of opportunities for teaching English, and I imagine it also wouldn't be too hard to find temporary work in a ski resort during the winter. That said, Japan is probably less set-up for working holiday visas than, say, Australia, with its infamous fruit picking jobs.
Did you get any assistance from agencies along the way?
The application process for this visa was really easy, so I was able to complete it by myself, without the help of an agency. As for the job, I found it through UBC's co-op education department.
What would you recommend to somebody thinking about applying for a working holiday visa?
My first recommendation would be to do it! I still look back at that year as one of the best of my life…I had a lot of fun and made lifelong friends.
My second recommendation is about money: if you line up a job ahead of time, you can probably get by on $2,500, but if you arrive in Japan without a job, you'll probably need more savings. Many companies in Japan only pay once per month, meaning you could go up to seven weeks without getting paid once you start working.
Accommodation can also be a challenge in Japan, and it's worth asking if a potential employer will help you in this regard. Apartments are expensive in Japan and often require massive deposits and "key money," which is more of a gift to the landlord than a deposit. My company provided me with accommodation, and that was really an ideal situation.
A Note on Teaching English Abroad
Are you interested in teaching English abroad? In some cases (like Katie's), you need a working holiday visa. But in many other cases, you can find the job first (from Canada) and the sponsoring country helps you acquire a different kind of working visa. Added benefit: you don't need to be under the age of 30. Check out How do I Get Into Teaching English Abroad for the full scoop and to get experiential advice from people (of all ages) who teach English abroad.
Dear Nora, earning income abroad, working holiday visas