Although it seems like the lifestyle of dreams to work from anywhere in the world with little more than your laptop and an internet connection – and truly, it is a dream – it's also not without some challenges.
Dear Nora:

I recently started a location independent business and now I'm travelling around the world. But I'm having trouble juggling it all, and what's worse, my husband doesn't seem to understand that I'm working. He pressures me all the time to get offline. How have you done it all these years? – Jodie
Establishing a healthy work-life balance is important under any circumstances, and especially so while travelling. You have to make a living, but you also don't want to work so hard that the world (literally) passes you by. Otherwise, what's the point in travelling in the first place?
I'll outline some work-life balance challenges and how to get around them, along with tips and tricks from other world travellers.
Why is Work-Life Balance Such an Issue While Travelling?
Work-life balance is difficult enough to manage when you live in one place; it's exponentially more so on the road. Why? Because "travel" and "work" are like two separate jobs. This is not to say that either are unenjoyable; rather that it's a delicate balancing act between the two. Add if you have a spouse who doesn't have an online career like you do, it can cause even more friction.
(See also: 17 Reasons NOT to Blog About Your Trip)
Getting work done while travelling ultimately boils down to your own discipline, motivation, and organization. With the ever-changing schedule that comes with life on the road, some people rely on time management/online organizational tools; others just take each day as it comes. No matter what you do, you'll experience a learning curve as you carve out your own style of travel and work.
Work-Life Balance Challenges
Here are some of the specific aspects of life and work on the road that make work-life balance a challenge:
Daily Life on the Road Takes More Time
The daily tasks of life generally take much longer while you're travelling. Why? Because everything is different! Even a trip to the grocery store is a cultural adventure; finding the place, figuring out what everything is, and even how to pay for things. I remember arriving in Spain for the first time many years ago; I needed to do two things: to buy a specific kind of deodorant and get a local SIM card. It took me an entire day!
And all this is before doing a lick of work. Thus, while travelling, the daily tasks of life create a larger burden on your schedule than at home.
The Logistics of Travel has its own Workload
The "workload" of travel includes selecting and researching new destinations, figuring out how best to get there, booking flights and making travel arrangements, finding a place to stay, and on arrival at each new place, figuring out how to do the daily tasks of life (as above). Booking flights alone can be an incredibly time-consuming exercise; it usually takes me the better part of a day to do so.
Again: no work has been done yet. This is just life on the road.
Then There's the TRAVEL Part of Travel
You're probably travelling the world to do more than figure out where to buy deodorant and book plane tickets. Thus, you'll want to get out and discover your destination at hand! There's no problem with this, but there is a balance between discovering your current destination and getting your work done.
The Faster Your Travel, the Harder it Will Be
I learned this lesson the hard way. In 2010 the longest amount of time I spent in any one place was 2.5 weeks; on average I stayed for five nights before moving on. This pace of travel lasted the entire year. So in 2011 after suffering from serious travel fatigue (and loss of income from not being able to work properly), I needed six months (in New Zealand) to recover.
Each time you move to a new location, there is work involved in packing up and moving shop. No matter how much of a seasoned traveller you are, there is some stress in being on the move and keeping your wits about you.
The Never-Ending Search for (Good) Internet
If you have an online business, you're going to be constantly searching for good internet, and in some cases the requirement thereof will dictate where you can and can't travel to. A trip across the sahara by camel might sound romantic, but unless that camel has WiFi, you might give that trip a miss.
Some colleagues of mine were keen to go to India, but were also aware that internet isn't reliable everywhere. So instead of choosing specific places in India they wanted to see, they chose the city in India that reputedly had the fastest internet (Bangalore) to set up shop.
Getting Offline Hurts Too
Speaking of internet, being online all the time can be problematic. You'll not only be spending time online for your work, but also to research and book travel plans, and to stay in touch with family and friends. It's a necessary evil, but it's also addictive – and getting offline might even be painful, but it's a good thing to do now and then.
Remember, you are travelling the world; it would be nice to get outside and see some of it.
Creating Ergonomic and Productive Work Space
Some people work very well in coffee shops. Personally, I find them distracting, so I look for quiet spots to work (which usually means staying in my room – far from a cultural experience). The next problem is the ergonomics. I got a frozen shoulder once from a bad set-up of working on the bed for too long, for lack of a desk and proper chair in my room. It's important to be aware of what kind of environment is best for you to work in, and to ensure that you've got the right set-up to be productive.
Solo Travel vs Partner Travel Changes the Game
When you travel solo, you have nobody to answer to but yourself. Thus if you want to spend the whole day in your room tackling various online tasks (work and travel-related), you can do it. (And you have only yourself to blame if you leave that destination and never see anything).
When you travel with a partner (especially one who doesn't have a location independent business), a whole new set of challenges can crop up. Sometimes that partner doesn't understand your work which creates friction between you. Either way, you might feel an extra pull or demand on your time in the form of curating your partnership.
I've travelled with partners (some who have worked, and others who have not), and I've travelled solo. Both have their challenges. (See also: Solo Travellers Make Better Bloggers….or Do They?)
How to Deal With Work-Life Challenges While Travelling
If you've made it this far, you might be having second thoughts about working on the road. Never fear; knowledge is half the battle, and with a dose of awareness of the inherent challenges of work-life balance, you're all the more equipped to deal with them.
Here are some coping mechanisms, including how some other travellers manage work-life balance on the road.
Know Your Working Style
In the ever-changing environment that is life on the road, productivity can be a challenge. When running a business, you need to be self-motivated, disciplined, and flexible—no matter where you are. On the road, it's also about knowing your needs and working style, and how to create the time and physical space you require to get the job done.
Some people are great at working on planes and trains; others aren't. Some like cafes, while others are distracted by them. Some people are better at working in the mornings, others late evenings. Other people yet need to engineer their working hours to coincide with clients in distant time zones. Although life on the road demands adaptation, you can still develop some general routines based on your personal style to stay productive.
Work Ahead
Dave and Erin of NomadSpirit.net have been digital nomads since June 2012. They are on a personal quest to visit every digital nomad hotspot in the world while running two online businesses involving WordPress theme design and affiliate marketing.
They are trying to pare their routine down to three working hours per day, but unexpected changes regularly come into play so they like having projects ready well in advance of their deadlines. "If it is creative work, such as writing or designing, it is better to always be ahead of your work. A mind without the pressure of deadlines is a more creative mind and by releasing the stress of rushing to finish you will naturally do more commendable work."
This also pays off when travel opportunities arise that you want to take advantage of; since you're not scrambling to meet deadlines, you have more freedom to flex your schedule.
Be Flexible
Speaking of flexing your schedule, working while travelling demands flexibility; not only of working environment, but also routine. "You can't be dependent on routine to motivate you as there is no real routine on the road. Hotels may advertise free wifi in every room, but this is not always the case. Laptops break, flights are missed, people get sick and have accidents. All not too much of a problem when you're working slightly ahead anyway," says Dave and Erin.
Know What Motivates You
Grasya Bangoy works part-time for an international database company in addition to running the lifestyle travel blog Grasya on the Road and a new mystery shopping website. Originally from the Philippines, Grasya started working on the road in 2012, and likes to stay in each destination for six-twelve months.
While many people find they're most productive when they have a sedentary routine, Grasya gets her motivation from movement. "I'm more productive when I'm on the go; seeing different places motivates and inspires me to do a lot. It's good that my work is output-based and flexible so I can work anytime of the day; this includes nights, weekends and holidays."
Other people might be motivated by creating a reward system for tasks completed (ie: when I finish writing this article I'm going for a hike).
If You Have a Partner, Create a Schedule
Alexandra Jimenez has been to 37+ countries on six continents since quitting her corporate job in the fashion industry in 2008. She has channeled her experience and advice into Travel Fashion Girl, which maintains her full-time travel lifestyle as a digital nomad. She also travels with a partner who doesn't have a business on the road.
She discusses the challenges of managing a relationship while traveling and blogging, being careful not to ignore or overlook her partner's needs, and wrestling with feelings of guilt when she has to work.
"My solution to this problem was establishing a two-day work schedule. I spend those entire days working which puts the pressure on me to finish everything within my allotted time. This really helps me as I have horrible time management skills. If there is something urgent [on a non-work day] that comes up, I will work on it as quickly as possible at a time that least disrupts our plans. If it's major, I add work days as needed." The other five days of the week are devoted to traveling and being together.
Don't Feel Guilty
Both Alexandra and I have wrestled with feelings of guilt for working online whilst our partners wait for us to finish up. In some cases it has nothing to do with our partners, who might be perfectly happy to amuse themselves. Instead it might have more to do with our own commitment (and sometimes over-commitment, speaking for myself) to our work, along with this notion that "playing on our computers" couldn't possibly be work. (To a partner who doesn't have an online business, it can appear this way). It's important to understand the source of your feelings of guilt for working, and to find a way around it – otherwise both your productivity and your enjoyment of your travelling life and partner will suffer.
Take a Sabbatical – For Work
Alexandra and her partner also take separate solo trips of up to a month in duration. "I can focus on my own personal or work-related projects while also rejuvenating the spark of travelling alone and giving the relationship some breathing room. Recently, I went to Sulawesi Indonesia and Papua New Guinea for one month to dive while my partner went to Java Indonesia to trek. I had an opportunity to do yoga classes and things he doesn't care to do while also working on a big project."
This is how Alexandra keeps her business moving forward. "Working two days per week supports and maintains my lifestyle but doesn't allow me to work on new projects to further the growth of my business. For bigger projects, I stop for an extended period of time and rent an apartment or go on a solo trip to focus and complete projects."
Creating Your Own System for Work-Life Balance
Talk to three times as many travellers, and you'll get three times as many answers for how to create routine, deal with change, and stay productive while working on the road. Everybody has his or her own method, generally arrived at through trial and error.
Pay attention to the times of day—and circumstances—where you are most alert, enthusiastic to work, and productive. Most people have a sweet spot—often in the mornings. Once you know your sweet spot, you can create a general routine around it.
Balancing the needs of a relationship in addition to working on the road is another grey area; some couples work the same business/job together, sometimes creating additional personal space and identity challenges on the road. Other couples have differing jobs and careers, requiring different working circumstances and even different lifestyles (this can also be a major challenge—one I've faced a few times). Talk to your partner about what your individual needs and expectations are so there are no miscommunications or disappointments.
As you grow your online career and carve out your long-term travel lifestyle, your career and lifestyle will grow with you. This includes your evolving needs, routine, and lifestyle. This is the beauty of working on the road and work-life balance in general: it's your show.
Work-Life Balance Action Plan:
Manage your time each day/week/month by defining what you absolutely need to do, as well as what you want to do. If there is consistently a wide gap between the two, examine that and see how you can make changes to marry need with want.
Be flexible. Life on the road constantly changes, and is often full of opportunities. Working on the road is about being flexible so you can take advantage of these opportunities.
Determine what time of day is best for you to be productive with work. Sometimes this hinges on being available for clients (and straddling awkward time changes), and sometimes it's about your most creative time of day. Set aside that time as your "official working hours".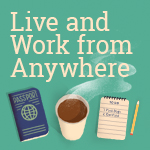 For more information about the lifestyle of working and travelling simultaneously, including interviews with dozens of travellers in a variety of different careers, check out Working on the Road: The Unconventional Guide to Full-Time Freedom.
Dear Nora, tips from travellers, work-life balance, Working on the Road