The Skinny
Jim wants to book a specific hotel: The Paradisus on November 17-23.
I suggest a few options to investigate, given this is not a chain hotel, thus no points bookings
Price matching
Travel Pony
Different Booking Engines
Shopping Portals to link to those booking engines
Ultimately, if I were him, I would book it as follows:
Go to TopCashBack and register for an account
Link to hotels.com from there
Book the hotel on hotels.com
(scour the web for a coupon in case you can find one that beats hotels.com's back end discount)
Reader Question:
Jim asks
I am looking to go on a trip to the Paradisus Hotel in Playa Del Carmen from November 17-23. I am going for a wedding and I have to stay at that hotel. I do not have any points or miles to use towards this hotel booking but I was wondering if there are any methods I can use to discount this hotel booking.

Thanks
Thanks Jim for asking.
Overview
So there are a few things that you can look at doing when you are trying to book a specific hotel. In this case, we are looking at the Paradisus Hotel in Playa Del Carmen for Nov 17-23.
There are a few options I would go through to discount this specific hotel, assuming it is not part of a chain (ie no points options here). Remember there is no flexibility on dates or hotel so we have to play the booking system / booking engines against each other rather than the hotels against each other.
Price Matching
Travel Pony for Transparent Discount Hotels
Booking Engine Loyalty Program
Cashback from a shopping portal
Price Matching
Price-Matching is the most rewarding but also very time consuming. I personally have not been very successful in finding and exploiting mispricings and getting free hotel nights. I think that Drew at Travel Is Free is the best at this. My process is primitive compared to his, and if you are interested in spending the energy to do this then read his stuff.
My only experience here is when I booked the Hyatt Place in Honolulu. My process was as follows:
Look for the hotel I am interested in at hotelscombined.
See all the options for prices and find any that is more expensive than the rest
If one of the major booking engines with a good price match policy is more expensive than the lot or less expensive, then book from the MORE EXPENSIVE one

See how to book in the next 2 steps

Then apply for the price match and the reward
The major booking engines with the best price match guarantees are:
Oribitz
Expedia
Specific hotel sites (IHG.com, Marriott.com etc.)
Jim's Situation
For Jim's situation, it looks like all the prices are the same across the booking engines.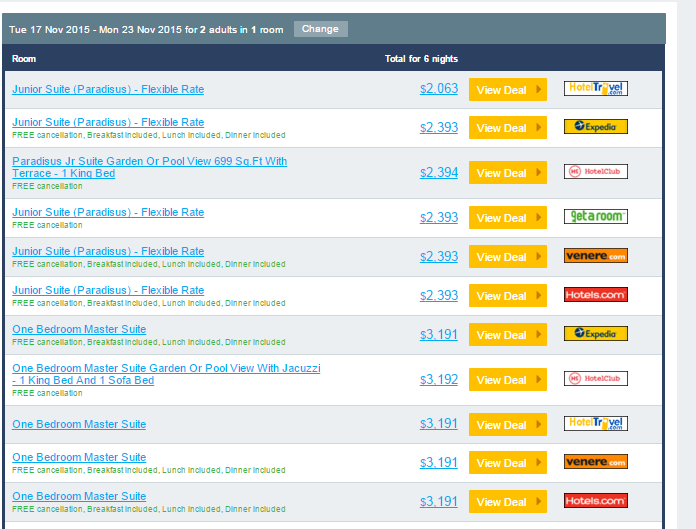 From what I can gather, the Price Matching route is not going to work for this situation.
Transparent Discount Bookings
In the past I have been a big fan of Priceline and Hotwire with their idea that you just want a room with certain features minimum but you are willing to take one of a few hotels that satisfy that. With their engines, the booking process is opaque and you don't know which hotel you are going to get until after you are committed to the hotel. This doesn't work for booking a specific hotel, so we need a transparent hotel booking engine.
Travelpony is my suggestion on this front. I wrote about it here. Basically they tell you which hotels are giving which discount and you can choose them or not. They also have good coupons out there to lower the price further.  The math on this can be found in the article linked above.
If you are lucky, then TravelPony is the best way to discount your hotel as they usually have discounts that are quite large, in the 20% range often.
Even if your hotel is not a "discounted" hotel, the coupons that are available can still be valuable when paying rack rate through Travel Pony.
Jim's Situation
In Jim's situation, this is not going to work as the Paradisus is not listed on TravelPony for booking. It is listed there, but unfortunately, it cant be booked through TravelPony, so no discounts are available there.

Booking Engine Loyalty Programs
At this point, you have reserved yourself to paying for this at the rack rate. Now, you have to find the booking engine that wants your business more.
Many booking engines have their own loyalty programs and coupons. Personally, I find the most rewarding one is Hotels.com, which offers a free night after 10 nights, up to the average value of the 10 nights. This works out to a ~9% discount. Orbitz has their own as well (Orbucks), which is more complicated but can be rewarding if you do many of these bookings, as does Expedia. In general, though, you likely wont be beating the 9% discount that Hotels.com gives.
Another thing you can do is to scour the web for coupons valid on "any" hotel booked through these engines. I would search the web for "Hotels.com coupons" or "Expedia Hotel Coupons" etc. Often times, you can find something that might knock off 10% or something like that. My experience with Hotels.com is that coupons invalidate the loyalty points. For Expedia and Orbitz, I believe (though I am unsure) the coupons do not impact the Orbucks or Expedia points.
Shopping Portals
The other way you are going to discount your hotel stay is by linking to your booking engine through a shopping portal. This information combined with the booking engine loyalty / coupons is what will drive your decision on where to book the hotel at the rack rate.
I find that the best place to compare the shopping portals is www.cashbackmonitor.com. They tend to list many of the shopping portals. Personally, I use it to compare between my preferred ones.
I prefer:
TopCashBack and eBates pay in USD and GreatCanadianRebates pays in CAD.  The payouts change daily so compare on the day you are looking.
My experience has been that Hotels.com generally pays in the 7% range, while Expedia and Orbitz pay slightly less for hotel bookings. These change all the time.
Jim's Situation
In the current situation, it looks like this hotel is available on all the booking engines. Searching for coupons gave us some Hotels.com coupons that work out to about 5% discount upfront. I would rather take the 9% discount for a later stay, but I see value in taking the upfront discount. Pick the one that makes sense.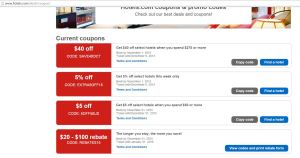 Doing a quick search for the shopping portal, I would do TopCashBack at 7% for Hotels.com. Then book through Hotels.com and get the value of the loyalty program in the form of a discount on a future stay.
Summary
In Jim's situation, he has a few options where he can widdle down a few dollars off the price of his hotel.
I suggest looking at the following options:
Price matching
Travel Pony
Different Booking Engines
Shopping Portals to link to those booking engines