The Skinny
When booking a specific hotel (you are not flexible) research a few different engines for the best rates

Any price discrepancies can be exploited with price-match guarantees

Most booking engines give you rewards for booking through them

Hotels.com is the best as it gives you ~10% rebate
Most others give ~1-2% rebate
Booking through third party engines may not earn you any hotel loyalty points or benefits

Book through the hotel's specific site if you value these

You can use shopping portals, such as ebates and Top Cash Back
[Disclosure: I receive a small credit if you use my links to Hotels.com, ebates and Top Cash Back]
In my previous articles, I have mentioned that when it comes to hotels, (assuming you are not chasing status perks) you can save a lot by being flexible. Sometimes, though, you just don't have any flexibility. Maybe you are going to a conference or wedding at a specific hotel, or the opaque booking engines of Priceline (writeup) or Hotwire (writeup) just don't work for you. In this article, I'll talk about the best ways to book specific hotels at the best rate. Since you will be buying a specific hotel, you will want to play the booking engines against each other and literally have them fight for your business. This is different from when you are flexible on your hotel, where you have the hotels fight for your business. There are 3 main options to consider and I will walk through each of them:
Traditional booking engines for a regular cash fare
Loyalty program / Hotel point bookings
Exploiting promotions
This article will focus on using the traditional booking engines for regular cash fares. I'll also walk through an example of booking a stay at the Westin Fort Lauderdale hotel for the dates of April 13-20, 2013. We would want 2 people in a King room for this example.
Researching your hotel
The first thing you will want to do is decide on the hotel that you are interested in booking and do your research on the pricing. The best places to look for these are the traditional booking engines such as Hotels.com, Expedia, Orbitz, among others. You will also want to check out the specific site of the hotel to find out the prices. Personally, I like Hotels.com only because the information is displayed in a very manageable format and the prices for each date are clearly stated. This is what Hotels.com, Expedia and SPG (the Westin's own site) have to say about the price.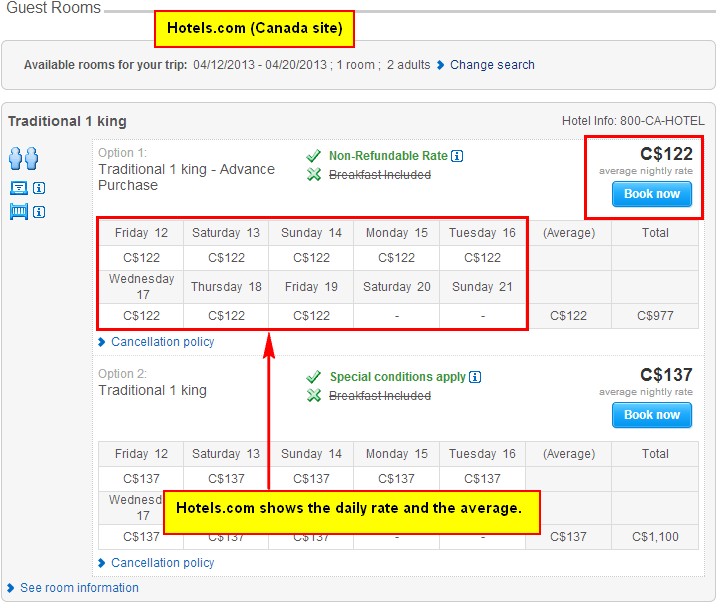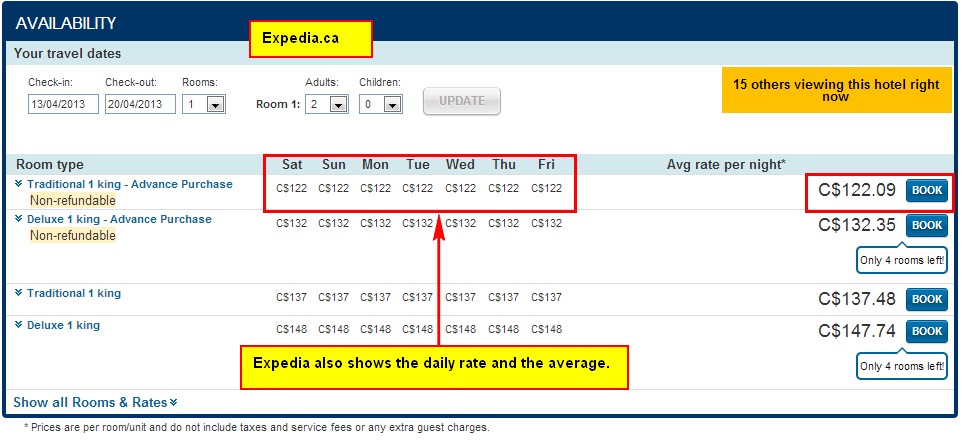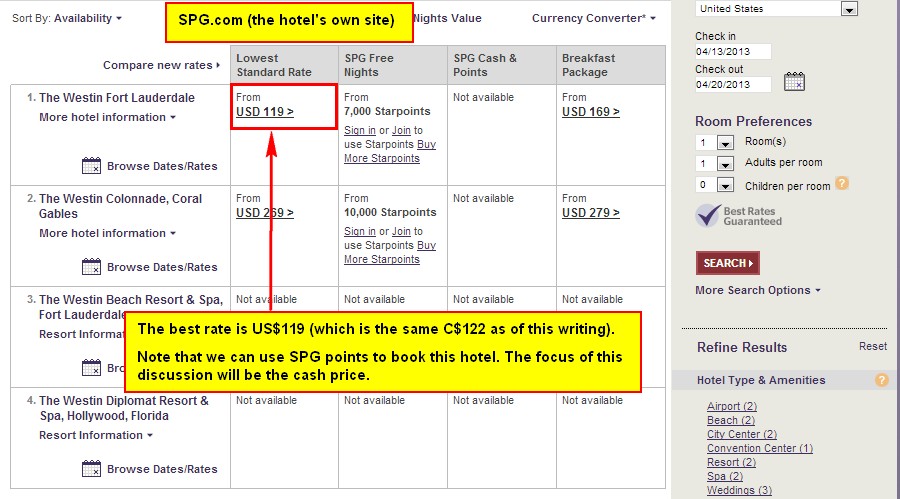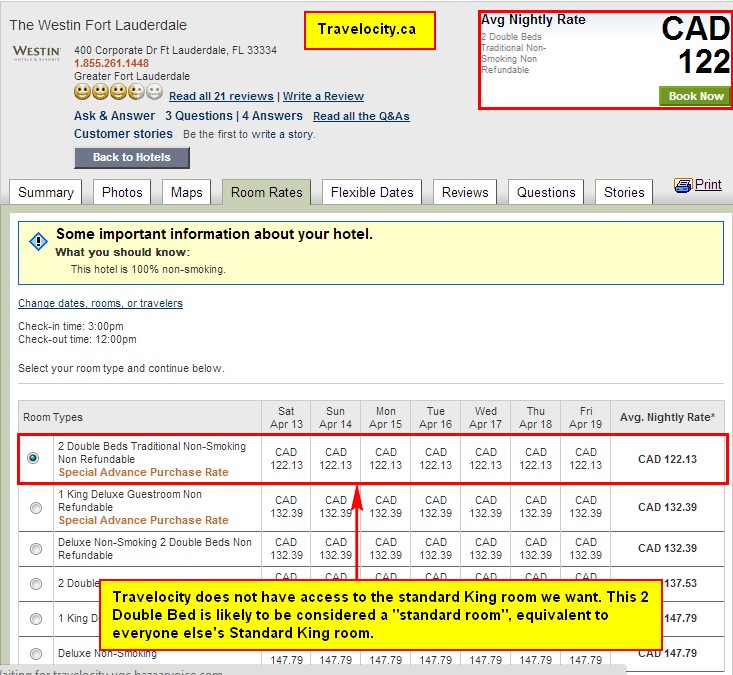 It seems like everyone is charging $122 for this hotel for the dates and service that we want.
Best Price Guarantees
The reason you will want to check out multiple booking engines is because if there is a difference in pricing, you can play the engines against each other. Most of the booking engines have best price guarantees. If, for example, you can find your hotel priced higher at Travelocity over Expedia, you can get Travelocity to match Expedia's price AND give you a $50 gift card. Here are the Guarantee Rules for each of the programs:
| | | |
| --- | --- | --- |
| Booking Engine | Booking Period | Customer Reward |
| Hotels.com Link | Until check-In | Match lower price |
| Expedia (US) Link | Within 24 hours of booking | Match lower price + $50 travel coupon |
| Travelocity (US) Link | Until check-in | Match lower price + $50 travel coupon |
| Orbitz (US) Link | Until check-in | Match lower price + 10% of the differenceRequires another Orbitz customer to book the same hotel |
The Best Rate Guarantee blog is a great resource if you want to learn how to really game this system.
Deciding which booking engine to use
In most cases, the price will be exactly the same across all booking engines so there will be no price advantage of booking one or the other. When this is the case, you will want to consider the other benefits you will get from booking using various engines.
Rewards programs
Shopping portal benefits
Loyalty Program Benefits
Rewards Programs
Given the rise in the competition, each of the booking engines have their own loyalty programs, such as hotels.com's "Collect 10 nights, get 1 free" or Travelocity Rewards. These will likely be one of the only differences in which engine you choose to book. I personally prefer the hotels.com program because it essentially works out to a 10% discount and it can be redeemed for good value after only 10 nights. Expedia offers Expedia rewards, but they are not nearly as good as Hotels.com's 10% return.
Booking Engine
Rewards Return
Minimum Booking
Hotels.com Welcome Rewards
10%
(Stay 10 nights, get 1 free)
Redeem after 10 nights
Expedia (US) Rewards
0.7% – 2.0%
7000 points (1pt / $1 spent on hotels)
Shopping portal benefits
Given that hotels.com has such a great rewards program relative to the others, I think it always makes sense to book your hotels with Hotels.com, unless you are getting a great package from Travelocity or Expedia etc. However, something to consider is any benefit you may get from linking to your booking engine from a shopping portal. My favorite shopping portals are ebates and Top Cash Back but there are a slew of others. The amounts that these shopping portals give you for any of the booking engines varies on almost a monthly basis. Before you book, it is a good idea to compare the referral commissions you will receive from each of the different engines before you decide. I have found that hotel bookings generally return in the 2%-5% range, and sometimes as high as 10% on promotional days.
In our case, I see that hotels.com is getting me 3.25% from ebates and 7% from Top Cash Back. The 7% Top Cash Back rate is probably higher than average but this shows that it is a good idea to shop around, even when it comes to your shopping portal.
Tip: a good way of checking a few shopping portals at once for a given site is to use evreward.com or cashbackaholics. Sometimes the commission payout rates are incorrect but these will give you a good idea of the better portals. Some of these portals are for US customers only. Great Canadian Rebates.ca is a Canadian one but their payouts seem to be quite paltry every time I have looked.
Loyalty Program Benefits
Something to bear in mind when booking through the third party booking engines (ie not the hotel's actual site) is that you will not be eligible to earn status points in the hotel's loyalty program. In my experience, I have never found this to actually be implemented, but if you are looking to make a stay at a hotel for the loyalty benefits, it would be a good idea to book solely through the hotel's own website.
Ft Lauderdale Example
In my situation, I don't have any status at Starwood properties, so I really dont; need to worry about losing any beneftis. I also don't value the few SPG points more than the rewareds I would get from booking at Hotels.com
Given the rewards programs, I would try to do this booking through hotels.com. I don't think any of the other booking engines have earned my business. I would link to hotels.com from Top Cash Back since that will get me an additional 7% cashback.
This is how it would break down:
| | |
| --- | --- |
| 7 nights at Westin Ft Lauderdale | $1095.63 |
| Hotels.com Welcome Rewards (~10% towards future hotel) | -$109.56 |
| Top Cash Back (7% from Hotels.com bookings) | -$76.69 |
| Total Cost | $909.38 |
By knowing which booking engine to use and which shopping portal to use, we were able to save ~17%, or $186.25.
Recap
When you are looking to book a specific hotel and have no flexibility on your dates or location, you should try to play the booking engines against each other.
In my opinion, Hotels.com is the best booking engine since you get ~10% back as rewards for all your bookings. Most of the other rewards programs simply don't come close to that return.
You will also want to link to Hotels.com from a shopping portal that will get you a few percent back (usually in the range of 2-5% but sometimes more). My favorite shopping portals are ebates and Top Cash Back.
If you can find discrepancies in the rate that different booking engines are charging, you can exploit that for some discounts by taking advantage of Best Rate Guarantees. The ability to take advantage of this will likely not occur on most of your bookings but a quick search might earn you $50 toward a future hotel.
In a future article, I'll show you how to value your hotel points and make bookings when you have access to points for the major hotel chains.
Basics, Hotels