The Skinny
Booking a hotel using Hotwire Hotels can save significant money over rack rates
Hotwire offers hotel rooms at discounts by allowing customers to book based only on:

Star Level
Neighbourhood
Amenities

Use the following sites to help figure out the actual hotels that are being offered:
Hotels booked through Hotwire will not earn any loyalty points or have any status benefits
As I have mentioned earlier, Hotwire Hotels is a great resource for booking hotels if you have some flexibility. In this article, I will show you some tips on ensuring you get the best value when booking a hotel through Hotwire.
How Hotwire Hotels works
When hotels are expecting to have unsold rooms, they sell them to Hotwire at huge discounts. Hotwire then resells those rooms to customers for significantly less than the rack rate the hotels are charging.
When you go to the site Hotwire.com, and select the hotels radio button, you can select the city, dates of your stay, number of rooms and number of people who are in each room.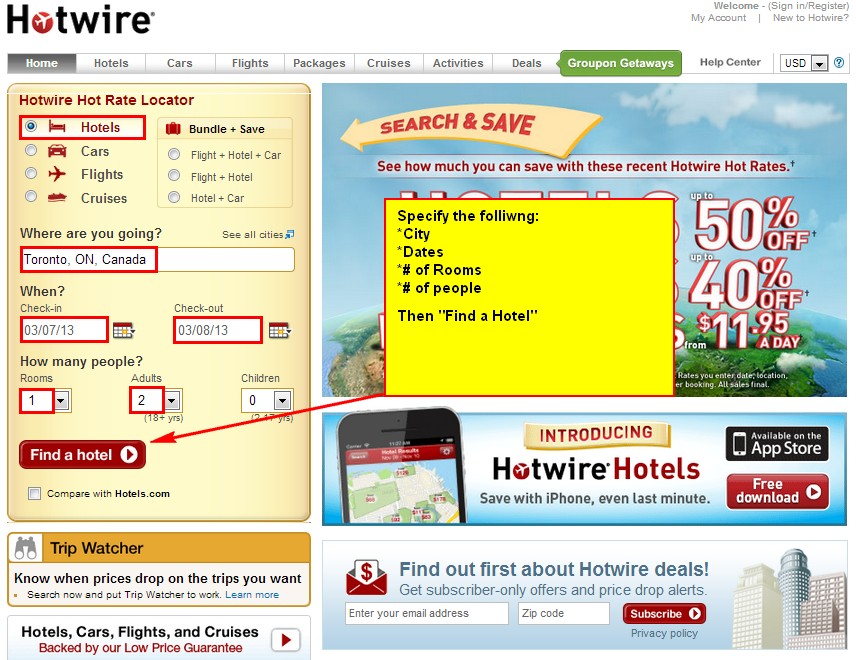 When you hit submit, Hotwire will then respond with offers for various hotels, sharing only the neighbourhood, star level, amenities and price. The specific hotel that each offer corresponds to will not be shared until you purchase. Using the menus on the left, you can specify that you want a certain neighbourhood or certain amenities and the list will adjust.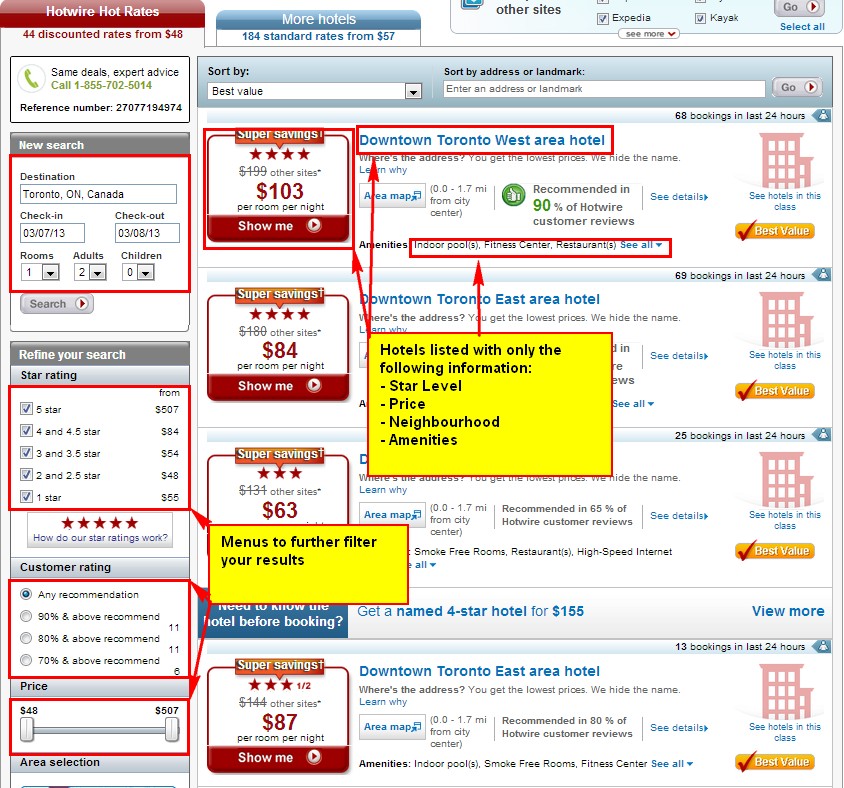 Hotwire is able to give you a good discount on the hotel since they don't tell you which specific hotel you would be booking.
What a Zone and Star Level Means
Geographic zones / Neighbourhoods
Hotwire does a great job of defining their zones / neighbourhoods. For Toronto's downtown zones, it looks like East and West zones are separated clearly by Yonge St or Bay St (note that Priceline's cut of downtown Toronto is by North-South instead of East-West). Zooming in on the map will have a very clear definition of the zone and there should be no confusion on which zone a hotel is in.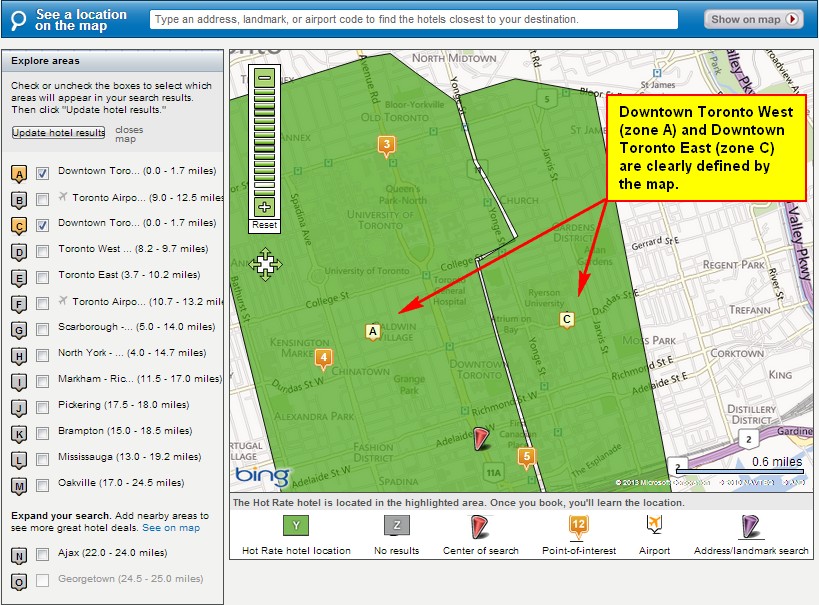 Star Levels
Hotwire does not have a specific set of amenities required in each Star level and the descriptions are quite vague. The great thing with Hotwire is that the minimum amenities are not really relevant. Hotwire informs you of all the amenities of the hotel they are offering so you should really be making your decisions based on that rather than Star Level.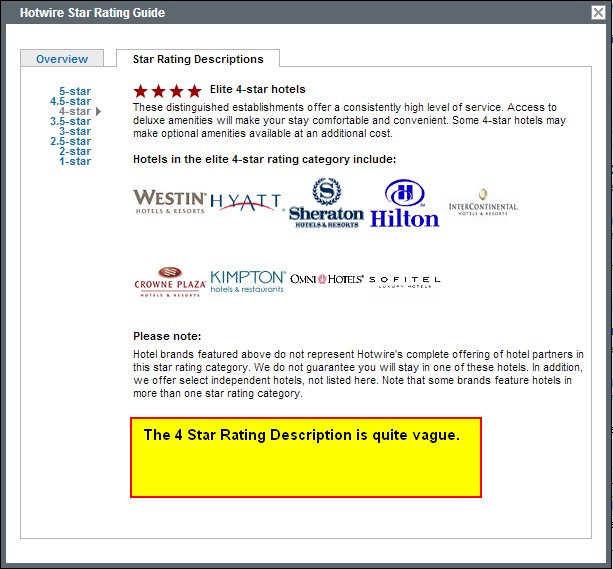 The Star level is more of an indication of the type of property it will be rather than a standard. Treat it that way.
Establishing a likely hotel
Given that you will not know the exact name of the hotel when you book, you want to use any information you have to narrow down the potential candidates. In many cases, Hotwire gives you enough information to have a very good guess at the hotel you might be booking.
Let's see if we can figure out the hotel that Hotwire is suggesting for a 4 Star hotel in Toronto Downtown West neighbourhood for $103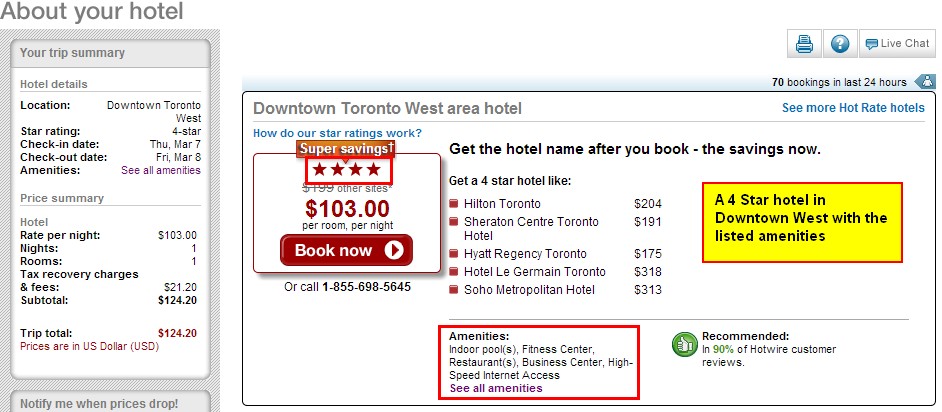 Hotel Lists
There are 2 resources that use when trying to establish the hotel being offered at Hotwire:
Hotel Deals Revealed is the much more user friendly of the 2, but I have found that it is sometimes out of date. Better Bidding is a great resource but is a forum style board with hotel lists. It is organized quite well but there may be a lot of information that could seem intimidating at first to the uninitiated. It is a good practice to find one that you like and use the other list as clarification.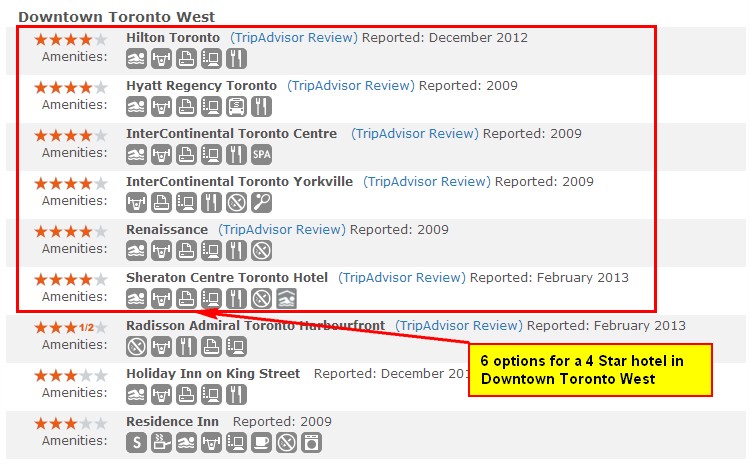 Lining up the information
The 2 pieces of information that you can use to narrow down your hotels are:
Amenities offered
Tripadvisor Rating
Often if you are looking at an option of 2 or 3 hotels, comparing the amenities that Hotwire is offering to the amenities listed in the hotel lists. If you check out Better Bidding, you will notice that Hotwire has suggested the same hotels with different amenities listed, which adds to the level of confusion.
Hotwire also gives you the Tripadvisor rating which I find is a very quick way to eliminate a few hotels from your list of options. When you select the hotel you are considering, you can scroll down the page, Hotwire will tell you the rating of the hotel.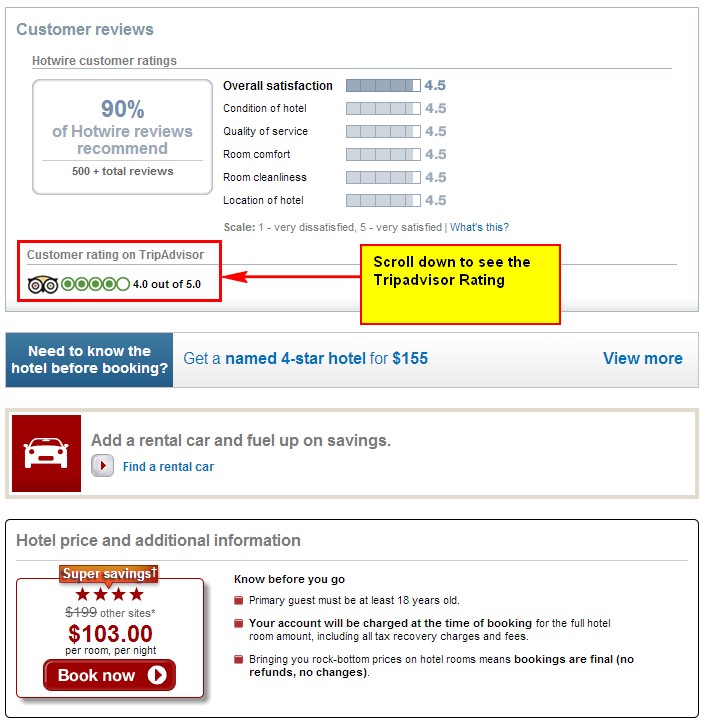 In our case, we see that Hotwire is offering a 4 Star hotel with a 4 / 5 rating on Tripadvisor. We can go through the options according to Hotel Deals Revealed and realize that the 4 hotels with a 4/5 Tripadvisor rating are:
Hilton Toronto
Intercontinental Toronto Centre
Renaissance
Sheraton Centre Toronto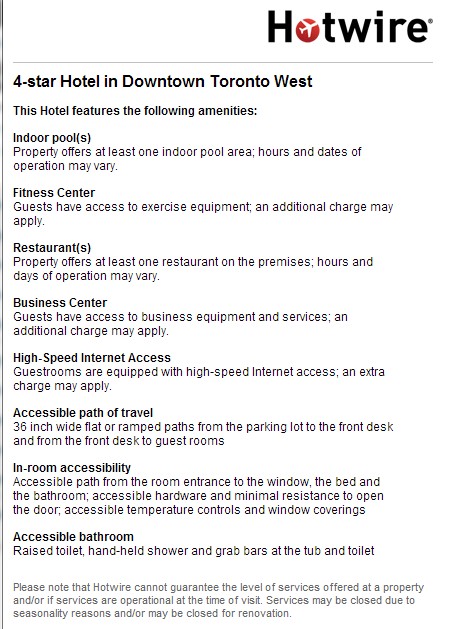 Now, it is important to look for what stands out at any of the hotels.The first amenity I would look for is the Indoor Pool as that is the first amenity in the offered hotel. Going through the list,  the only one that has an indoor pool is the Sheraton Centre Toronto. In all likelihood, the hotel being offered is the Sheraton.
I find the tripadvisor rating is much easier to use to narrow down the hotel. When that isn't helpful, I turn to the amenities to try to line up the hotel.
Caveats to Hotwire Hotel Bookings
There are a few caveats associated with booking hotels on Hotwire
Non-refundability of booking
No status benefits or points earned on hotel stay
Amenity fees are not included in bid price
Non-refundability of bookings
When booking hotels on Hotwire, all sales are final. This means that you shouldn't make a booking until you are sure that you will not need to make any changes to the booking. What I would suggest to people who are looking to have hotels booked well in advance of travel is to have a cancelable backup hotel booked. Then 2-3 weeks prior to travel, book the hotels using Hotwire or Priceline and cancel the backup. This way you are more sure of your travel plans.
Status Benefits and Points
When staying using Hotwire bookings, you will not receive any loyalty benefits. This means no points for the stay and none of the benefits you might have by being an upper tier member of a loyalty program. If you have status in a hotel loyalty program and want to take advantage of the benefits of that, you shouldn't use Hotwire as your booking engine.
Amenity Fees
Hotwire bookings (similar to Priceline) will be subject to amenity fees levied by the hotel. This is a very contentious issue with Priceline bookings, but since there are resources to find the hotel names in advance of booking, it is relatively easy to figure out the amenity fee prior to booking. It is an annoying thing to be nickel-and-dimed when you arrive at a hotel. I would suggest being aware that this may be a possibility. Checking the forums at Better Bidding and Hotel Deals Revealed will inform you of hotels that have these fees.
Checking How Good The Rate Is
Whenever you are booking a room on Hotwire (as with Priceline) it is very important to make sure that you are getting a better rate than you would otherwise get if you were to book through more traditional means. Remember, you are sacrificing certain things, including cancel-ability and any loyalty points you might receive so you have to make sure that you are getting compensated in the form of a better rate.
I find that checking for the best priced acceptable hotel from a booking engine such as hotels.com is usually sufficient to convince yourself of the going rate. There is also Priceline's Express Deals that work very similar to Hotwire that should be investigated. See my writeup on Priceline here for further details. Once you have the going rate for other options, you can decide whether the tradeoff is worth it to you.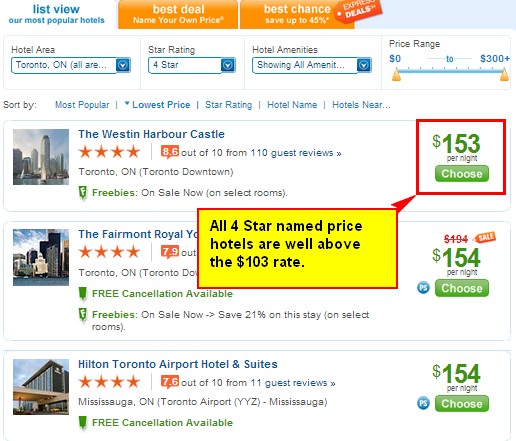 In the case of our Toronto hotel booking, it appears that there is a better rate using Priceline's Express Deals. Given this situation, I would probably take my chances bidding on this hotel on Priceline (instructions) and if I can't get a good rate, I would go with the Priceline Express rate of $99.
Best Ways to Book
If you are going to be making this booking, I find it is important to ensure that you derive the best benefit from the purchase.
Best credit card
Shopping portals
It is probably a good idea to use a credit card that has travel insurance and other upper level benefits for this booking. Should there be any issues, you might want to take advantage of the insurances and other benefits offered by the card. I have never had an issue with a Hotwire booking but should there be a dispute of some sort, the better cards tend to have more consumer protections.
Shopping portals are another way to generate a bit of savings. As I have mentioned, some shopping portals will rebate you a portion of your purchase if you use their link. My personal favorite 2 are eBates and Top Cash Back. Using either of these 2 portals for a Hotwire booking should net you a rebate of 1% – 2% for going through their portal.
[Disclosure: I receive a small commission if you sign up for eBates or Top Cash Back through my links. I receive a small commission for bookings made through my links to Hotwire. I appreciate the support]
Recap
Booking a hotel with Hotwire can save you a good deal of money over the rack rates. Hotwire is an opaque booking engine where the hotel you are looking to book is not revealed until after you actually book it. Using some of the techniques mentioned here, you can establish what the hotels are that you are being offered as well as test whether you are getting a good deal.
Basics, Hotels