This is an article in a series on booking hotels using Priceline
Related Articles
In this article, I'll comment on how to make sure you get the best price for your Priceline hotel. I'll also give specific tips on how to bid using the Name Your Own Price feature of Priceline. I will walk you through all the steps involved in making a booking for a hotel in Miami Beach FL. In the next article, I'll set up a bidding strategy and actually make the booking (assuming Priceline is the best fit).
The Skinny
There are 3 things you can do to dramatically help your bidding strategy:
Establish a target zone
Find any free re-bid zones

You want to find zones / neighbourhoods that you can use to increase your bidding area (and thus get another bid) without actually increasing the number of hotels you are bidding on

Establish the highest price you should pay

 Use Hotwire, Priceline List View or Priceline Express Deals to find the prices to book similar hotels as you are bidding on
Use this information to set your high bid price
As I mentioned in this article, booking your hotel using Priceline is a great way to lower your costs, if you have any level of flexibility on which hotel you stay at. Over the past several years, since Priceline has come into existence, there has been a lot of knowledge gained by the community on how to get the best deals.
The Name Your Own Price Feature
The Name Your Own Price feature of Priceline allows you to bid for a hotel given a specific set of criteria:
Geographic Zone / Neighbourhood
Minimum Star Level
Dates
When I first saw this, I thought, "wouldn't it be great if I can just increase my bid by $1 until I get it accepted?" Unfortunately, each time you make a bid, you have to wait 24 hours before you can bid the exact same combinations of neighbourhood, star level and dates. However, you can have another bid by changing one metric. Let's call that "throwing a wider net".
The Concept
We want to know what the minimum we can bid and still get our bid accepted. That will comprise of a few things:
Establish the target zone(s) that house the hotels you want
Figure out if there are any free re-bid zones
Find the going rate for hotels in your zone and star level
Set up a bidding strategy (next article)
For the purposes of this, I will walk through the following example:
Dates: Feb 27 to Feb 28 (1 night)
Miami Beach (must be near South Beach)

South Beach – Central (zone 13)
South Beach – Collins Ave and Oceanfront (zone 14)
South Beach – Ocean Drive zone (zone 15)

Amenities requires

4 star preferred
3 star minimum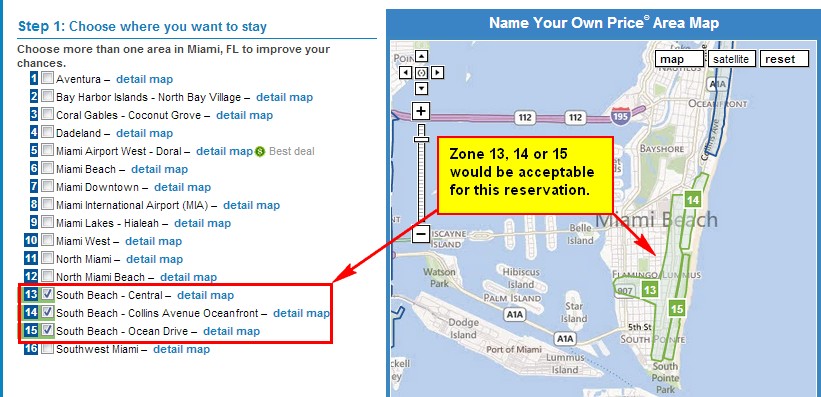 Acceptable hotels by zone
The key to this part is to make sure that you don't end up with a hotel that you are not going to be happy with. Reservations are non-refundable, so it is important to ensure that the your least desirable hotel in the area is still acceptable. In the net analogy, we are ensuring that only good fish get caught.
Priceline does a great job of laying out the geography of the zones and what the minimum amenities are for each star rating within that zone. For most people, on most trips, this should be enough information with which to base your decision on which zones to bid on.
There will be times when you want to have some more confidence that the hotel you get is likely to be one you want. It is a good idea to check the hotel lists to get a sense of what your worst possible option is likely to be.
Personal anecdote: I went to Las Vegas many years ago and bid on the zone calls "Las Vegas Strip South." To me, that has a specific connotation, however, a closer look at the map shows that there is the possibility of getting a hotel that is not fronting onto Las Vegas Blvd. In the end, I ended up getting the Westin Casuarina, which is in fact a good 10 minutes walk from the strip, even though it was in the "Las Vegas Strip South" zone. Priceline has since renamed that zone to "Las Vegas Strip Vicinity South."
Hotel Lists
There are 3 resources that I generally use to establish which hotels are in each zone.
I have found that Bidding For Travel is usually up to date and has recent won bids in a forum type of set up. Hotel Deals Revealed is probably the cleanest looking but it also appears to be outdated for certain zones.
Miami Beach example:
In the Miami Beach example, I want to make sure that every 3 star and above property is acceptable in the 3 zones we specified. Checking out the boards at Bidding For Travel, I get a listing of the hotels. I go through the hotels and realize that all of the 4 star hotels are acceptable. Let's say that all of the 3 star hotels are acceptable for all 3 zones, except the Penguin Hotel (I had nightmares after watching Batman Returns) in South Beach – Ocean Drive (zone 15).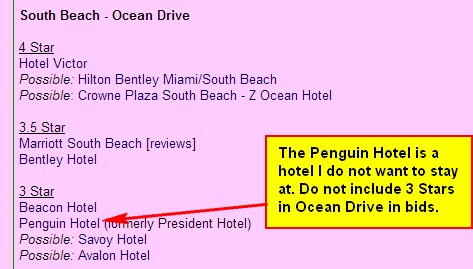 This means our acceptable bidding zones would be:
South Beach – Central (zone 13)
South Beach – Collins Ave and Oceanfront (zone 14)
South Beach – Ocean Drive (zone 15)
Free Re-Bid Zones
When bidding on Priceline, it is clear that if we have access to more bids, we have more chances to bid lower than our maximum bid. In theory, if we had access to 1000 free re-bids (and enough time), we could start bids at a ridiculously low rate and increase by $1 and bid again until the bid was accepted. This would guarantee that we never paid more than we needed to. Given that it takes about 5 minutes to put in each bid, this would be a little impractical, but if we can increase the number of bids on only our pool of acceptable hotels, we can get a lower rate than otherwise.
In the net analogy, Priceline is giving us an extra bid in exchange for us throwing a wider net. In this part, we are making sure that where we widen the net in such a way to not actually catch any more fish that we may not want.
What is a free re-bid?
A free re-bid is when you allow yourself to get an extra bid without actually increasing the number of hotels that are being bid on.
In each neighbourhood or zone, Priceline informs you of the highest star level hotel in that zone. In our example, Southwest Miami (zone 16) has no hotels that are higher than 2.5 stars.
That means that if I bid on a hotel that is 3 Star or better, there is no way the hotel I get can be in the Southwest Miami zone. A bid for a 3 Star in either Zone 15 (South Beach) or Zone 16 (Southwest Miami) is the same as a bid for a 3 Star in Zone 15 only.
2 Star Hotel
3 Star Hotel
Bid for 2 Star in Either Zone
Bid for 3 Star in Either Zone
Zone 15
Yes
Yes
2 Star hotel or better in zone 15 OR zone 16
3 Star hotel or better in zone 15
Zone 16
Yes
No
How to find free re-bid zones
As noted above, when you click on each zone individually, the list of eligible star level hotels are listed (see the screenshot for Southwest Miami above. When looking at a bid, you can go through all the zones in the metro region (in this case Greater Miami) and list out which zones have hotels in each of the star levels.
Here is the listing for Miami Beach. The areas highlighted in green represent the free re-bid zones.
For example, if you are bidding on a 3 Star hotel in Miami zone 15 (O), the only free re-bid zone would be zone 16 (P). That is the only zone where there is no hotel of 3 Star or better. A request for a 3 Star in zone (O or P) is the same as a request for a 3 Star in zone (O).
Calculating How Many Free Re-Bids
To calculate the number of free re-bids, you will need to see how many zones have free re-bids for your request. I will go into detail on how to do this for Miami Beach on a 4 Star bid. For simplicity, I'll assume that I have to be in Zone 15 – South Beach – Ocean Drive (O).
From the above table, I can see that the following 6 zones do not have 4 Star or better hotels and thus are free re-bid zones:
Zone 1 – Aventura (A)
Zone 2 – Bay Harbor Islands – North Bay Village (B)
Zone 4 – Dadeland (D)
Zone 9 – Miami Lakes – Hialeah (I)
Zone 10 – Miami West (J)
Zone 11 – North Miami (K)
Zone 16 – Southwest Miami (P)
For this exercise, I want to use zone 16 (O) as my base, so I need any bid to include (O). To increase the number of free re-bids, I could add each of the free re-bid zones individually to (O). The bid orders could look like:
(where OA means a bid for a hotel in zone O or A)
O
OA, OB, OD, OI, OJ, OK, OP
OAB, OAD, OAI, OAJ, OAK, OAP, OBD, OBI, OBJ, OBK, OBP, ODI, ODJ, ODK, ODP, OIJ, OIK, OIP, OJK, OJP, OKP
…and so on
For you mathies out there, there are 7 free re-bid zones and
= 128 different bids you can make (including your initial bid)
Order Matters
A bid for OAB is a bid for any 4 Star hotel in any of those 3 zones. Following that with an OB would be rejected by Priceline as a repeated bid. This is because the bid OB was already tested in OAB. As a result, it is important to make sure to do all of your 2 zone bids, before you do any 3 zone bids. You will have to start your bidding from the beginning each time though. If you just add zone B to a rejected OA bid, you will have an OAB bid.
Find the Going Rate For Your Hotels
It is important to find out what rate you would be able to pay for the hotels you are bidding on if you didnt bid. It is important to do this so that you do not overbid and you have a good idea of where to set your bidding strategy. If you can buy the hotel you want for $80, you should not be bidding $120 for the same one.
There are 3 tools that I use for this:
Priceline List View
Priceline Express Deals
Some notes: You should probably do this for every Star level independently. You should also use the lowest price for an acceptable hotel as your baseline. This is important if 4 Star hotels are cheaper than 3 Star hotels (for some reason). If you bid on a 3 Star or better, use the lower price, which in this case is the 4 Star hotel.
Hotwire
Hotwire Is great in that they will show you what you can pay for a hotel given the Star level and neighbourhood. Sometimes the Hotwire and Priceline have slightly different hotels and neighbourhoods specified, so it is not exact. Knowing what you can pay Hotwire for an acceptable room will allow you to set your cap on your bids through Priceline.
Note: You will want to ensure that the hotels that Hotwire is offering are acceptable using the same techniques I mentioned for checking the hotels at Priceline.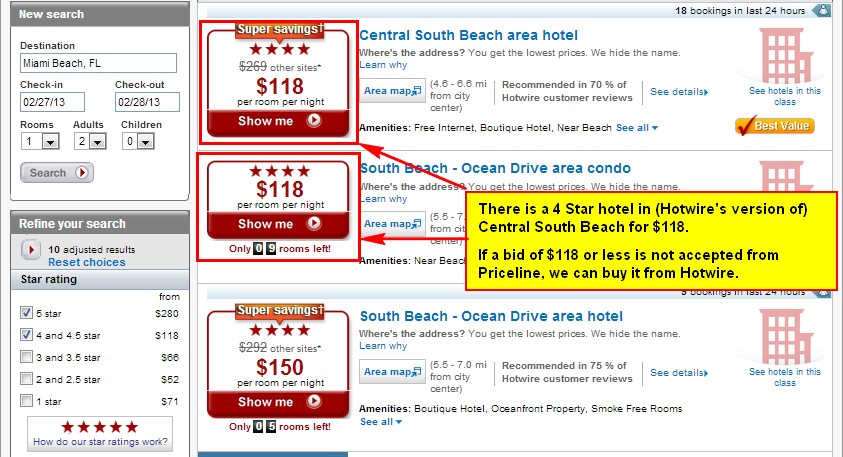 Priceline List View
Priceline List View will allow you to see what the rack rates are for your acceptable hotels. I generally don't look at these but it is a good idea to know if there is a very cheap acceptable hotel there.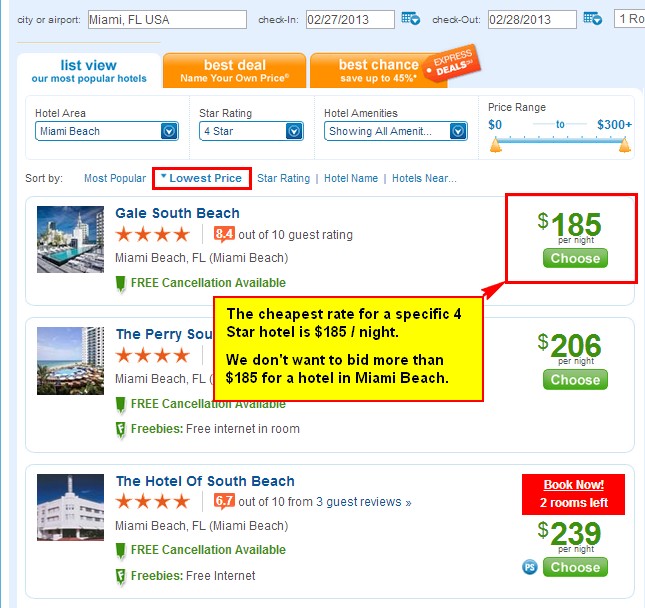 Priceline Express Deals
Priceline's Express Deals is the best way to gauge what you should be paying. You can check what Priceline wants for a hotel given what you are bidding on. That is great information since the zones and star ratings should line up exactly.
Miami Beach Example
I suggested that this be done for every Star level for any acceptable hotels in the area. These are the results for the example in Miami Beach area. The numbers are for hotels in any of our 3 acceptable South Beach zones (zone 13, 14 or 15)
Booking Engine
4 Star
3.5 Star
3 Star
Hotwire
$118
(Central)
$150
(Ocean Drive)
$66
(Central)
Priceline List View
$185
(Collins Ave)
$219
(Ocean Drive)
$108
(Ocean Drive)
Priceline Express Deals
$149
(Central)
$188
(Ocean Drive)
$89
(Central)
Lowest Price
$118
(4 Star – Central)
$118
(4 Star – Central)
$66
(3 Star – Central)
So based on the information in the table, we know what the most we have to bid on Priceline before we can throw in the towel. In this case, I would make the decision to simply target the 4 Star hotel ONLY and pay $118 for it if Priceline can't get me a better rate.
A note: In this exercise, we realize that Hotwire actually has significant discounts compared to Priceline. In this case, it may seem that Hotwire has better rates and we are quite likely to end up with a hotel through Hotwire instead of Priceline, which would be fine.
Recap
There are 3 things you can do to dramatically help your bidding strategy:
Establish a target zone
Find any free re-bid zones

You want to find zones / neighbourhoods that you can use to increase your bidding area (and thus get another bid) without actually increasing the number of hotels you are bidding on

Establish the highest price you should pay

 Use Hotwire, Priceline List View or Priceline Express Deals to find the prices to book similar hotels as you are bidding on
Use this information to set your high bid price
Basics, Hotels, Priceline