The Skinny
If you fill up at Petro Canada, here is an easy way to save a decent amount of money on your fill up.
In total, you can get $200 – $225 worth of Petro Canada gas for a net total of $184.29
Overview
Today, eBay is selling Petro-Canada gift cards for a decent discount. Here is the package:
$200 worth of Petro Canada gift cards (no expiration)
5 cents / L discount card up to 500 L, (expiration Dec 2017) max value at ~$25
All of this for $189.99 delivered on eBay.
The item number is: 201465112556
Make sure to pay with your credit card for the extra 1-2% in rewards.
See Also: Petro Points Rewards: Are They Worth It?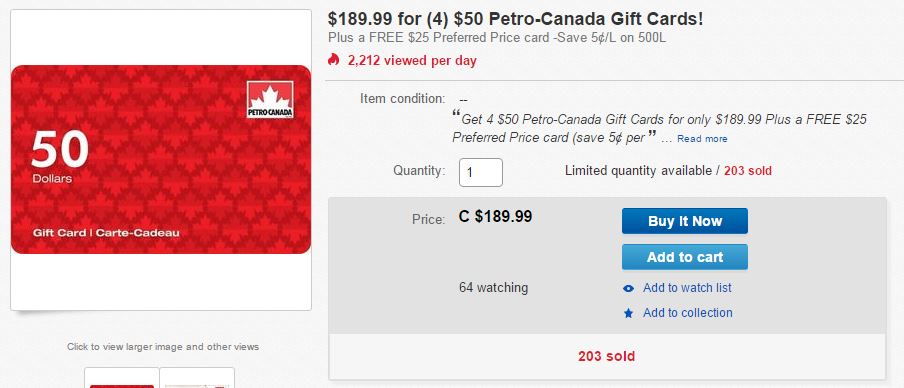 Sweetening the Pot
There are 2 additional benefits that you can accrue when shopping on eBay:
eBay Bucks
eBay Bucks are earned on almost every purchase made at eBay.com. The standard rate is 2% of the purchase price earned in eBay bucks (which are in USD), but sometimes eBay sends out multipliers bonuses. You must activate email notifications on your eBay.com account to receive these targeted offers. eBay bucks are paid in the form of a coupon at the end of the quarter and are paid in USD.
For this purchase, if made on eBay.com, you would earn an eBay bucks coupon for ~USD$2.85, which you can use in January 2015.
eBay.ca vs eBay.com
Something to bear in mind is that eBay bucks are only available for purchases made on eBay.com. They are not eligible on purchases made on eBay.ca.
See: eBay Bucks in Canada to be Retired
Shopping portals
Many shopping portals pay a percentage in cash or points for purchases made through their links. My preferred ones in this situation are eBates.com or Aeroplan eStore.
eBates is offering 1% Cashback for eBay.com right now. New users get $5 to start.
Aeroplan eStore is paying 1 Aeroplan mile / Dollar spent on eBay.ca
Math
Option 1: eBay.com, linked from eBates.
The most profitable option is to use eBates to link to eBay.com and purchase there.
Pay C$189.99 for the package
Get USD$2.85 in eBay Bucks (Approx C$3.80)
Get USD$1.40 in eBates money (Approx C$1.90)
Net Cost: C$184.29
Option 2: eBay.ca, linked from Aeroplan eStore
Pay C$189.99 for the package
Get No eBay Bucks
Get 190 Aeroplan miles
Net Cost: C$189.99 less 190 Aeroplan miles
Summary
Lock in some savings on your next year of gas purchases by buying up the Petro Canada gift cards.