The Skinny
Costco is a great place to shop. Quality is great. There are opportunities to buy in bulk at a discount
If you are interested in getting a membership there, consider running the numbers to see if it makes sense. Gold Star and Business memberships get access only. Executive memberships get access and a 2% rebate on all purchases at Costco
Debating between the Executive and Gold Star membership, you should choose the Executive if you are going to spend over $2750 / year or $230 / month
When registering for Costco, look for promotions such as the Aeroplan promotion for 1500 points or a Groupon / Living Social
Registering in a lower tax jurisdiction can save you some taxes, but might not be worth the headache
Overview
Many people shop at Costco as their main source of grocery, household and electronics, among other items. Costco sells everything under the sun and has great quality.
In addition to my review on the best credit cards to use at Costco, this article discusses the benefits and analysis of a Costco membership.
The Costco Store
Costco is generally marketed as a bulk or warehouse store. They generally sell things in large quantities, but that is not necessarily the case. In my experience, they sell things in the perfect amount for families who might only be interested in shopping every 2 – 4 weeks.
Costco generally sells most national branded goods, but they also have their own Kirkland brand products. In general, I have found that Kirkland branded products are of very good quality and if you enjoy their products, then Costco is the only place to get some of them. I also like many of the food items that Costco sells. Sometimes I have been known to go there on a Saturday afternoon to snack on all the samples that they offer to you.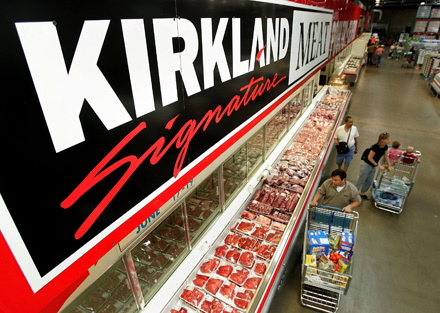 There are some drawbacks of shopping at Costco and that is simply the very long lines that can accrue on a Saturday or Sunday. Finding parking there can be a struggle sometimes and expecting to be in and out of a Costco store in 15 minutes is a recipe for being late for something somewhere.
The other issue is that Costco stores are very big and never in the city cores. It is pretty much the epitome of the "big box" stores that only exist in the suburbs. Plan on driving there.
Finally, Costco is one of those places that ends up sucking you in and causing you to come out having spent more than you expected. I find that I always end up getting more than I need and that might have a real impact on the finances.
The movie Idiocracy made fun of the big box nature of Costco. Here is a fun clip.
So, to be clear, Costco is probably a great place to shop if you are a family living in the suburbs. It is probably not ideal for singles living in the city.
Types of Membership
There are 3 different types of Costco memberships available:
Personal (Gold Star)
Business
Executive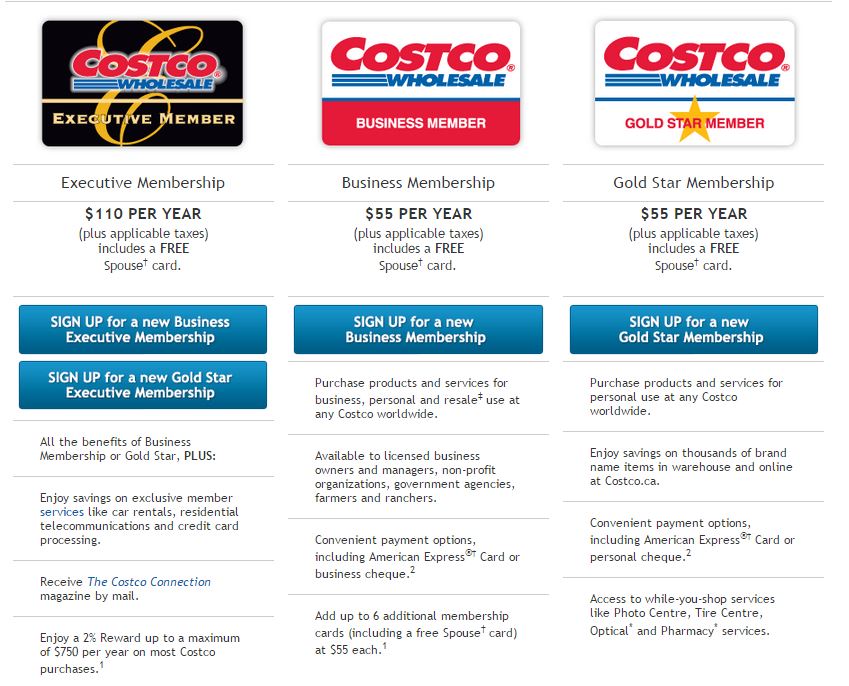 For all intents and purposes, the Personal and business memberships are the same. They both cost $55 and both give access to 2 adults living in a single household.
With the Executive membership, you can get all the benefits of either a Personal or business membership AND you get 2% of your total spend (including tax) returned to you as a rebate at the end of the year.
Potential Benefit of a Business Membership
Something to note is the difference between the business and Personal memberships. The business membership allows the user to sell any merchandise bought at Costco (I can't imagine how this can be restricted if you have a Personal membership), but also allows the user to have up to 5 additional memberships under the same account. The only benefit here would be with the Executive version of this membership, which would allow the 2% benefit to be passed on to up to 5 people under the same account, without having to pay the $55 premium for that benefit.
Which Membership Makes Sense
When running the numbers, let's look at the option of a 2 parent family who is debating between the Personal and Executive membership. The math should be the same for someone getting a single business membership (no additional cards).
Assuming that you are debating between the 2, it should be noted that the baseline you are going to spend is $55 for the Personal membership.
Personal Membership = $55
The Executive membership costs $110 and includes the Personal membership and 2% discount on all purchases. We can say that you are getting the Executive membership for $110. This can be restated as Personal membership & 2% return for $110.
Executive Membership = $110
(Personal Membership + 2% return) = $110
($55 + 2% return) = $110
2% return = $55
Some simple math shows us that we are paying $55 to get 2% return on all of our purchases. For that to make sense, you would need to spend $2750 / year at Costco. $2750 / year  works out to $230 / month.
If you are able to spend $2750 / year that would generate a rebate of $55, which covers the ADDITIONAL amount you pay for the Executive membership. If you were to spend $5500 / year, then that would cover the entire $110 Executive membership fee.
Here is the table that can help you decide which membership to get:
| Annual Spending Per Year | Membership | Membership Fee | Rebate | Membership Cost (Net of Rebate) |
| --- | --- | --- | --- | --- |
| <$2750 | Personal / Business | $55 | 0 | $55 |
| $2750 – $5500 | Executive | $110 | 2% of annual spending | $0 – $55 |
| >$5500 | Executive | $110 | 2% of annual spending | less than $0 |
Note that rewards are earned on the entire amount, after tax. Since the membership fee is taxed, we can assume that all numbers are considered pre-tax. If you spend $2750 / year pre-tax, that would generate enough of a rebate to cover the pre-tax portion of the membership fee. The rebate redeemed for the taxes paid on that $2750 would be enough to cover the taxes on the membership fee.
Best Ways to Discount Membership
There are a few ways that you can discount your membership.
Sign Up Through a Promotion
In general, when you sign up, you can usually find a promotion to give you some bonus upon signup. At the time of this writing, I have found that the best signup available regularly is the Aeroplan bonus of 1500 Aeroplan miles for signing up through their link.
I have also found that Groupon and the other deal sites often have promotions to sign up for Costco. Earlier this year, Living Social had a promotion for the Gold Star membership for $55, but the sign up received a $20 Costco gift card and a few household items.
If you are interested in signing up, it would be a good idea to do a quick Google Search for promotions on joining Costco.
Buying in Different Jurisdictions
Costco memberships are valid at any Costco in North America. This means that an Alberta resident can register for Costco at home and still shop at a Costco in Ontario when they come to visit.
The Costco membership fee is considered taxable in most states and provinces, including Ontario. With my 13% HST in Ontario, my actual Costco Executive membership charge would be $110 + 15% HST = $124.30. That same Costco membership bought in Alberta would cost $110 + 5% GST = $115.50.
If you are interested, you can register in another province or state, with a lower sales tax and receive the benefits in your home area. This can be beneficial to you, generally if you are a student from Alberta, living in Ontario, for example.
If you are going to try to do this cross border, then you need to check if the savings are offset by the exchange rate. At the time of this writing, paying in Canadian dollars in Alberta was preferable to buying in New Hampshire in US Dollars.
The province with the lowest sales tax is Alberta. The US States with the lowest sales tax are: New Hampshire, Delaware, Montana, Oregon and Alaska.
Conclusion
Costco is a great retailer. If you are considering getting a membership, remember that $2750 / year ($230/ month) spending is the important number that will determine which membership to get.
Also, make sure to check for promotions when signing up for a membership and buy it in the most tax-efficient way, if you can.