Whether you are a top-end holiday-maker or a budget backpacker, everyone is looking to save money while travelling. You don't have to be an expert travel hacker to stretch your dollar either. Using these few simple tips, you can save a lot of money while on the road.
Here are our top 8 Banking Tips For Saving Big Money While Travelling:
1. Choose The Right Credit Card
Credit cards can be a great way to earn and save extra money on the road. Some cards have great rewards programs, while others will give you cash-back on your purchases. The key is to find the perfect credit card for you.
A good place to start is to look for a card with no foreign exchange fee, a large sign-up bonus and a low or non-existent annual fee. Many cards will charge you 3% for purchases made in a currency other than Canadian dollars, effectively erasing any gains you might have made with rewards. There are two credit cards in Canada without foreign exchange fee's, the Chase Amazon.ca Visa which ranked #5 as a cashback credit card here. The other is the Chase Marriott Visa which can be found here. If you do have to pay an annual fee, make sure that the earnings from cash-back credits and rewards points are worth it in the end. If you have multiple credit cards, make sure that you spend enough on each of them so that the points compensate for the yearly fee you'll be paying.
Also, make sure that you use the right cards for the right purchases. If you're travelling, use your no-foreign exchange free credit card. Buying groceries? Swipe your Scotiabank Gold and get 4% back.  Flying? Use your best travel rewards credit card. It's wise to have a card that's tailor-made to each of your purchases. If you don't want to keep track of all of this, then you can go the easy route and just use your fixed value points card.
You may be surprised at how much free travel you can earn just by using your credit card!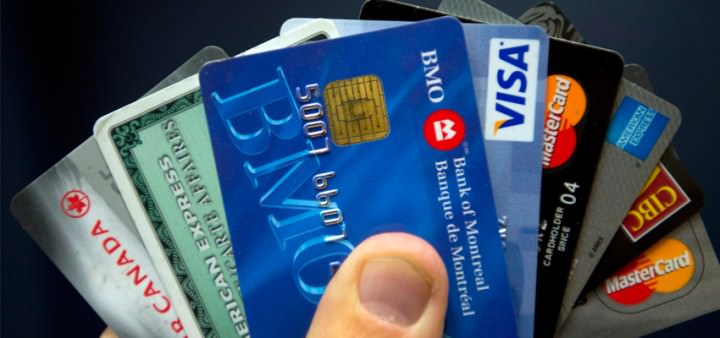 2. Choose The Right Bank Account
Just like credit cards, you can save big money by choosing the right bank account for your travels. When you take out money from overseas ATMs, most banks in Canada will charge upwards of $7 for each withdrawal. These costs will add up quickly, especially towards the end of your trip, when travellers often make multiple, small withdrawls in an attempt to avoid having any left-over local currency.
It's definitely annoying when you take out $10 from an ATM and your bank charges you an extra $7!
Look online at your bank's website to see if they have an overseas account, or a special account for travellers that won't charge you any withdraw fees.
If you have accounts with international banks like Scotiabank and HSBC, try to use their ATMs (aka ABMs) when you're withdrawing money overseas. As long as you're taking money out of you a global alliance ATM, you won't have to worry about those pesky international charges. Scotiabank has over 50,000 ATMs in over 40 countries, while HSBC has 9,500 branches in more than 80 countries.
Scotiabank is also part of the Global ATM Alliance, which allows you to withdraw funds from various ATMs in many countries around the world, without worrying about paying any transaction fees (except for the foreign conversion fee).
Just keep in mind that you won't find Global Alliance ATMs in every city you go, so it's better to have an account that waives all international fees, just to be safe.
3. Pre-Pay Your Credit Cards
Did you know that if you withdrawal money from your credit card overseas, the interest begins accruing right away? Normally, when you use your card in your home country, you have a 20 – 30 day grace period before the interest charges kick in.
Not when you're abroad! 
Another kicker is the fact that the interest accrues on the entire balance, not just on the one withdrawal. So if you only take out $100, but your total credit card balance is $1,000 including purchases, you'll be charged interest on the entire $1,000 from the minute you make the withdrawal from the ATM. Taking out cash from ATM machines overseas should be done as a last resort only. If you need cash, take it from your debit card!
A good way to avoid extra fees is to overpay your credit card before you travel. If you have a positive balance on your card, you won't have to pay any interest! Keep this in mind next time you go to swipe your plastic overseas.
4. Try Different ATMs
If you have an account with HSBC, Scotiabank or another international bank, then you may not have to pay fees to them, but the local ATMs may still charge you for withdrawals from a foreign debit card.
Many overseas banks will charge you a fee for your withdrawals, so even if you have the optimal account for overseas transactions, you still may go home and find some extra charges on your bank statements. These are likely charges from the local ATMs that you were using during your travels.
The good news is that not all local ATMs will charge you extra, and the fees vary from bank to bank. To avoid unecessary charges, take money out from one bank, then go to your hotel and check your balance online. Divide the debit amount by how much local currency you withdrew to find out how much you're getting for your dollar.
The next time you take out money, try a different local bank and follow the same process. You'll find that you may be getting a much better rate from certain ATMs. This isn't because your bank is converting the currency at a different rate, it's because some of the local ATMs are charging you a higher fee than others. Choose the one that charges the least and only use that bank while you're in the country.
Note: Be aware of ATMs inside of top-end hotels, bars and casinos as you may find that they have higher fees than local ATMs on the street.
5. Request To Have Your Fees Waived
You may be surprised at how much power the telephone banking agents have. Did you go over your minimum balance and were consequently charged a $30 fee? Did you go into overdraft for a day and they added a $5 charge to your account? Give telephone banking a call and explain to them that you made a mistake.
With a simple request, they may feel generous and waive your fees for the month. While we wouldn't recommend purposely overspending and expecting the bank tellers to bail you out, if you do make a mistake, they're almost always willing to help and will credit your account.
6. Be Mindful of Fees When Using PayPal
If you're making purchases online while you're travelling, it's okay to use PayPal as they don't have any fees for buyers (though you'll miss out on valuable credit card points). But if you're receiving payments for services, look out! There is a hefty 2.9% on all payments received into your PayPal account, plus and extra $0.30 per transaction. These fees add up quickly!
If you're receiving a payment of $5,000, PayPal may take up to $145.30 off the top!
A good way to avoid these annoying fees is to send and receive money using email money transfers. These are easy, quick and secure and all you need is an email address and access to online banking. The best part of e-transfers is that they often cost less than a dollar!
Click Here for more information about E-transfers.
Note: Most E-transfers are only valid between banks in the same country, meaning you may not be able to send / receive money internationally.
7. Watch Out For Businesses That Charge Extra For Using Plastic
It's great if you're racking up points using your travel rewards card, but you still need to be aware of hidden fees, especially if you're asking for cash-back at hotels and grocery stores.
While the person completing the transaction should warn you of any extra charges, it's always a good idea to inquire. Many hotels, restaurants and grocery stores overseas will charge upwards of 4% extra for using your credit card. These fees can be even higher if you're asking for cash-back with your purchases, so be careful.
8. Make Sure Your Bank Has a Banking App
These days you can do pretty much everything from your smart phone, and banking is no exception. Check with your bank and make sure that they have an extensive banking app that will cater to many of your banking and travel needs.
The best apps will allow you to deposit cheques from your phone. That way, if you're receiving cheques in your home country, but you're not there to deposit them, you can have a family member send you a picture of the front and back of the check, and you can then deposit it from your mobile phone.
But that's not all. Banking apps can do so much more. They can tell you where the closest restaurants are that will give you the best credit card rewards, they can keep track of your trip finances, and even unblock foreign transactions, right from your phone.
The CitiBank App is one of the best, with a great security feature that allows you to temporarily turn off a debit card if you think it has been lost or stolen.
There are even stories of travellers being robbed at ATM machines and taken for everything they have. The thieves force them to withdrawal the maximum amount over and over again until their bank account is empty. If they could have discretely turned off their debit cards using the app on their phone, they could have saved a lot of money!
While this sort of robbery is unlikely to happen to you on the road, it's always better to be safe than sorry.
Ready To Save?
These are just a few ideas of how you can save big money while travelling. Travel hacking is a growing craze that spans the entire spectrum of travellers' budgets. Whether you're on a world trip or a quick vacation, there are hundreds of ways to keep your wallet fat and your passport full!