The Skinny
The Scotiabank Gold American Express card has the best earning rate in the marketplace for many people who put most of their everyday spending on their credit card.
It has great earning rates, especially in restaurants category, and a host of travel insurance coverage. Redeeming rewards is very simple.
It is an American Express card, so before you apply, you should make sure that the merchants you frequent accept American Express.
Scotiabank Gold American Express
Type:
American Express
Rewards:
4 pts / dollar on gas, grocery, restaurant & entertainment
1 pt / dollar on everything else
Annual Fee:
$99, waived first year
Sign-up Bonus:
15,000 bonus points ($150) with your first $1000 in everyday purchases in the first 3 months
Point Value:
1 pt = $0.01 towards travel (no restrictions)
(the annual fee and sign-up bonuses change regularly. I apologize if these are out of date. Clicking the link above will show you the current promotion.)
Overview
The Scotiabank Gold American Express card is my favorite card in the Canadian credit card marketplace. When it came out, I noticed it gave by far the best benefits of any card in its class. The main strength of this card is its high earning ability at restaurants (which very few other cards give bonuses to), gas and groceries and its ease of point redemption.
I think this is the best card for most people who are responsible with their credit (don't carry a balance) and put more than $500 of everyday type purchases (gas, grocery, restaurant) on their card each month.
Rewards
Scotiabank has classified this card as 'travel' rewards card, when it is really more of a cashback card. Purchases made with this card earn Scotia Rewards Points. Scotia Rewards Points can be redeemed as a statement credit against a travel purchase. They are redeemed at a rate of 1 Scotia Rewards Point = $0.01, with a minimum redemption of 5,000 pts ($50).
I say this is really a cash back card since the value of the rewards points is fixed and will come back to you as a statement credit. You only need a travel purchase to release those rewards from your bank of points.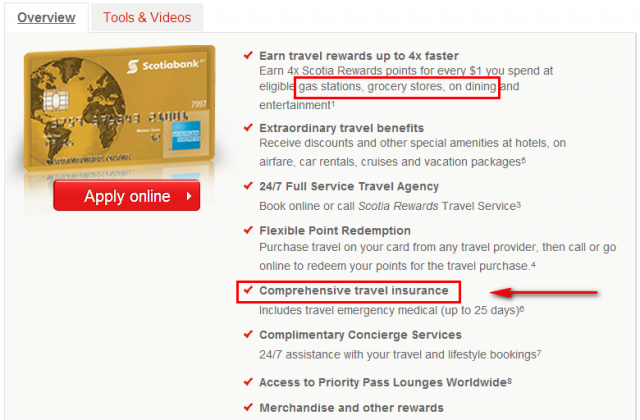 Earning Rewards
Earning rewards with the Scotiabank Gold American Express card is very simple. You earn 4 pts for every dollar spent at merchants classified as gas, grocery, restaurant / dining establishments or entertainment. You earn 1 pt for every dollar on everything else. There's no need to transfer these rewards to other programs to redeem, you can redeem them instantly.
When you sign up, there are ways to earn extra Scotia Rewards by interacting with the program in various ways. For example, the first item you put in your wishlist will earn you 250 points.
Redeeming Rewards (for travel)
The best use of Scotia Rewards is as a statement credit against a travel purchase. There are 2 options here: purchase your own travel and redeem for a statement credit against that travel or use Scotiabank's full travel agency to make the booking for you. Redeeming for any non-travel purchase will be poor value. Since many things qualify for travel, you will likely have some eligible purchases on your card that you didn't realize qualify.
The redemption is not restricted to the value of your travel purchase, which makes these points quite flexible. The minimum redemption, however, is 5,000 points, so be conscious of that.
Scotiabank's suggests:
It's simple and convenient. Select the "Travel" tab above to book online or call the full service travel agency at 1-800-665-2582 (option 1).
Here are the steps to redeeming your Scotia Rewards points against a travel purchase that was made independent of the Scotiabank travel agency. (see the screenshots below the bullets)
Log in to your Scotia Rewards account at www.scotiarewards.com
At the homepage, click on the "Travel" tab
Choose "Apply Points to Travel"

You may need to scroll down
Select the appropriate time period of your travel purchase to display eligible purchases
Click the checkbox next to the purchase you want to redeem against
Click on "Add to Cart"
Verify the cart and choose "Proceed to Checkout"
Verify that your information is correct and click "Next"
If you are happy, select " Place Order Now"
You are done!

Rewards Comparison
I always like to use my "smell test" to see if any card is reasonable. I say that the standard earn rate should be 1.5% return on all purchases, since everyone can get that from the Capital One Aspire Cash Mastercard, with no annual fee.
The Scotiabank Gold American Express card will net you an extra 2.5% return on your spending in the gas, grocery & restaurant categories above the 1.5% that you can already get from Capital One. For this card to be worthwhile, you would have to spend $4800 over the course of the year, or $330 / month in total in the privileged categories to offset the annual fee. You are also getting the benefits of having a gold level card by having the Scotiabank Gold American Express as well.
(The Math)
Spending Required = Annual Fee / Extra gain from this card
$330 / month = $3960 / year = $99 Annual Fee / 2.5% Extra Gain
Annual Fees
The Scotiabank Gold American Express card does have an annual fee of $99. There is also an additional user fee of $29 should you want that. That $99 fee is probably a little bit below the industry standard of $120 for a Gold level credit card, very reasonable.
Sign up bonuses vary, you'll need to check the link to the card applicatino page for the latest details on promotions, if any exist.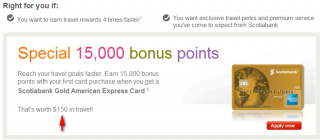 Additional Benefits
This card comes with many of the benefits you would expect on a Gold level card, which is in line with the annual fee.
Insurance Benefits
The Scotiabank Gold American Express comes with the following insurance coverages:
Travel Emergency Medical Insurance (up to $1,000,000)
Trip Interruption & Cancellation Insurance (up to $2500 / person)
Flight Delay ($500 per person for delays of 4 hours)
Delayed & Lost Luggage Insurance (up to $1000 / person)
Common Carrier Travel Accident Insurance (up to $500,000)
Rental Car Collision/Loss Damage Insurance
Hotel/Motel Burglary Insurance (up to $1000)
Purchase Security & Extended Warranty Insurance (Double manufacturer warranty and 90 days against theft, damage)
Price Protection (up to $100 / item, up to $500 / year)
You can also pay $65 each year for Priority Pass, which gives you access to airline lounges for $27 each entry. Personally, I don't think this is a valuable benefit. If you value the lounge access so much, you should get the Scotiabank Platinum American Express, which has an annual fee of $399 but includes 10 free lounge passes along with a host of other benefits.
Some Other Notes
A few things to note about this card, is that it is an American Express card. You need to look at your own situation and see if the merchants that you frequent accept American Express or not.
Another thing of note is that the online access for this card is quite strange. Using the site www.scotiarewards.com allows you to see your charges and even breaks down what category each transaction was coded as. This makes it very easy to see if a merchant you frequent is coded incorrectly, and you get fewer points than you expect. On the other hand, accessing the payment and statement information is through a different site: www1.scotiaonline.scotiabank.com. To register for this, however, you need to have a Scotiabank debit card. These are free, however, it is noteworthy that there is an extra step in setting up your online credit card access.
Conclusion
The Scotiabank Gold American Express card has the best earning rate in the marketplace for many people who put most of their everyday spending on their credit card. Combine that with a signup bonus that more than offsets the first year annual fee and a host of Gold level benefits, and this card can't be beat in the Canadian credit card marketplace.
The Good
This card has a great earning rate of 4 pts per dollar spent at restaurants, grocery and gas establishments. Dining is usually not a privileged category and if you have a lot of spending in this category, this card definitely makes a lot of sense.
The sign-up bonus and travel insurance coverages are more than acceptable for a card of this level.
The Bad
The only real knock to this card is that it uses the American Express network, instead of a Mastercard or VISA network. That means that there are going to be places that don't take this card. The online statement access is a minor issue but should still be considered an annoyance.

Credit Cards, Scotiabank