This is an article in a series on finding the best travel credit cards for travel to Europe from Victoria.
Related Articles:
The Skinny
There are a few programs to earn enough miles and points to get from North America to Europe. Here are some of the costs for a roundtrip ticket per person, during off-peak:
Aeroplan: 60K + $175
Air Miles: 5,118
AAdvantage: 40K + $156
BA Avios: 74.5K + $156
Delta Skymiles: 60K + $153
US Air: 35K + $143
Revenue Ticket: $1000
Review
Randy wants a credit card suggestion:
 I'm wondering if you can recommend a credit card for my situation.

Based in Victoria, I want to fly my family to Europe in about 2 years from now.  2 adults, 3 kids.  We put about $60k a year on our credit card, and will be doing a house reno.  So I can probably do about $150k to $200k in the next 2 years.

We don't care where in continental Europe we fly to, or what airline.  We'll probably fly during the off season.

-Randy
In the previous article, I commented on the factors he should consider when deciding which program he wants to earn his points in.
Options for getting from Victoria (area) to Europe using miles, points or cash
To keep everything consistent, I am going to use Vancouver as the city used for establishing the taxes and fees. Since some carriers do not fly into or out of Victoria Airport (YYJ), this allows for a more natural comparison using a standard tax rate, unless the carrier also doesn't fly into Vancouver. Also, since many of the US programs quote everything in USD, we will just assume that everything is in US dollars (the Canadian and US Dollars have been very close the past several years).
We will also assume that the prices currently quoted will be the price when Randy is looking to fly.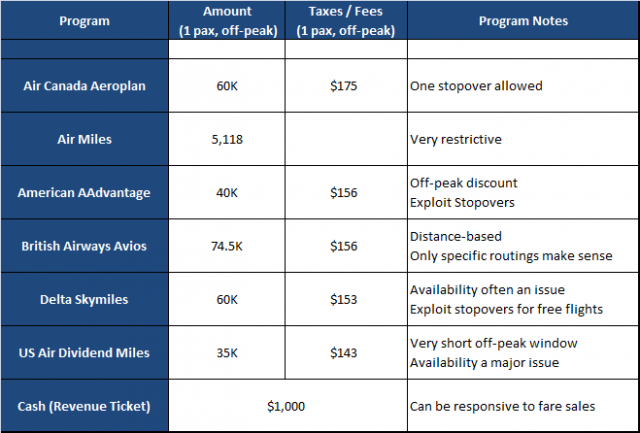 Programs
There are various programs that have specific advantages and disadvantages. Below, I'll comment on how each one will play out for Randy, who wants to go from Victoria (Vancouver or Seattle) to Europe.
Air Canada Aeroplan
According to the Aeroplan Award Chart, it costs 60K for a roundtrip ticket between North America and Western Europe at the lowest level.
Aeroplan miles redemptions to Europe will allow you to take a stopover anywhere en route. However, the trip must be closed (ie A-B // B-A or A-B // B-C // C-A)  In Randy's case, he may want to go to London (B) and Paris (C) on this trip. Using Aeroplan miles would allow for this.
Pointster's Pointer -> Randy would save about $100 in taxes each person by avoiding a flight from London to North America. E should go to London first, then Paris and back in this example.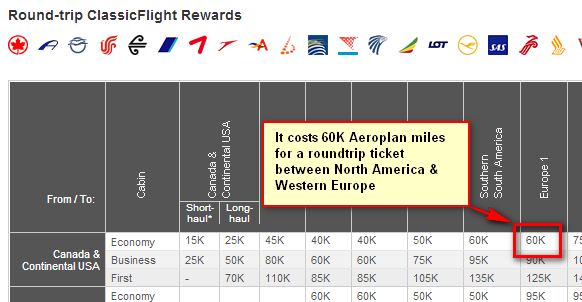 The preferred flights (according to Aeroplan.com) are those on Air Canada, where there is a slight discount in terms of miles. Flying on Air Canada when redeeming Aeroplan miles will incur hefty taxes of $566.

It is preferable to pay the higher number of miles but save your money by redeeming your Aeroplan miles for flights on United Airlines. In this case, routing through Chicago will cost 60K Aeroplan miles but incur taxes of only $175. A savings of almost $400 / person.

Air Miles
Air Miles redemptions tend to be weak at best (that is an understatement) for long haul, overseas flights. The Air Miles travel centre tends to have lower availability and your flights are not refundable. For a long flight, there probably if very little value in the Air Miles program.
Air Miles flight award  tend to be more restrictive than almost any other fare, so this would not be the ideal program for this specific flight.
It appears that there is currently a sale from Vancouver to London or Brussels. Assuming that there will be something similar for Randy, let's use that as our barometer. It would cost Randy (assuming he is a Gold member) 5118 Air Miles + taxes and fees.
Looking up this routing specifically, I see that it would actually cost significantly more to go to Paris. The cost to accrue Air Miles is so high and at this rate, ti would be extremely unwise for Randy to use this option. I will ignore Air Miles going forward.
American Airlines AAdvantage
American Airlines AAdvantage has a great program where there is a very lengthy period of off-peak for flights to Europe at the lowest level. It is only 20K AA miles / way for North America to Europe in economy during the off-peak time of October 15 – May 15.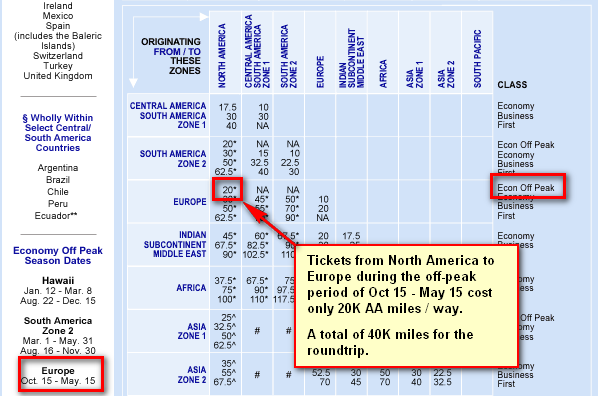 AAdvantage redemptions also have great stopover rules for flights outside of North America. In Randy's case, if he can use Seattle or Vancouver as his North American gateway city (he flies on the direct flight from Vancouver to London), he would be able to tack on a free one-way flight on the front end, and even the back end of his trip.
In Randy's case, American Airline's partner Alaska Airlines does fly into his home airport of Victoria, so he should be able to access this from Victoria or any of his other preferred airports.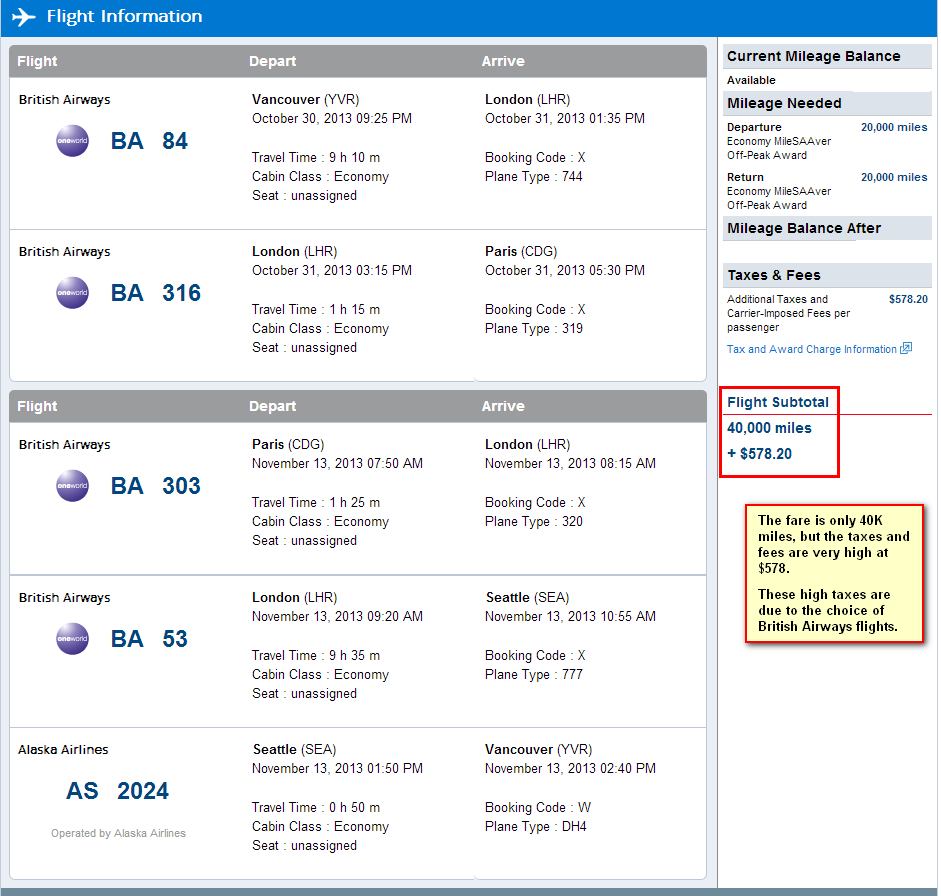 Using British Airways flights, we see a very high tax rate. It is better to avoid flights operated by British Airways and stick to Alaska Airlines and American Airlines on this route and the taxes will be significantly lower.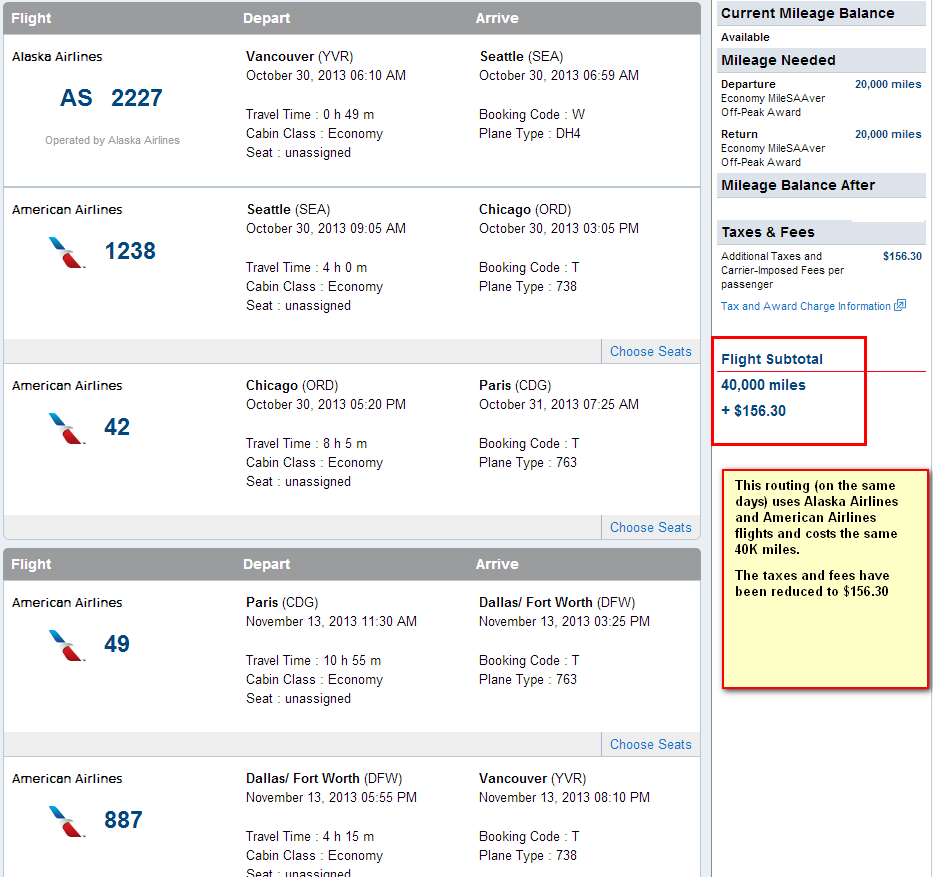 Randy is saving significantly by flying on the US carriers who don't charge fuel surcharges.
British Airways Avios
British Airways Avios is a program that is based purely on the distance flown and not on the regions. Avios are usually best used for short flights, or those that are just below a mileage threshold that would be more appropriate for the regions transited.
The amount of Avios is very dependent on the routing taken. Since British Airways and American are part of the same alliance, the exact routing that can be purchased using American Airlines miles can be purchased using British Airways Avios. Let's assume that Randy takes the suggested itinerary from above (so the taxes should remain the same).
The routing would cost British Airways Avios (based on the calculator available here).

Delta Skymiles
Since Randy lives on the west coast, he is traveling a long distance and using Avios is probably not ideal.
Delta Skymiles might be a great program for Randy to try to use. Delta uses Seattle as a target city so there are flights to Amsterdam and Paris from Seattle. Alaska Airlines is also a partner of Delta so Randy can fly out of Victoria if he wants to.
Delta charges 60K roundtrip for the flight from North America to Europe at the low level. Something to note about Delta is that they are notorious for not having much award availability at the low level. This is a real concern that Randy should consider if he wants to earn Delta miles for his flight.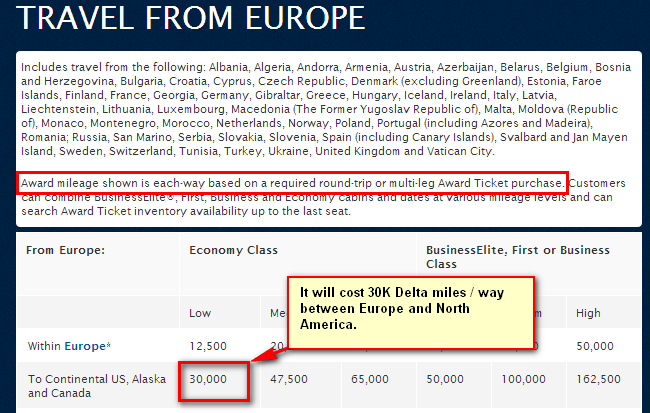 It looks like it will be quite reasonable for Randy to go to Europe for 60K miles + a reasonable tax from Vancouver to Paris.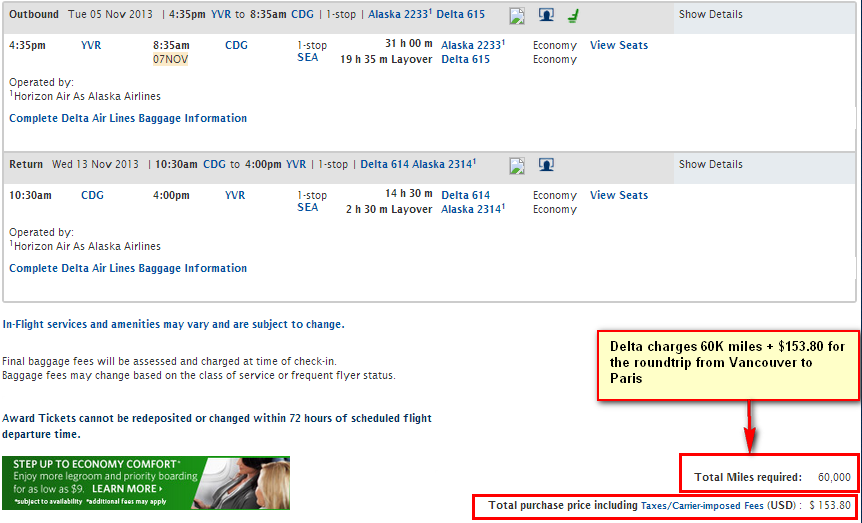 Delta also has some very liberal stopover rules which can be exploited by Randy. If Randy is willing to use Seattle as his stopover point (and make his own way from Seattle to Victoria), he can get a free trip to Los Angeles months later. No increase in miles or taxes!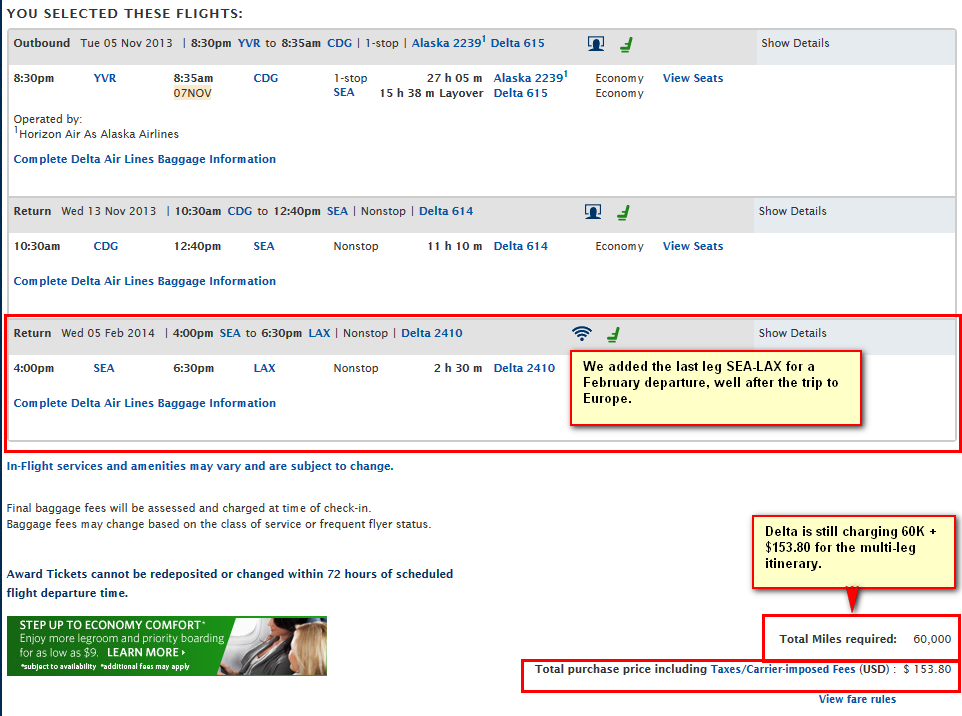 US Airways Dividend Miles
US Airways could be another great option for Randy. If he is willing to fly during the off peak time period, he can get a flight for 35K miles.

The off-peak period is only from Jan 15 – Feb 28, though. The off-peak discounted fares also require that Randy fly on US Airways flights so there has to be availability on flights operated by US Airways. This could be a real concern for him, as there is not really very much availability from Vancouver (in my test booking for 1 individual, I found no seats in 2014 from Vancouver to Paris) and limited space from Seattle.
Stopover rules require the origin and destination to be the same, and a single stopover is allowed. This is similar to Aeroplan's stopover rules.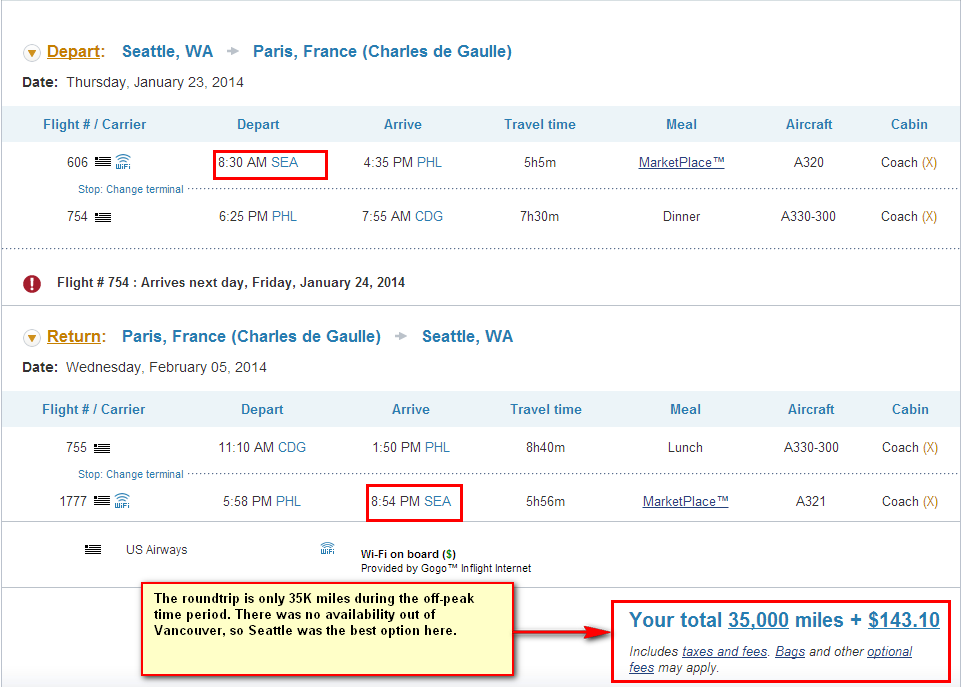 It looks like if Randy wants to fly from Seattle, he can get a flight for 35K US Airways miles + $143.10
Revenue Ticket
The final option that must always be considered is how much would it cost to book this flight if Randy were to pay for it straight. Once we have this number we can compare what kind of values Randy would be getting by using miles.
The way to find the best fares (as I mention in my section on airline basics) is to search the ITA Matrix software.
Origin cities: YYJ, YVR, SEA, BLI
Destinations: AMS, CDG, LON, FRA
Dates: Entire month following October 25
Length: 7-14
Currency: USD (to keep it all consistent)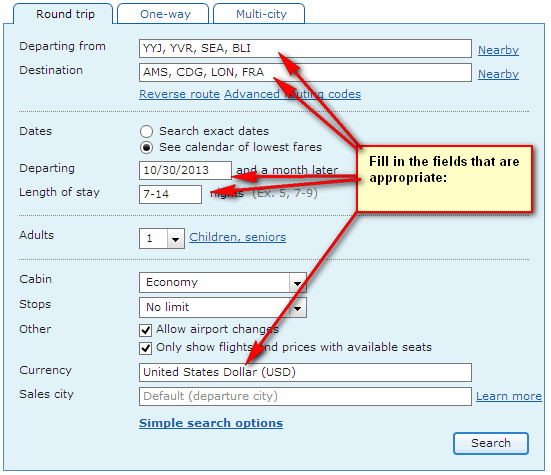 From the revenue tickets that are currently available, it looks like Randy has many options for less than $1000 that would not be significantly worse than the types of flights he is able to find using the frequent flyer programs.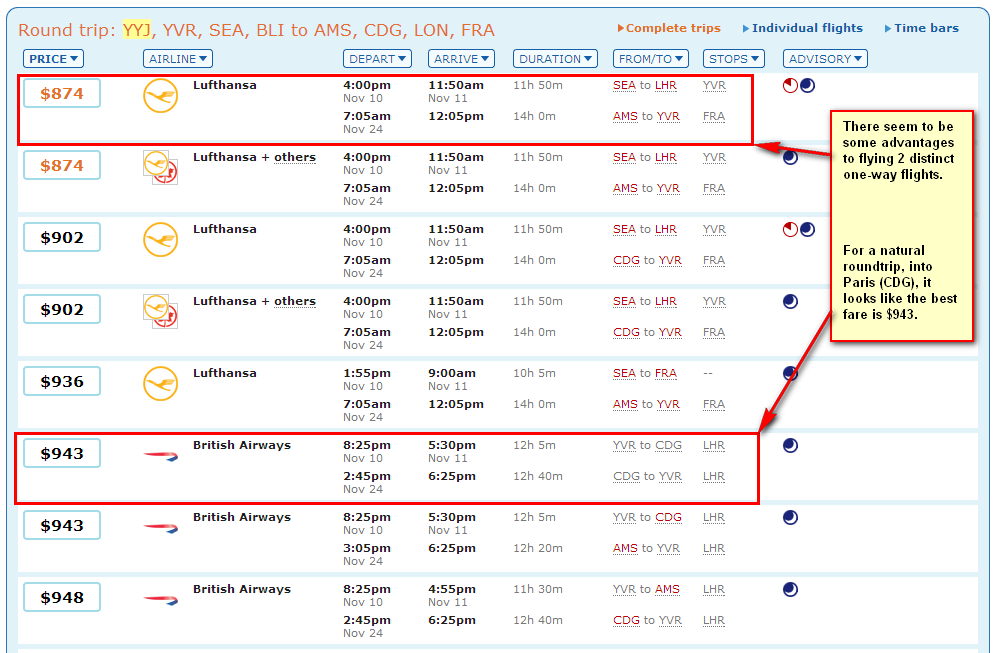 If Randy wants to depart from SEA and then return to YVR, and go to London & Amsterdam, he can have this for $874. A natural roundtrip from Vancouver to Paris will cost him $943. For the purposes of this analysis, I am going to assume that this fare can be had for $1000 (to make the math much easier).
Recap
There are a few different points programs that will allow Randy to get from Victoria area to Europe. I have outlined the prices, and some considerations for Randy when deciding which one to go with.
In the next article, I'll talk about which credit cards he can use to get the points or miles he needs to get over to Europe.
Aeroplan, Credit Cards