The Skinny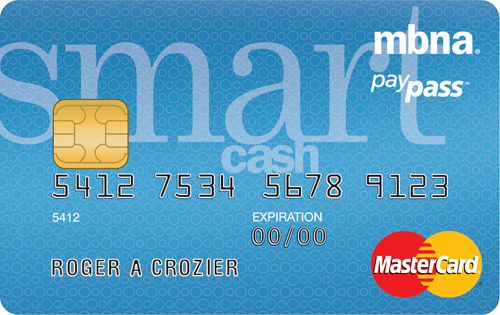 The MBNA Smart Cash Credit Card is one of my favorites in the no-fee category. Some people are just averse to paying annual fees on their credit cards, and if you are, then the MBNA Smart Cash Credit Card is one you should keep in your wallet for the high earnings on gas and grocery purchases.
Type:
Mastercard
Rewards:
2 pts / dollar on gas, grocery
1 pt / dollar on everything else
Annual Fee:
$0
Sign-up Bonus:
Bonus 3 pts / dollar on gas, grocery (total of 5 pts / dollar)
Point Value:
5000 pt = $50 cheque mailed to you
Overview
For those interested in avoiding annual fees, the MBNA Smart Cash card is one that I recommend. For a no-fee card, it has high earning capabilities in the gas and grocery department. It is a Mastercard so it has high acceptance. It is great for simplicity as your rewards are mailed ot you in the form of a cheque when you reach 5000 pts. Finally, the income requirements are relatively low, so most Canadians with decent credit should be approved for this card.
I think this is the a great card for everyone to have in their wallet as the return on gas and grocery is unparalleled by other no-fee cards.
There are 2 versions of this card who differ only in the insurance benefits that are offered. For all intents and purposes they are the same.
Rewards
Earning Rewards
The MBNA Smart Cash credit cards have a straightforward earning structure. Points are earned in a rewards account with the value of each point at $0.01. The amount of points earned varies based on the where the purchase is made. As mentioned earlier, each dollar of purchases will earn 1 pt (1%). Further, each dollar of purchases made at gas stations or grocery stores will earn an extra point for a total of 2 pts (2%) at those bonus categories.
Rewards points will be earned at the end of the month in which they are earned, upon the closing of the statement cycle.
Redeeming Rewards
Redeeming rewards is remarkably simple, as there is nothing for you to do. Once your rewards balance hits 5000 pts ($50) a cheque for $50 is mailed to you. There is nothing more for you to do except cash it. Purely for the simplicity in extracting value from the rewards, I think this is one of the best cards for many people.
If you close your account before you redeem your rewards, you will lose those points. The great thing is that there is no fee to keep this card active until you can redeem them.
Annual Fees
There is no annual fee on this card.
Smart Cash Mastercard Vs World Mastercard
As mentioned, there are 2 versions of this card. There is the MBNA Smart Cash World Mastercard and the MBNA Smart Cash Mastercard. They are identical in terms of rewards but differ only in the level of benefits. When you apply, MBNA will decide which of these 2 cards you are to get. It should be based on your credit score and income.
These are the highlights of the MBNA Smart Cash and MBNA Smart Cash World MasterCard credit card accounts and associated rewards programs. MBNA Dollar Points will be awarded on eligible purchase transactions charged to your account as set out in your program terms and conditions. These accounts have the same material financial terms and the same rewards programs associated with them, but the Smart Cash World program also includes Concierge Service and Price Protection and does not contain certain MBNA Dollar Points earn rate limits that apply to the Smart Cash program. Cheques will only be issued in $50 increments. Complete terms and conditions describing eligibility of your rewards program, MBNA Dollar Points accrual and redemption, and other important conditions, limitations and restrictions will be sent after your account is opened.

†††To be eligible for a Smart Cash World Account, your personal income must be greater than $60,000 or your household income must be $100,000 or greater.
Additional Benefits
Insurance Benefits
The MBNA Smart Cash cards come with a host of benefits. The details can be found on the comparison page. The MBNA Smart Cash World Mastercard will be considered a "World Card" while the MBNA Smart Cash Mastercard would be considered a "Platinum Card."
If you are able to get the World Mastercard, I think the most important benefit here is the price protection. Buying items on your MBNA card (especially electronics) will allow you to get the benefit of a lower price if the price drops soon after you make your purchase. This can be exploited up to the maximum of $500 per calendar year and $1000 per lifetime account.
The key insurance benefits of value that are offered are the shopping an insurance benefits.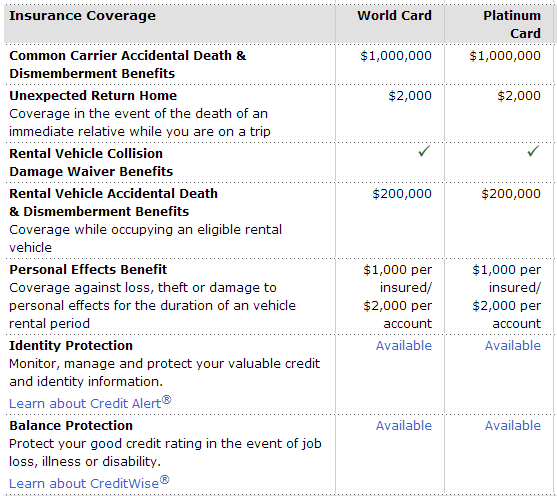 Conclusion
The rewards earning level of 2% return on gas and grocery purchases is unparalleled in the no-fee space. The full 1% on all other purchase is a little above average for no-fee cards, though it is not the best.
The Good
Great earning rate in gas and grocery spend
Average / Above average earning rate for non category spend
Mastercard has wide acceptance
Insurance coverage, including price protection which can be exploited
The Bad
Rewards earning levels can be beat by certain cards that have annual fees
Rewards are redeemed in $50 increments
Credit Cards, MBNA