The Skinny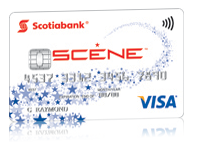 The Scotiabank SCENE Visa is a good choice for students and young people who want a no fee card that is easy to get approved for. It's also a great choice for a first credit card as you may be approved more easily for this card than other cards with high income requirements.
This card is great for you if you:
Can get good return, go to the movies often

Normally spend more than $10 – $12 / movie ticket
Will use up all of your rewards

Buy at least 1 movie ticket for every $1000 you spend on your credit card
Do not need this card to provide you insurance benefits
You should consider other ways to discount your movie tickets. I discuss that here.
Type:
Visa
Rewards:
1 SCENE point per 1$ spent
5 SCENE points per $1 you spend on credit card purchases at Cineplex theatres or at cineplex.com
Annual Fee:
$0
Sign-up Bonus:
2,000 bonus points with your first $500 in everyday purchases in first 3 months
Point Value:
1000 SCENE points = 1 movie ticket
Overview
I was recently in a Facebook discussion about how to get a movie ticket cheap and someone suggested applying for the SCENE Visa for the sign-up bonus of 2000 SCENE points. Given that most sign-up bonuses are in the range of $100 (see my article on how I earned $1500 in card sign-up bonuses), I was surprised that this was getting any attention. I did some research on this card and realized that it is actually a pretty good card for a certain group of people (move-goers).
This is a no-fee card that rewards your spending with movie tickets. $1000 spent gets you a ticket to see any movie at a Cineplex theater. That includes IMAX movies, 3D movies and even works on Saturday nights. If those movie tickets that you buy using your SCENE points would have normally cost you $12.00, for example, then this turns into a 1.2% rewards card. The higher the ticket price you offset, the better the return.
The Scotiabank SCENE Visa is a great card for you if you:
Normally spend more than $10 – $12 / movie ticket
Buy at least 1 movie ticket for every $1000 you spend on your credit card
Want a no-fee card
Do not need this card to provide you insurance benefits
This card is clearly targeting the student, early career (aged 18-30) demographic.
Rewards
This card has a very simple rewards program. You earn 5 SCENE points for every dollar spent at Cineplex theaters, and 1 SCENE point for every dollar spent elsewhere/
The points transfer over to the SCENE program, so you can combine the SCENE points you earn from other sources with the SCENE points you receive from the SCENE Visa.
You earn SCENE points, which is the rewards program from Cineplex movie theaters. The best use of these points is going to be towards movie tickets. Every other redemption would give you poor return.
The SCENE Program
Once you have earned your SCENE points, they will be transferred to your SCENE account, where they will be subject to the rules of the SCENE program. This means, you can earn additional SCENE points from various activities completely unrelated to the Visa card.
Remember the points you earn from your SCENE Visa do not impact the points you would earn doing the other activities that earn SCENE points. The SCENE points earned from the Visa are in addition to any points earned elsewhere.
Redeeming SCENE Points
Redeeming SCENE points is very easy. The best use of them is used towards movie tickets, especially IMAX and 3D movies. Redeeming at the box office is just a matter of requesting it. If you are logged in online at scene.ca, then the option to redeem SCENE points will be presented to you.
When it comes time to redeeming, you will want to make sure that you are using your SCENE points for their best value. The best value is going to be to redeem your points for movie tickets. It costs 1000 SCENE points for a single movie ticket. This ticket can be for an IMAX, 3D movie on any night of the week.
Often the highest price movie at some theaters can go for $16 or $18 (if IMAX or 3D on a Saturday night). On the other hand, Tuesday night movies in the regular theater can be had for $7.50 most of the time. You will want to make sure that you are redeeming your SCENE points for their best value.
Example Calculations
If you often go to IMAX movies and spend $16 per movie, then this credit card will be great for you. You will be earning ~$16 worth of rewards for every $1000 spent, which works out to ~1.6%. That is a great return for a no-fee credit card.
If, on the other hand, you only go to Tuesday movies, and only ever spend $8 when you go to the movies, this would be a pretty bad card for you. You would only be earning ~0.8% return on your spending. You can earn much more using other cards.
I put together a discussion on how to discount your movie going experience here.
Other Rewards
If you are looking to get any other rewards offered by the SCENE program, you are going to get significantly less than $0.01 of value for every SCENE point. If you intend on redeeming SCENE points for anything else, you would be better off not getting this Visa card, but getting a different 1% card, such as the MBNA Smart Cash card, which would yield you 1% or better on all purchases, returned to you as cash.
Rewards Comparison
I like to look at other comparable cards as a basis for comparison.
The Scotiabank SCENE Visa is a no-fee card, geared towards students and people under 30. I would compare this to most other no-fee cards, such as the MBNA Smart Cash card or the Chase Amazon.ca card.
MBNA Smart Cash
The MBNA Smart Cash card gives 2% cash back on gas and groceries and 1% cash back on every other purchase. Cash rewards are paid out after achieving $50 in rewards.
When comparing these 2 cards, it would really come down to the spending profile. Students likely may potentially spend less of their income on gas and groceries and proportionally more on things like the movies. If you are someone who often pays more than say $12 for your movies, then you can average better than 1.2% return with the Scotiabank SCENE Visa, which is likely more than the MBNA Smart Cash.
Also, the Scotiabank SCENE Visa will allow you to get your rewards out more regularly ($1000 spent) than the MBNA Smart Cash card ($2500 – $5000 spent).
However, for families, who spend more on gas and groceries, the MBNA Smart Cash is a better card.
Chase Amazon.ca
The other no-fee card that would line up against the Scotiabank SCENE Visa would be the Chase Amazon.ca card.
The Amazon card gives 1 point / dollar spent on all purchases and 2 points per dollar spent on Amazon.ca purchases. At 2000 points in rewards, a $20 cheque is sent out to you, making this a simple cash back card averaging a little bit better than 1% on all purchases, depending on your spending profile.
Given how overpriced Amazon.ca tends to be (it is a far cry from Amazon.com), I can't imagine that people spend too much at Amazon.ca. People in this demographic are likely spend more on the movies.
Annual Fees
There is no annual fee for this card.
Sign-Up Bonus
There is a signup bonus of 2,000 4,000 points after the first purchase. This can immediately be put towards a 2 movie tickets.
From June 1 – July 31, 2014, the sign-up bonus on the Scotia SCENE visa is 4000 SCENE points, instead of 2000.
Additional Benefits
This card really doesn't come with any benefits in terms of insurance other than a 20% discount at AVIS car rental. This discount is often useless as it is 20% off the "base" rates which is usually much more than 20% more than the rate found online.
See my basics section for advice on lowering your cost of car rentals.


Conclusion
The Scotiabank SCENE Visa is a good card to carry if you spend a significant amount at the movies. I would suggest this card to people who satisfy the following:
Can get good return

Normally spend more than $10 – $12 / movie ticket
Will use up all of their rewards

Buy at least 1 movie ticket for every $1000 you spend on your credit card
Do not need this card to provide insurance benefits
The Good
Can have a better earning rate than most cards in this category for those who spend more than $10 – $12 on movies often enough to use the rewards at a good value
No annual fee
Low income requirements (good for students)
Sign-up bonus of 2 free movies
The Bad
Rewards only valuable as redemption against movies

Other redemptions are very bad value
No insurance benefits
Rewards don't compete with rates of higher level cards
You can't save up rewards for a big windfall bonus

You get rewarded $10 – $20 at a time