The Skinny
Card Name
Annual Fee
Annual Fee Waiver / Rebate
Rewards
Insurances
RBC US Dollar Visa Gold
$65
Waived with RBC VIP Banking
1 RBC Reward / $1 Spent
Travel Accident
Auto Rental
Trip Interruption
Emergency Purchase
Extended Warranty
BMO US Dollar Mastercard
$35
Waived with $1000 annual spend in previous year
None
Extended Warranty
Purchase Protection
TD US Dollar Visa Card
$39
Only as grandfathered accounts
None
Common Carrier Travel Insurance
Delayed / Lost Baggage Insurance
Purchase Protection
Optional Travel Medical Coverage
CIBC US Dollar Visa Card
$35
No
None
$100,000 Common Carrier Accident Insurance
CIBC Emergency Travel Medical Insurance
Scotiabank US Dollar VISA
$35
No
None
Purchase Security
Extended Warranty
For high spenders, get the RBC US Dollar Visa Gold
For lower fees, get the BMO US Dollar Mastercard
Noteworthy:
USD Cards issued by Canadian banks will have Canadian billing addresses
Most often are not integrated with US based banking
Often difficult to pay / manage if not for US accounts with that institution
Overview
Living in Canada, I do a lot of shopping in the US. I, along with many other Canadians have income in USD as well. To keep these accounts in order and not lose a lot to exchange rates, it is nice to have a credit card that also charges in USD.
This is convenient for traveling to the US and overseas, but also for locking in exchange rates and doing micro currency speculation, by buying up your Florida vacation money when you think the Canadian Dollar is high relative to the US Dollar.
Here is a comparison of the US Dollar credit cards for Canadians.
USD Cards for Canadians
In a previous article I wrote about how US cards for Americans tend to be better than Canadian cards for Canadians. This article will compare US cards for Canadians. This will be cards in section B of the table.
| | CAD Currency | USD Currency |
| --- | --- | --- |
| Canadian Banks offering to Canadian Residents | A | B(specialty cards) |
| US Banks offering to US Residents | C(not really offered) | D |
If you have access to US financial institutions and you have a US Social Security number and some US residency, you might be better off getting a credit card from a US bank that is targeted to US residents.
Best Cards
For most Canadians, the decision of which USD credit card to get will be between 3 cards. While I would advocate getting a card with your financial institution due to convenience, there really are 3 cards that are competitive in nature.
For high spenders, get the RBC US Dollar Visa Gold
For lower fees, get the BMO US Dollar Mastercard
The Cards Compared
Card Name
Annual Fee
Annual Fee Waiver / Rebate
Rewards
Insurances
RBC US Dollar Visa Gold
$65
Waived with RBC VIP Banking
1 RBC Reward / $1 Spent
Travel Accident
Auto Rental
Trip Interruption
Emergency Purchase
Extended Warranty
BMO US Dollar Mastercard
$35
Waived with $1000 annual spend in previous year
None
Extended Warranty
Purchase Protection
TD US Dollar Visa Card
$39
Only as grandfathered accounts
None
Common Carrier Travel Insurance
Delayed / Lost Baggage Insurance
Purchase Protection
Optional Travel Medical Coverage
CIBC US Dollar Visa Card
$35
No
None
$100,000 Common Carrier Accident Insurance
CIBC Emergency Travel Medical Insurance
Scotiabank US Dollar VISA
$35
No
None
Purchase Security
Extended Warranty
RBC US Dollar Visa Gold
For high spenders (<USD$750 / month spent or USD$9000 / year), the RBC US Dollar Visa Gold is the best card. This card earns a return of 1 RBC Reward / USD$1 spent on the card. If you spend enough on this card, then the rewards will offset the annual fee that you might have to pay (your annual fee will be waived if you have a RBC VIP Banking package). RBC Rewards vary in value, but let's go with 1 RBC Reward = CAD$0.01. With exchange rates fluctuating, spending about $9000 / year will generate enough points to offset your fee.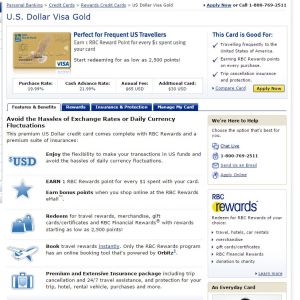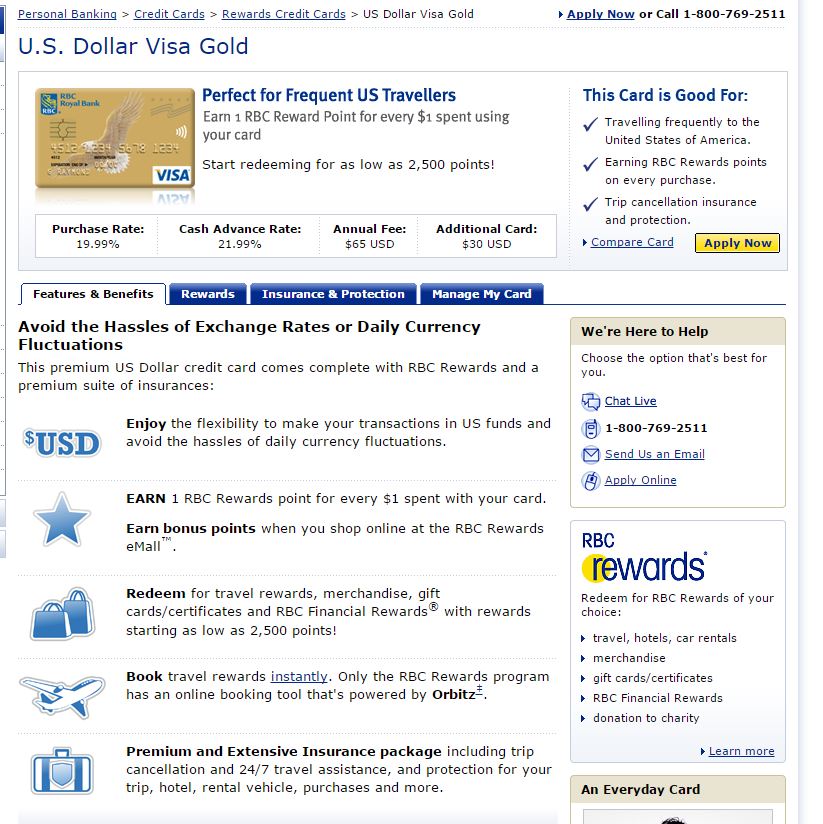 BMO US Dollar Mastercard
For people who want lower fees, the BMO US Dollar Mastercard will be the best bet. This card comes with an annual fee of $35, but is waived with an annual spend of $1000 / year. For people who are looking to get a USD card, spending $1000 should be doable so this can essentially be a "no fee" card assuming you spend enough. There are no rewards on this card

TD US Dollar Visa
The TD card is good for people who are looking for a card that has travel insurance coverage that are better than most no fee cards. The fee is no longer waived through any means so there is little space for this card in most wallets.
CIBC US Dollar Visa
The CIBC US Dollar Visa is in similar to the TD card, as it offers some travel medical coverage. I feel that the delayed baggage insurance of the TD card is superior. All in all, though, both of these cards are underwhelming and both the BMO and RBC cards are superior. The CIBC card offers a $35 annual fee, no rewards and no way to waive the fee.
Scotiabank US Dollar VISA
The Scotiabank US Dollar visa is a standard card that offers nothing really competitive in this landscape. It offers no rewards, no great benefits and the annual fee is $35 and is not waivable. This card might be valuable to people who bank with Scotiabank, as a convenience, but should not be a choice for people who do not bank with Scotiabank.
Nuances of US Dollar Credit Cards
A few things to mention that might differ from Canadian cards are as follows:
USD Cards issued by Canadian banks will have Canadian billing addresses
Most often are not integrated with US based banking
Often difficult to pay / manage if not for US accounts with that institution
Billing address
In many cases when you are looking to buy online in the US, a billing address associated with the card will be required. Since the stores you are looking at may be based in the US they may expect a US billing address. There are some workarounds to this, but it is best to simply call up the bank and get a US billing address attached to your card. This is an extra step that you will need to carry out but will make your life much easier.
Integration with US based banking
Another thing that may come as a surprise is that US based banks will likely not be able to deal with these accounts. These will be treated by the banking system as Canadian based accounts that are simply denominated in USD instead of CAD. In the US, there are many bill pay services (for example) that will not work with these cards. If you have relationships with US banking institutions domiciled in the US, be aware that these will be treated very differently than credit card accounts that are based in the US.
Payment Issues
Something that I have experienced before is the difficulty in paying these bills. Since they are based in USD, they need to be paid in USD. I have found that my USD bank account from 1 Canadian institution will not send the USD bill payment to the USD based credit card of another institution. This was even the case when both my USD account and my USD credit card were at the same institution.
One workaround for this is to plan to pay these bills in person with USD cash / USD cheque, or to simply authorize your credit card to pay in full through automatic debit from your USD bank account.
This is not a minor concern as it will require a slight change to how you might be doing your normal banking.
Summary
There are some advantages to setting up a USD credit card if you are a Canadian resident. The best 2 cards are:
For high spenders, get the RBC US Dollar Visa Gold
For lower fees, get the BMO US Dollar Mastercard
There are some issues to be aware of:
USD Cards issued by Canadian banks will have Canadian billing addresses
Most often are not integrated with US based banking
Often difficult to pay / manage if not for US accounts with that institution