This is an article in a series of articles on saving money on groceries: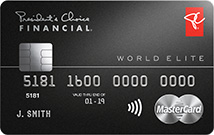 The Skinny
The PC Financial World Elite Mastercard is best for people who shop at PC Stores, Esso and Shoppers Drug Mart.
Rewards are easy to redeem and have a low minimum.
| | |
| --- | --- |
| Type: | Mastercard |
| Rewards: | 30 pts / dollar on all PC stores, Shoppers Drug Mart, PC Travel and PC Mobile10 pts / dollar on all other purchasesBonus 30 pts / litre on Esso premium gasBonus 20 pts / litre on Esso regular gas |
| Annual Fee: | No Fee |
| Sign-up Bonus: | None advertised.($50 seems to be coming to everyone) |
| Point Value: | 10000 pt = $10 point-of-sale discount at PC stores (min $20 redemption) |
| Benefits | Standard World Elite card level benefits |
Overview
PC Financial recently came out with a new PC Financial World Elite Mastercard. While their previous offerings were lackluster at best, this one actually has promise and will prove a nice addition to many wallets. Personally, I wouldn't make this my top-of-wallet card, but it is a great card for grocery and gas spending with stores under the PC umbrella.
When it comes to targeting grocery spending, the MBNA Smart Cash and the Scotiabank Momentum Visa Infinite are my favourite cards in Canada. The PC World Elite, however, is one that will really challenge these 2 for wallet space.
For people who shop at PC stores, this card is going to be quite valuable. It earns the highest return for Shoppers Drug Mart spending and the 2nd highest return in the Canadian marketplace for spending at most of their grocery stores. It also comes with a nice per litre bonus for Esso gas purchases. Finally, it offers the insurance coverages and benefits that all other World Elite Mastercards have, but there is no annual fee on this one.
This card definitely is going to have value for many people who do their grocery shopping at PC stores with some regularity.
My Personal Situation
Personally, I have been moving my grocery shopping over to Real Canadian Superstore (a PC grocery store) and have been paying for my groceries with my MBNA World Elite card that earns me 2% cash back. I will be getting this PC Financial World Elite Mastercard and it will earn me 3% return on my Superstore purchases.
Rewards
The rewards earned on this card are PC points.
Redeeming Rewards
Points can be redeemed in 10,000 PC points ($10) increments, with a minimum 20,000 PC point ($20) redemption.

Redeeming PC Points is very easy. When checking out at any PC store, such as No Frills or Loblaws, simply ask to redeem your points. They will be used to pay part of the bill and will come off like a gift card.
The only issue I can even think of with this is that I wish they would have made the PC Points act like a coupon. This would save the consumer the sales tax on the redemption amount. This is a minor issue and these act the same way as all the cashback programs (taxation wise). I guess this would have been a nice to have.
Earning Rewards
The PC financial World Elite Mastercard pays 10 PC points / dollar on all purchases everywhere. It also privileges various other purchases, including PC related products (PC grocery stores, Shoppers Drug Mart, PC Mobile, PC travel), and partners (Esso).
The earnings are as follows:
Base Earnings
(per $ spent)
Category Bonus
(per $ spent)
Total Earnings
(per $ spent)
PC Grocery Stores
10
20
30
Shoppers Drug Mart
10
20
30
PC Mobile
10
20
30
PC Travel
10
20
30
Esso Regular Gas
10
20 / Litre
30 (at $1 / Litre)
Esso Premium Gas
10
30 / Litre
40 (at $1 / Litre)
Something to note is that the per litre earnings at Esso are in addition to the 10 PC Points / Dollar spent there. At the $1 / Litre regular gas price, this works out to a nice 3% return on regular gas. As gas prices go up, this percentage will decrease.
Another huge benefit is that this also privileges purchases at PC Travel. Assuming that PC Travel is not more expensive than another mode of booking (my quick searches indicate that PC Financial had the same price as Westjet.ca), this is a very high return for travel purchases. I believe that only the TD First Class credit card gives a better rate of return for travel purchases booked through their travel agency.
Comparisons
The PC Financial card is really the card for people who spend a good amount of money at PC stores. My understanding is that No Frills stores accept only Mastercard, while the other brands (Loblaws, Superstore, Zehrs etc.) acceptMastercard and Visa for payment. None of these stores accept American Express.
The cards that I'll use to do the comparison are those that can be used at PC stores only. The 2 closest cards would be the MBNA Smart Cash and the Scotiabank Momentum Visa Infinite.
Here is a comparison of the 3:
PC World Elite
MBNA Smart Cash
Scotiabank Momentum Visa Infinite
Type
Mastercard
Mastercard
Visa(not accepted at No Frills)
Annual Fee
$0
$0
$99
PC Stores
3%
2%
4%
ESSO Gas
($1/L regular)
3%
2%
4%
Shoppers Drug Mart
3%
1%
2%
Other grocery
1%
2%
4%
Other gas
1%
2%
4%
All other purchases
1%
1%
1%
Rewards redemption
$20
(on demand)
$50
(automatic)
Entire balance paid once / year
MBNA Smart Cash
The PC card most easily lines up against the MBNA Smart Cash card. It is a no fee card and really privileges grocery store and gas purchases. The rate of return is 2% on gas and grocery (up to $1500 / month) and 1% on everything else. For people who chop at PC stores and fill gas at Esso, the PC Financial card is a much better card.
Assuming you shop at PC stores and Esso gas, the PC card is better on all fronts:
3% return on grocery store purchases vs 2%
3% return on Esso regular gas (at $1 / Litre) vs 2%
Faster redemptions
Obviously, if groceries are bought elsewhere, the PC card is not a good card for you.
Scotiabank Momentum Visa
The Scotiabank Momentum Visa is one that will give a better return at grocery and gas. The difference is the annual fee with the Momentum card. For many people that 4% on all gas and all grocery is going to be worth it. If you spend a significant amount at a non-PC grocery store or at a gas station other than Esso, there could be a lot of value in the Momentum card.
Assuming your gas is at Esso and your groceries are from PC stores, though, it would require more than $9900 of spending (at Esso and PC stores) to make the Scotiabank card a better value than the PC Financial card, to offset the annual fee.
The other wrinkle here is that Visa cards are not accepted at No Frills stores. If you are spending a lot at No Frills, then the Scotiabank Momentum Visa will not help you.
Sign Up Bonus
There is no stated sign up bonus for this card. However, in reading Red Flag Deals forums, it appears that many people have received $20 worth of points as a welcome bonus. I would not be banking on getting these, but if they come it would be a nice surprise.
According to this, everyone gets a $50 sign up bonus split into 4 coupons of 5000 points ($5 in groceries) and an additional 30,000 points on your first purchase.
HT: Jon
Personally, my approval came with a sign-up bonus of 4 coupons of 5000 points, so I can vouch for that. I have yet to see the additional 30,000 points in my account.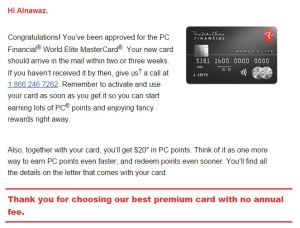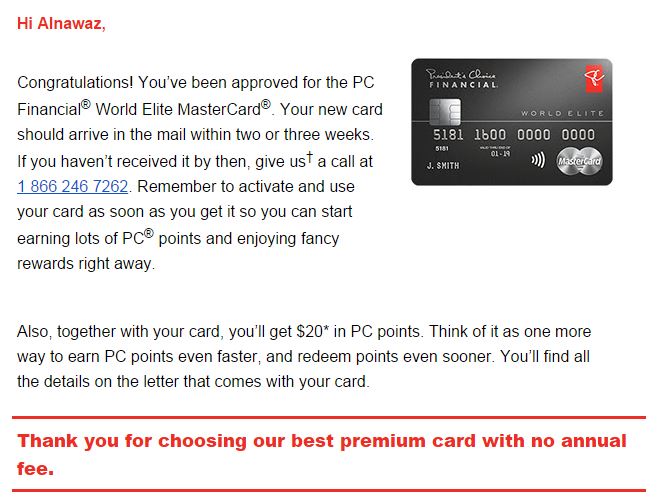 Annual Fee
As mentioned, there is no annual fee for this card.
I find it funny, though, that PC Financial has wasted marketing space, telling us that they will let me have 4 FREE additional cards on my account. (Why would I expect to pay for the 2nd one if the first one is free?)
World Elite Benefits
The PC Financial World Elite Mastercard comes with its share of the World Elite benefits. The World Elite PC Financial benefits include:
Travel Medical Insurance
Car Rental Insurance
Purchase Assurance

Protect your purchases against loss and theft

Extended Warranty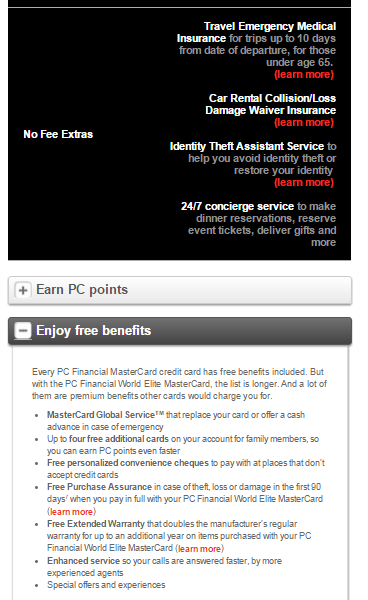 Conclusion
The PC Financial World Elite Mastercard is a great card for people who shop at PC stores and Shoppers Drug Mart. Due to its no annual fee, this card is a great card for people who spend any amount of money at either PC stores, Esso gas or Shopper's Drug Mart.
The Good
Great return for shopping at PC stores, Shoppers Drug Mart, PC Mobile and PC Travel
No annual fee
Easy reward redemptions
World Elite benefits
The Bad
Worthwhile only when shopping with PC Products / Shoppers Drug Mart