The Canadian Tire Options MasterCard promotes itself as the best way to earn Canadian Tire Money on your purchases there and at other stores. You earn rewards everywhere you shop and earn bonuses for flyer deals. They advertise about %1 cash back.
The first reason to avoid the Canadian Tire Options MasterCard is because the real rate is closer to %0.80 percent. They are intentionally misleading to make you think you get a better rate than you really do. This can really add up over the course of a year. For me it equals about $100 a year difference in the rewards.
Secondly the website for this credit card is very vague, there are no details on the rewards. When you look at the gas card and cash advantage card there are much more details on the cards. On the gas card you save "up to" 10 cents per litre, this is also misleading because you only save 10 cents per litre for the first 30 days. After that you only save 2 cents per litre which you could easily save by going elsewhere to another gas bar. Additionally, here in BC there are practically no Canadian Tire gas stations. Normally one competing gas station will offer a gas price a few cents below the other anyways, so why not just go across the street to save 2 cents instead of signing up for a credit card with added baggage and hassles?
The cash back card is even more misleading. How much cash back am I getting? It doesn't say how much I'll earn back it only says "up to 1.5%" and "up to 3% at Canadian Tire stores". What is the real rate? The only way to find out for sure is to sign up, but really most people want to make the right decision with their credit card the first time. When I called in to ask about the details. I found out some interesting points that you should note.

For the cash back card, purchases are always rounded down. A $235 purchase is rounded down to $200 and results in only a $2 reward.
Also a $275 purchase is rounded down to $250 etc.

Honesty. After our discussion they clearly knew the card would not amount to %1 cash back. All my purchases are rounded down to the nearest $50 it seems. Not very honest, I don't think anyone would want to deal with a dishonest credit card company, especially if you have any issues down the road.
There are better credit cards. For instance if your looking for a a better cash back card or low interest card, take a look at what Scotiabank offers, they have some very good cards that include no fees AND low interest rates, which is practically unheard of.
1. Scotiabank Momentum Visa Infinite Credit Card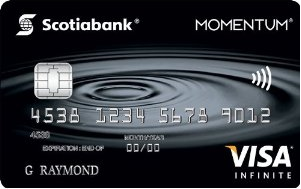 Scotiabank Momentum Visa Infinite
| | |
| --- | --- |
| Type: | Visa |
| Rewards: | 4% cashback on gas, grocery 2% cashback on drugstores and recurring bill payments 1% cashback on everything else |
| Annual Fee: | $99 |
| Sign-up Bonus: | First year free |
| Redemption: | Full balance awarded automatically at the end of 12 month period |
Since this card is a Visa credit card, it will be accepted almost everywhere and it offers an extremely high cashback rate of %4 on gas and grocery spending. Not only that but for all other purchases it has a %2 cashback on spending at drugstores and for recurring bill payments. If you have large gas and grocery bills or use your credit card for bill payments this credit card would make sense for you to apply for. Many people forget or don't get around to redeeming rewards so another great feature of this card is that the rewards are redeemed automatically at the end of each year. You won't need to worry about not cashing in on all your rewards because of a redemption threshold. There is a small annual fee, however, given the huge rate of return this is my top pick for a cashback credit card in Canada.

2. MBNA Smart Cash Mastercard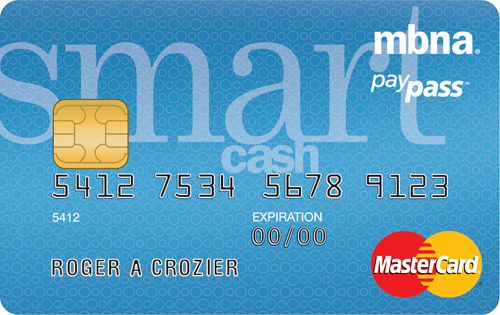 Click Here For The MBNA Smart Cash Review MBNA Smart Cash Mastercard
| | |
| --- | --- |
| Type: | Mastercard |
| Rewards: | 2 pt / dollar on gas, grocery 1 pt / dollar on everything else |
| Annual Fee: | $0 |
| Sign-up Bonus: | 5 pt / dollar on gas, grocery for the first 6 months |
| Redemption: | 5000 pt = $50 cheque mailed automatically |
The best alternative to the Scotiabank Momentum Visa Infinite to avoid the annual fee is the MBNA Smart Cash credit card. It's very simple without the annual fee and offers a %2 cash back reward on gas and grocery spending. It's a great offer for a no annual fee card and on top of this it offers a %1 cash back reward on all other spending, which is the standard for other credit cards. For this card the rewards will be automatically sent to you after you hit the threshold of $50 worth of rewards.
Take a look at my Google + Profile