Mexico has long been Canada's go-to destination for holiday makers, and for good reason. Delicious food, friendly people, rich history, lovely beaches and stunning landscapes make this one of the most desirable travel destinations on Earth. But most people who come to this enchanting nation don't actually get to see it. They get stuck inside their gated 5-star hotel and barely get the chance to peel themselves from the swimming pool long enough to order a hamburger and fries.
This is what Mexico has become, and it's no surprise given the amazing discounts on offer to North Americans when booking an all-inclusive holiday down south. Huge resort chains buy up all of the cheap flights from Canada to the major airports in Mexico. This makes it much harder for those who want to visit the country independently. But it is possible! In fact, you can visit Mexico for less than the cost of an all-inclusive resort, eat better, experience more culture and stay in nicer rooms. You just need to know where to look and how to do it.
By visiting the country on your own steam and planning your own itinerary, you'll not only save money, but you'll have a much more intimate experience with Mexico and it's people.
Let's look at the pros of these different types of holidays:
Pros of All-Inclusive
You know exactly what you'll be spending on your trip because everything is included
There are some great deals on all-inclusive holidays
You don't have to worry about anything. You'll be waited on hand and foot.
You can drink as much as you want without ever having to take out your wallet
Free entertainment every day and night
Pros of Independent
You will eat authentic Mexican food
You will meet Mexican people (not just those who are employed at the resort)
You'll get to explore Mexico
You can choose your flight times to arrive early and leave late. Many resort flights have you arriving in the evening and departing in the morning, effectively robbing you of a vacation day!
Everything is cheaper outside of resort towns (yes, the entire town is more expensive)
You'll see authentic regional dance and music, rather than being force-fed Mariachi! (Mariachi is only traditionally found in Mexico City and Guadalajara)
You can pick from hundreds of restaurants
Your hotel room will be nicer (resort rooms are usually cookie-cutters)
You can go out at night and party with Mexicans
You can go shopping and pay a reasonable price for goods, not the high resort price
You can meet and learn from other travellers and locals who know a lot about Mexico
You'll be forced to learn some Spanish
You can actually say you've been to Mexico!
Clearly there are a lot of pros to travelling independently in Mexico. Once you've experienced this type of holiday, you'll never want to go back to another resort. But what about the expenses?
Let's break down the costs:
The average 7 night, all-inclusive holiday package will cost about $1,600 including food, drinks, flights and accommodation. That's a hard bargain to beat! Lets see if we can do it.
Flights:
This is where you'll spend most of your budget. It's hard to beat those flight / accommodation packages that the resorts offer. If we're going to beat that $1,600 price bracket, we're going to have to get a little bit creative with your flights.
Here are some tips to saving money on flights to Mexico:
Visit in the shoulder or off-season: Flights can be as much as 50% less in the off-season and the weather is often just as good! You can't predict weather these days, but you can predict flight costs
Book your flights in advance: Generally about 3 months before departure is the cheapest time to book your flights.
Clear your browser cache when searching for flights: Believe it or not, some flight search engines actually remember your computer. If you keep checking back on the same flight, they'll jack the price up because they know you'll buy if you see it going up! Sounds like fraud, but there's an easy way to avoid it. Be sure to clear your cache when searching for your flights.
Check multiple booking engines: You may have your favourite flight booking engine, but don't be too loyal. Often FareCompare.com and Expedia.com have the best prices, but not always. You can save hundreds of dollars by searching around.
Using the tips above, you should be able to find a great deal on a flight into Mexico. Based on searches for flights in the shoulder season (October-November or February – March):
1 Return flight to Cancun will cost about $500.
Accommodation:
You may be surprised at the great value of hotel rooms in Mexico. You can find beautiful, spanish-style double rooms for just $40 / night including breakfast. Some hotels, hostels and B&B's include free cooking classes, salsa lessons and yoga. What a deal!
Hotel: $40 / night x 7 nights = $280
Food:
Mexico's cuisine is one of the best parts of travelling the country. In the resort, there may be a few dishes available, or perhaps one of the seven on-site restaurants serves Mexican fare, but out in the real Mexico, you'll be able to try all sorts of delicious regional dishes. The typical meal in a restaurant will cost you about $7, while you can enjoy lunch on the street for under $2! If you don't mind eating tasty tacos and crunchy empanadas that is! We'll assume that you went for a hotel room with a free breakfast so you only have to buy 2 more meals / day.
 Dinners: $7 / meal x 7 nights = $49
Lunches: $2 / meal x 7 days = $14
Transportation:
One of the joys of exploring Mexico outside of the resort is being able to visit different places, and not being confined behind the walls of your hotel. But transportation costs are going to add up. You're going to want to visit ruins, discover new towns, experience festivals and all of the fun stuff that comes with travelling in Mexico. But, you'll need to get to all of these places!
Buses in Mexico are clean, spacious, air-conditioned, comfortable and reliable, but they're not as cheap as other aspects of travel in the country. A two-hour bus ride will cost you about $10 and you'll probably take a few of them.
You'll also want to take some taxis, but they're relatively cheap at around $4 / ride on average.
3 Bus Rides = $30
5 Taxis = $20
Entertainment:
There is a lot to do in Mexico, but you may be surprised to find out that much of it is free. There are often free festivals happening in the streets. There are free museums and the parks are always free to sit and people watch. And remember, some hotels offer free entertainment as well. But you'll want a few extra bucks to see some shows, visit ruins, go on a couple of tours and drink some margaritas.
An ice-cold Corona Beer in a bar costs about $1.50, while a margarita will run you about $4. Tours are generally affordable in Mexico, usually costing around $40, depending on what you'd like to do. Entrance fees to the ancient ruins are also of good value, with most costing around $10.
2 Coronas / Day x 7 Days = $21
1 Margarita / Day x 7 Days = $28
2 Entrance Tickets To Mayan Ruins = $20
1 Tour = $40
Parks, Festivals and Some Museums = FREE
The Final Tally Of Expenses
+ Hotel $40 / night x 7 nights = $280
+ 7 Dinners = $49
+ 7 Lunches = $14
+ 3 Bus Rides = $30
+ 5 Taxis = $20
+ Parks, Festivals and Some Museums = FREE
+ 2 Coronas / Day x 7 Days = $21
+ 1 Margarita / Day x 7 Days = $28
+ 2 Entrance Tickets To Mayan Ruins = $20
+ 1 Tour = $40
---
 $502 (Expenses) + $500 (Flight)
Total: $1,002
---
1 Week Independent Mexican Adventure = $1,002
1 Week All-Inclusive Resort = $1,600
That's a pretty big difference in cost, and your experiences will be better for it. But that's not all. Why just go for one week? You've already spent a huge chunk of your budget on the flight to and from Mexico, so why not make the most of it? What would happen to your costs if you went for 2 weeks instead of one? Can the price still compare to one week in an all-inclusive? All we have to do is double all of the expenses, except for  other than the flight.
Expenses $502 x 2 = $1,004
+$500 (Flight)
---
 2 Week Independent Mexican Adventure = $1,504
1 Week All-Inclusive Resort = $1,600
There you have it! You can travel to Mexico on an amazing 2 week vacation for far less than the cost of one week in an all-inclusive resort. The beauty of the independent trip is that the longer it goes, the better value it becomes! Your biggest expense is your flight, and you can easily live in Mexico for a month on less than $2,000. You can cut this number down significantly if you choose one town to vacation in and rent an apartment there. You'll save money on accommodation, you'll have little or no transportation costs, and your food costs will be much lower if you make some meals in your own kitchen.
Next time you plan your trip to Mexico, consider thinking outside the box. Forget the confinement of a 5 star resort and try experiencing the real Mexico. Your wallet and your travel memories will be better for it!
Author's Bio:
Nick and Dariece are the couple behind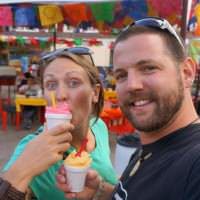 Goats On The Road, a website designed to inspire others to live a financially sustainable, location independent lifestyle. Masters at making money abroad and turning their travels into a way of life, they've been on the road since 2008 and have explored some of the least visited places on earth, finding adventure wherever they go.
They are also full time contributors at Travel Pulse where they share their stories and expertise of travelling forever.
Check them out at Goats On The Road and follow them on Twitter, Facebook and Google+.