The Skinny
Karim wants to cancel his RBC rewards card while getting the most value out the 39,000 points he has.
I've got four options to consider when deciding how to get the most value for those points.
| Option | Return for each RBC Rewards (maximized) |
| --- | --- |
| Get RBC Avion Card, transfer to BA Avios or AAdvantage | 1.5 cents – 3 cents when optimized |
| Redeem points for travel | 1 cent |
| Best Buy purchase | 1 cent (will vary by product) |
| Gift Cards | 0.83 cent |
Reader Question:
Im going to be canceling my RBC Student rewards card since I got my new MBNA credit card.

I had a questions regarding RBC rewards points: what do you think is the best way to use them? I only have 39000 points. I was thinking that since my mom and dad need a new TV I would convert 30000 points to a $250 Best Buy or Future Shop gift card and 6000 points for an additional $50 gift card and then use the remaining points for something small like a gas card. Do you have any better suggestions or better way to convert my points?

BTW, I live in Toronto and generally travel once / year internationally.
Karim – Thanks for the question. I hope to help you get the best value from your points.
Situation
Let's just quickly assess the current situation, and what we're hoping to achieve here.
Current Situation:
RBC VISA Signature card
No Annual Fee card
Current points balance of 39K RBC points
Has stopped using this card in favor of another card
Goal:
Get the most value out of the 39K points already earned
If I understand you correctly, we want to maximize those 39,000 points before you cancel the card.
Off the top of my head, I think you should average about 1 cent of value per point you've acquired. However, if we look for strategies to extract the maximum value from each point, I think we can probably beat that.
Options
I think there are 4 options here for you. These are in order of value you will receive from your points. I would suggest going with the first option, if possible.
Increase the value of your points by getting an RBC Avion level card
Redeem your points for travel at 1 point = 1 cent
Use your points for to buy your TV at Future Shop / Best Buy Canada through RBC Retailer Redemption
Get gift cards or statement credits
1. Increase the Value of Your Points
Any time you earn a point on an RBC card, that point is placed into a single pool. That means that you can redeem those points with any RBC card. What you can redeem the points for is based on the card you redeem them with, not which card you earned them with.
Having the best card that RBC offers allows you to get the most value out of the points that you've already earned. Out of all of the RBC card options, the RBC Avion card provides you with the best point redemption value. It also comes with a number of benefits that give you more flexibility with your points.
Exchange Programs
If you're already a member of another airline rewards program, the Avion card allows you to transfer your points to a few different programs. Best of all, it allows you to transfer at a credit rate of 1:1. So, you can trade every RBC point you've got for equivalent points from:
American Airlines AAdvantage
British Airways Avios
Westjet Dollars
If you're not in a hurry, it can also pay to wait for the best deal on transferring miles. About twice a year, RBC will have a promotion where you can get increased bonus miles by transferring your points to another program. A typical bonus is either:
1 RBC Reward Point : 1.35 British Airways Avios
1 RBC Reward Point : 1.25 American Airlines AAdvantage
So, if you're willing to be patient, waiting for one of these deals can really boost the value of your points.
Best Value
Out of all of these, you can probably extract the most value from British Airways Avios points if you're careful about how you redeem them. As previously mentioned, an RBC point is probably worth about 1 cent, but if you take advantage of the best redemption offers, an BA Avios point is worth closer to 1.5 – 2 cents.
Please see the writeups on using RBC Avion points effectively here:
Avion Options
So, the message here is that if you apply for an Avion card before you cancel your current RBC card, you will have the option of redeeming your currently earned points under the Avion program.
In addition, by signing up for an Avion card, you will be able to take advantage of the bonus programs RBC utilizes to recruit new cardholders. At the time of this writing, that was 15,000 bonus points.
However, be aware that the Avion card does come with a $120 fee. You can choose between the Visa Infinite Avion, or the Visa Platinum Avion card when signing up for the program.
| | RBC visa infinite avion | Rbc platinum avion |
| --- | --- | --- |
| Annual Fee | $120.00 | $120.00 |
| Rewards | 1 Dollar Spent = 1 Point1 Dollar Spent on Travel = 1.25 Points | 1 Dollar Spent = 1 Point |
| Minimum Income | $60,000.00 | None |
2. Redeeming Points For Travel
When you redeem RBC points for travel, your points are worth about 1 cent each. Therefore, for every 100 points, you earn a dollar towards your travel costs.
If you're not going to use a transfer program to increase the overall value of your points, then the best way to utilize them is towards travel.
With RBC rewards, you can redeem your points for a statement credit against travel. However, this can't be used retroactively, meaning you can't apply them to previously purchased travel. You have to book through the RBC booking engine in order to take advantage of your points.
Hotels are often available cheaper using the discount hotel search engines such as Priceline and Hotwire. However, other vendors aren't able to offer as significant of discounts on airfares. You'll get good value for your points by spending them on airfares that come in around the $400 price point.
See my writeups on the discounting hotel stays here:
3. Redeeming Points for Best Buy or Future Shop Purchases
RBC reward points can also be redeemed through Bestbuy.ca and Futureshop.ca, two of the leading Canadian electronics retailers. If you travel to those websites through the links provided at the RBCRewards.com website, you can see the price in points of the various items for sale
In the past, you usually got a transfer rate of 1 point to 1 cent when using your points at Bestbuy.ca. However, there is no written policy that states that this is universally true. Therefore, it is worth taking your time to shop around on the site to see if there might be deals that give you a better rate.
Also, when you buy something through these websites with your RBC Reward points, you will gain warranty protection as if you purchased the product with your RBC credit card.

My Commentary
When shopping for electronics, Bestbuy.ca is usually more expensive than its competitors. If you're a loyal Best Buy customer for whatever reason, then using your points in this fashion could make sense. If you're looking for the best deal though, there are better options.
In 2014 at the time of this writing, my experience is that buying electronics in the United States is the best way to get the most value for your dollar. If you shop wisely in the U.S., it is possible to save as much as 20% on electronics, even when taking things like the exchange rate and and import taxes into account. This option is definitely not the most convenient option for people, and may not be feasible for many Canadians. However, if you live in Toronto (as I do), Vancouver or Montreal, where where US cities are easily accessible, this could present an opportunity to save some money.
4. Exchanging Points for Gift Cards or Statement Credits
You should trade your RBC Rewards points for gift cards only as a last resort. The value is much worse than the other options. You get approximately .83 cents per point when you trade for gift cards.
If you absolutely want gift cards, there are many options available. Mcdonalds, Target, Canadian Tire, Esso and Best Buy are just a few of them. However, all of these gift cards are affected by the worse point to dollar value exchange rate.
All of the gift cards appear to have the same redemption schedule as Esso.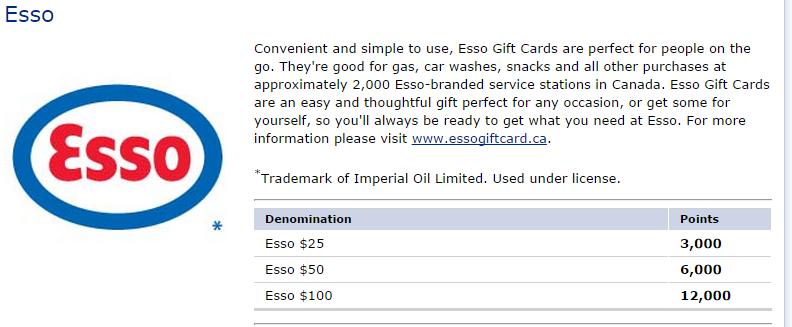 Exception:
There is one gift card that seems to be the exception to the rule above. Carlson Wagonlit Travel gift cards are available at a rate of 1:1 making them as good of a deal as the other ways of redeeming your points.
Summary
In conclusion, you will get the absolute best value for your points by applying for Avion card and then taking advantage of one of the occasional deals that will boost your overall point value when transferring them to another loyalty program.
If you really want to use your points for a TV, you would do better to redeem them directly at the website as opposed to cashing them in for gift cards. When you access BestBuy.ca through the RBC Rewards portal, your points will be worth about 1 cent each. If you traded them for gift cards, they would only be worth about .83 cents each.
Avoid cashing in your points for gift cards except as a last resort, as this will result in you getting the least value for your accumulated points.