House-sitting is a fabulous way to travel the world, get free accommodation, live like a local, enjoy the comforts of home, and did I mention – get free accommodation? But just because something doesn't have a price tag doesn't mean it doesn't have a cost.
Dear Nora,

My husband and I are currently doing our first house-sitting job, and we love getting free accommodation! But the dog we are taking care of got into a bad fight with another dog and now we're spooked about all the stuff that can go wrong. How do you cope with the challenges of house-sitting, or avoid getting into bad situations? -Jolene
Not all house-sitting jobs are created equally, nor are they free from problems. I've had pet parrots fly away, and pet dogs end up in hospital. I've dealt with house-sitting responsibilities whilst seriously ill and in need of a hospital myself. I've found myself doing "easy" house-sits that involved hours of daily labour, and I've had major conflicts with home owners. Some house-sitting challenges can be avoided, while others are just par for the course.
Has this deterred me from house-sitting? Generally speaking, no. And if you ask the professional house-sitting community, they'll agree; house-sitting may have its share of complications, but for most house-sitters, the pros far outweigh the cons – as long as you know what you're in for, and can take the heat when the kitchen gets hot.
This article will show you the basics of house-sitting, how to stand out and get jobs, and – most importantly – through the advice and experience of a panel of professional house-sitters, we'll show you how to avoid potential house-sitting problems and pitfalls.
House-Sitting Basics
The concept is simple: A homeowner plans to vacate their property (for anything from a few days to a few months to even longer). They get a house-sitter to come and stay in their home, water the plants, check the mail, take care of the pets, and address any other household tasks that need to be done in their absence.
It's a win-win for everybody: the homeowner rests assured that there is both a security presence in their home and somebody around to take care of things, and the house-sitter gets to enjoy the comforts of home (somebody else's home that is) in a different part of the world – for free.
(Note: In some cases you might be required to pay some utilities, and in other cases you might be compensated for your efforts.)
Where to Find House-Sitting Jobs
There are a variety of house-sitting websites to choose from that connect homeowners in need with house-sitters in search. Most are free to peruse listings, and charge an annual membership fee to in order connect securely with homeowners. If you're inclined to balk at the annual fee, just consider that one night of free accommodation with house-sitting more than pays for your membership.
Here are some popular house-sitting websites:
The Caretaker Gazette (this service offers all kinds of free accommodation positions in addition to house-sitting)
Tips for Landing House-Sitting Jobs
The basic rules for landing a house-sitting job include the following:
1) Create a solid profile on the house-sitting website(s) of your choice. This should include pictures of you, information about who you are and why you're the best house-sitter alive, references, and links to any online profiles you have that lend you some credibility.
2) Sign up for e-mail alerts. Most house-sitting websites send email alerts when new positions are posted in locations where you're interested in house-sitting.
3) Respond immediately. Homeowners are often overwhelmed with house-sitting applications when they post their listing, and all but the first 10 or so can get discarded. So as soon as a posting goes live, you need to respond to it.
4) Respond professionally. The homeowner is less interested in why you want to stay at their place, than they are at why you are the best candidate to stay at their place. When introducing yourself to the homeowner, read their profile and requirements carefully and tell them how you can help them (not the other way around).
How to Become a House-Sitting Expert
If you want to know more about house-sitting and how to become part of the "inner circle" of house-sitters like some of the experts profiled below, you can learn everything you need to know and get the support you need at the House Sitting Academy.

To get started with their free bootcamp, click here.
HOUSE-SITTING LESSONS LEARNED….THE HARD WAY
Although house-sitting is an incredible way to discover a new place and get free accommodation, it's not without challenges, and in some cases hard work. Below are some house-sitting cautionary tales, learned by experienced house-sitters.
Things to Consider Before You Arrive
Here are a few things to consider before you agree to house-sit and make your travel plans:
Skype with the Homeowner, and View the Property
I had a close call once; I was chatting with a homeowner on Skype about a prospective house-sitting gig. When I asked to see the place, she was ambivalent and didn't give me a tour on Skype or send me pictures. When I ended up house-sitting for her neighbour instead, I understood why: her place was a mess!
I'm not the only one either; Peter and Tracy McDermott are young retirees who have been house-sitting around the world for the last year. "Our first housesit in England opened our eyes to the definition of the phrase 'variable standards of cleanliness' when we arrived to an eye-popping shambles. Raw wires and extension cords traversed bare concrete floors around piles of construction debris, boxed possessions, and raw garbage. It took three days to clean enough space in the kitchen to make a sandwich."
Thus they're wary of prospective homeowner comments like "we've had a bit of construction work done that won't be finished by the time you arrive" or "we are a casual, laid-back family". They also insist on a Skype tour of the house during the interview process.
You can read more about their experience in this post on McNomads.
With four years of full-time house-sitting and pet-sitting experience, Jill Shelton (who shares her experiences on JillGavHousesitters), had a nasty surprise when house-sitting for somebody she knew: "We were confronted with a huge pile of dirty dishes in the sink, dirty wet towels on the floor, clothes and toys all over the floor and furniture, a filthy bathroom, and kitchen cupboards full of mice droppings. We had to scrub the whole house before we could live there. After cleaning a mug to make a cup of tea, I discovered a flea in my tea. Turned out the dogs we were to care for were full of fleas."
Because the homeowner was an acquaintance of Jill's, she didn't bother following her usual protocol of requesting photos and asking her standard questions. But as Jill discovered, regardless of whether you housesit for someone you know or not, ask the relevant questions and make your expectations known to avoid an unpleasant or awkward experience.
Ask the Homeowner Lots of Questions
Josh and Erin of TravelWithBender have been travelling the world for the last three years, and have completed house-sits in London, Belgium, Ireland, Australia, and Malaysia. When they were offered a one-month assignment in a beautiful old house in Belgium, they thought they'd struck the jackpot. Little did they know that among the 17 animals they had to care for (17!), most of them lived indoors and weren't house-trained.
"When organizing your house-sit it is common to discuss what animals are in the house before accepting. But don't forget to ask what type of animals, if they are trained, are they inside or outside pets, etc. Get a feel for the lifestyle as well as the responsibility."
You can learn from their experience and get some good house-sitting tips in their post: House-sitting 101: What to Expect.
Find Out How Much Time Daily Tasks Require
Thank goodness before I accepted a house-sit in England, the homeowners warned me that with three big dogs it was a position best suited to more than one house-sitter. Thus I invited my mum to house-sit with me and we thoroughly enjoyed some quality time together…when we weren't working hard keeping up the place. Between the two of us, we were busy up to four hours each day, taking care of the dogs, cleaning the house, and tending to the extensive gardens. To this day I'm not sure how the homeowners manage this daily upkeep with office jobs, kids, and social commitments.
Not all homeowners will be as upfront about the time commitments required of a potential house-sitting job. This is why it's up to you to ask lots of questions and determine if you're prepared to take on the commitment. Remember, the homeowner is getting a great deal with house-sitters; the cost savings alone of not kennelling pets is huge, not to mention other benefits like you being an additional security presence and caring for the plants, etc. So if in the interview process it appears that the homeowners are asking more of you than you're prepared to give, don't be afraid to turn down the gig.
Ask About the Health of Pets and Level of Care Required
Michelle of UpSticksandGo and her family of five from Australia have travelled the world for 18 months, house-sitting all along the way. In their first two consecutive house-sits, pets died in their care. In both cases, the homeowners were very understanding, as the pets were elderly/sickly to begin with.
Although you never know what will happen to a pet while the homeowner is away, ask yourself what level of care you're willing to administer. If the pet is ailing to begin with and requires a lot of care, it's up to you if you want to take on the risk.
"I guess we could refuse to take house sits with elderly pets – but that would reduce our sitting opportunities considerably – many people use house-sitters because they have older pets and they believe they'd be happier in their own homes than in a kennel. I don't think there is any way to avoid the death of a pet; you just have to give them the best care/love possible as if they are your own. Then your job is to make sure the owners are ok, as it's their pet who has died – so lots of compassion and understanding is in order!"
Be Very Clear About Expectations
I had a falling-out with some homeowners on their return when their neighbours informed them I had been leaving the property for hours at a time (I was exploring the area). Not only was I offended that they had their neighbours "spying" on me, but at no point was I made to understand that I was supposed to spend all day every day on the property (shy of obligatory errands). Matters were confused further when the property staff told me one thing about what I was "supposed" to be doing (they were trying to get me to do their jobs), and I didn't have clarification from the homeowners. So while the homeowners were away I felt stuck in the middle of two conflicting stories, and when they returned I was told off anyway. I couldn't win.
Since then, during the interview process I get homeowners to be very clear about their expectations of me as a house-sitter. In some cases we'll put it in writing in a house-sitting agreement (read on).
Get a House-Sitting Agreement
A house-sitting agreement sets clear terms and expectations of both parties; something that can be particularly handy when unforeseen circumstances abound.
Dani Heinrich has travelled the world for five years, during which house-sitting has been an integral part of her travels. (She co-authored Break Free – The Ultimate Guide to House-Sitting. Imagine her surprise when she scored a dream month-long house-sit in New York and flew there from Germany, only to find problems when she got off the plane. "When I arrived at their apartment for the handover, the first thing the owner said to me when he opened the door: 'We cancelled our trip. My wife is not feeling well and needs time to recover'. I was flabbergasted – what was I going to do? I didn't have a return flight, I didn't have a place to stay, and rent prices in NYC were outrageously high."
Luckily in Dani's case, the homeowners understood that she had travelled overseas for this position, and they gave her a place to stay for a few nights while she found a sublet, and they even helped her pay for the sublet.
But not all homeowners will be as compassionate as Dani's were. James and his girlfriend have house-sat throughout Europe looking after everything from cats and dogs to turtles and a farm of alpacas. James also runs House Sitting Guide – a website about all things house-sitting. "Our most frustrating experience was driving 35 hours straight (Scotland to the South of France) for a house-sit, only to be told by the homeowner 'actually we've decided not to go away just yet. Can you come back in a week?'" They had to scramble to find accommodation for the interim week, and were none-too-thrilled that they had driven 35 hours straight when they could have taken their time had they known there would be a delay.
In both cases clearer terms could have been set out with a house-sitting agreement. It's a simple document that can be downloaded from many house-sitting sites (for example here, here, and here), which states the dates of the house-sit, the handover period, and responsibilities required of the house-sitter. It forces both parties to put their expectations in writing, which means fewer disappointments.
In cases like Dani's where overseas travel or expensive plane tickets are involved, Dani suggests that it might be worth buying refundable tickets so you can cancel your trip if the homeowner cancels the assignment. "Unforeseen things like the death of a family member, a pet, sickness or something else that requires the cancellation of a trip can always happen," says Dani. And this applies to both the homeowner and the house-sitter. Thus, it's best to have your bases covered with a house-sitting agreement.
Things to Get From the Homeowner Before They Leave
You're almost there! Interviews are done, expectations are clear, and now you're on the homeowner's doorstep, ready to take over. Ideally you will arrive a couple of days in advance of the homeowner's departure so they can show you the ropes and you'll feel comfortable in their stead. Here are a few things to work out with the homeowner before they leave.
Phone Numbers, Instructions, Documents….
Before I arrive, I send the homeowner a questionnaire that outlines everything I might need so I don't have to bother them while they're away. This includes phone numbers for all their repair people, emergency contacts, instructions for care of pets/plants/house, contingency plans, etc.
Mariannig Ferrari founded the international house-sitting platform Nomador in 2014 after eight years of experience on the French house-sitting market. On Nomador, she provides a "home book" that acts as an instructional manual for the house-sitter; this also gives the homeowner peace of mind that their place is being cared for to their standards and instructions, and makes the house-sitter's job much easier.
Documenting this information is another exercise in setting expectations for both parties, as discussed earlier. Nat and Tim have been house-sitting full time since April 2014 and have been able to use a lot of their skills to homeowners' advantage (animal care, carpentry, gardening, painting etc…). But what sounded like a dream housesit was tarnished when one thing after another went wrong. "A mold problem was much worse than previously disclosed, we ran out of water twice (for a total of 10 days) and ended up at the hospital after getting sick from a tick bite (brought in by the outdoor cat that came into to house during cold nights). We notified the owners of the issues as they arose only to be called complainers."
In many cases, homeowners like getting updates along the way. But these homeowners obviously were more annoyed by Nat and Tim's updates and questions (and problems), which could have been stemmed if they'd left enough information with Nat and Tim so they could deal with the problems that arose. As Nat and Tim say, "ask all questions, even the ones you think are insignificant."
For more of their tips, read their post, Before you Accept That House Sit.
Get a Fire/Flood/Emergency Plan
Betsy and her husband have been travelling with location independent careers since 2011, house-sitting along the way where they can. Never in their wildest imagination had they thought they'd come up against this: "On the first couple days of our dreamy house sit in a tropical paradise – Fiji's Coral Coast – we had to defend the property from threatening bush fires. Fortunately all turned out fine, but talk about sobering up! It was a vivid realization that this lifestyle is not a lark. Homeowners entrust you with the things they value most – their home and beloved pets – and the responsibilities are real." You can read more about their experience on their site Passing Thru.
Although you can't possibly plan for every contingency, if you're house-sitting in a fire/flood/hurricane/etc prone area, get a written emergency plan from the homeowners so you know how to protect the house, and what in the house to save (if evacuation is required).
Find Out Where All Vaccination Records and Paperwork Are
Del and Lee have house-sitting experience on four continents. During a house-sit in Australia, Lee's sister became very ill and died a few days later. They needed to fly back for the funeral on very short notice. Although they'd been given permission by the homeowners to board the dogs if they wanted to get away, there were problems. "The kennel asked us for the updated vaccination records to board them. I checked the folder the homeowners had given us with instructions and they weren't there. I also checked their home office but again nothing. Since the owners had just moved, they had not yet found a vet in Queensland so there was no one local I could call. I also didn't have the information on their old vet in Sydney. With the time difference in the UK (where the owners were), I couldn't reach them in the time needed to make travel arrangements due to the long distance we had to travel." Without being able to board the dogs, Del had to stay behind while Lee flew back home for the funeral.
Although the homeowners were very appreciative of the commitment Del demonstrated in staying with the dogs, Del and Lee now insist on knowing where all pertinent records are, and they discuss with prospective homeowners what to do with the animals in case of an emergency.
Ensure You're Insured on Their Vehicles
Nicola is a woman in her late 50s with house-sitting experience in Africa, Europe, Australia, New Zealand, and Central/South America. While in South Africa, she found out – only after being hit by another car – that she wasn't insured to drive the homeowner's vehicle. Nothing came of it, but it's not a risk she's willing to take again. "I was lucky on that occasion, but now I always double check the legality of insurances and cover for myself as driver through my Embassy or Consulate. I'm not driving homeowners' vehicles for my pleasure, and don't expect to have to pay insurance cover for myself, especially when it's required to buy food or access a vet."
Get the Number of a Trusted Friend of the Homeowner
Sometimes, stuff happens that the house-sitter just can't deal with on their own. With a trusted friend of the homeowner at the ready, everybody can breathe a little easier. While in Mexico, Nicola was caring for 15 dogs in a rural village. She tripped and hit her head requiring hospitalization. "I frantically tried to find somebody to come and stay with the dogs overnight while I went to hospital. I eventually found somebody, but they had no idea of the routine and work involved with caring for all the dogs." When she returned from the hospital, she discovered the pets were at least fed, but everything else was chaos, the animals weren't crated properly for the night, and the friend was completely overwhelmed. "I now, always, have the phone contact for at least one alternative friend of the homeowner who can stand in for me in an emergency."
Establish a Contingency Plan if a Pet Escapes
Michelle and her family (who had two pets die in their care, as discussed earlier) also had some challenges in France when the three horses they were caring for escaped – twice – in the middle of the night. They spent two sleepless nights searching for the horses, and many days repairing the fences as best they could to prevent future escapes. "The owners did warn us that one of the horses in particular was a bit of a jumper and had been known to escape from time to time (just not two nights in a row!)." Even with a head's up, Michelle and her family were a bit lost (and stressed!) in trying to corral the horses again.
In Panama, I had a parrot escape, but the ending wasn't as happy as Michelle's. Although the bird lived on the terrace with the cage open and its wings weren't clipped, I was assured that she never flew anywhere. Only after the bird had escaped was I informed that she occasionally liked to take flight but always returned to her cage within a few hours. The next day I saw her in the neighbour's tree, but without any instructions as to how to rescue her, my attempts were futile, and that was the last I saw of her.
Ask the Homeowner to Put Away Precious or Delicate Items
Carmen and Dave have been living nomadically since 2013, and have house-sat in the Caribbean, USA, and South America. During one particular house-sit in the Caribbean, when moving a glass crystal basket full of heavy items, the handle broke and the basket shattered. Although it was an innocent mistake and they took great measures to replace the basket, they were unaware that it was a precious heirloom. "When the owners returned they just about chased us out of the house because they were so mad about our regretful mistake." After this experience, Carmen and Dave advise not to touch anything precious around the house. Better yet: "Ask the owners to put away anything valuable to them before you arrive, just for safety's sake."
You can learn more about their experience at Double-Barrelled Travel.
When Stuff Just Plain Goes Wrong
Sometimes, stuff just happens. Pets with no history of running away run away, things break, natural disasters hit, and pets in perfect health keel over. This is part of the risk and responsibility of house-sitting; you are caring for somebody else's home and pets as if they were your own, but sometimes matters are simply beyond your control. Most homeowners also know that "stuff happens" and in most cases are very understanding.
Car Damage/Accidents
In Switzerland, quite literally on my way back from dropping the homeowners off at the airport for their vacation, I scratched up the side of their car. I was mortified. I took pictures of the damage (which was thankfully just cosmetic), and sent an apologetic email to the homeowners, asking for the name of a repair shop where I could get it fixed.
They were so kind and understanding, and knowing that the damage was just cosmetic, they told me not to worry about it. I still buffed and painted over the damage as best I could, and when the homeowners returned they were so gracious about it they said they didn't even see the (obvious) damage!
This was just a scratch; accidents are considerably more complicated. Ensure you have all the paperwork for the car and any advice/instructions from the homeowner about dealing with these matters in their country (where the process might be different from what you're used to).
Death of a Pet
Dalene and Pete Heck have been housesitting around the world for over four years, completing 15 jobs in 10 different countries. "During a three month housesit in Turkey, we came home to one of the four beautiful dogs being near death from a sudden organ failure. She started to come around, but by the next day the vet was sure she wouldn't make it and was in a lot of pain. We conferred with the home owners (who were in the UK at the time), and they agreed to have her put down."
Nothing could have been done to avoid this happening, so Dalene and Pete simply did everything they could to ensure the dog was comfortable, and they were in constant contact with the homeowners to keep them apprised. You can read more about their experience at Hecktic Travels: Losing a Pet.
Could You Do It?
Hopefully these "house-sitting horror stories" haven't deterred you from the idea! However it's good to ask yourself if you're the sort of person who is willing and able to take on the responsibility of somebody else's home, pets, and cherished belongings and to care for them as your own. You might also want to ask yourself how you would react if something goes wrong; would it be too stressful for you, or could you take it in stride?
All the house-sitters I interviewed here are adamant that their negative experiences haven't deterred them from seeking out future house-sitting assignments. For them, the advantages far outweigh the disadvantages, and they continue to happily house-sit around the world.
For more information on house-sitting and other ways to get free accommodation, check out How to Get Free Accommodation Around the World.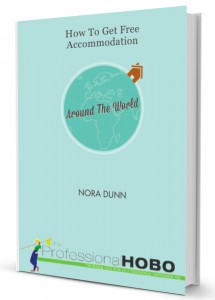 Dear Nora, free accommodation, house-sitting