Aeroplan is a great frequent flyer program where you can earn miles and redeem them for travel experiences. I thought I would do a writeup on the best uses of Aeroplan miles.
See the other articles in this series for the listing of the specific routes:
Great use of Aeroplan Miles in the Americas
Great use of Aeroplan Miles in Europe / Africa
Great use of Aeroplan Miles to Asia / Pacific
This will be split out by regions. I will consider the "best" routes by using the following criteria:
Number of miles required
Low taxes / fuel surcharges
Availability of flights
Options opened up / available for a given route
Ability to maximize via stopovers
When it comes to Aeroplan miles, the biggest complaints people tend to have is that they cant find flights that work for them when they want to fly, and that the "taxes and fees" end up being so much that the "free" flight doesn't really feel very free.
The first complaint is inherent in the nature of frequent flyer programs, while the high taxes and fees issue is one that is specific to Aeroplan. A straight comparison of taxes on similar routes shows that redeeming Aeroplan miles for a  flight comes with higher taxes and fees than redeeming a different type of mile for that same flight or similar flight. For this specific reason, it is necessary to manage the taxes and fee portion.
Taxes and Fees
The main portion of the taxes and fees that is controllable is the YQ, currently titled "carrier surcharge" (it was formerly called "fuel surcharge" but did not come down when fuel prices dropped). Aeroplan charges this surcharge on flights operated by certain carriers, but not others. Therefore it is important to know which airlines redeeming your Aeroplan miles will come with the surcharge and which wont and try to book your flights accordingly.
The following airlines are partners of Aeroplan and charge or don't charge the surcharge:
Availability of Flights From Canada
Another issue is that there may not be many flights to and from Canada. For example, Air New Zealand is a great carrier to partner with, but there are no flights from Canada. I will consider routes and flights that offer availability from Canada or easily accessible from Canada without requiring too many connections to get the route.
There are situations where a connection will be valuable, for example, Toronto-London is better done using United Airlines as Toronto-Chicago-London, rather than direct Toronto-London on Air Canada (carrier surcharge). A route where fewer of these are required will be better.
See Finding Star Alliance Award Space
Stopovers
All Aeroplan flights allow for stopovers on roundtrip flights.
Wholly within North America: 1 stopover on roundtrip
North America to Caribbean, Central America, Mexico: 1 stopover on roundtrip or 2 stopovers on roundtrip if all flights operated by Air Canada
International: 2 stopovers on roundtrip
The online Aeroplan engine at Aeroplan.com allows for booking flights with up to 1 stopover, but if ou would like 2 stopovers, then you will have to call Aeroplan agents and book it that way. My experience has been hit or miss in getting the 2 stopovers allowed, so bear in mind that you may have to call a few times.
A stopover is not eh same as a connection. A stopover is another destination and you can stay there for up to 1 year. Done properly, stopovers are ways to put multiple trips into the same booking. I, for example, try to take my stopovers in my home city. Needless to say, they can be very valuable.
See Aeroplan Stopovers Part 1, Part 2, Exploiting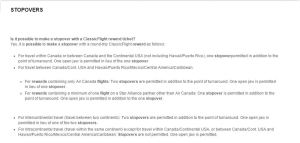 Types of Aeroplan Members
There are a few different types of Aeroplan members and what each finds valuable or "better" will differ. I see there being 3 types:
Economizers

People looking to use Aeroplan miles to reduce their cost of travel

Aspirational Collectors

People looking to save up for an amazing trip

Business Executives

People who fly a lot for work and collect tones that way
Everyone will likely have some elements of each, but these are the 3 that I will use to structure the discussion.
Economizers
Personally, I am an economizer. I look to earn Aeroplan miles as a way to reduce my travel costs. I might structure my trip around where Aeroplan miles are effective to save some money. I would likely be willing to take an extra connection and / or fly a different airline to save taxes or surcharges. I have been known to fly through the US so I can fly on United.
I might also be the kind of person who will structure their next trip around where I can get to for cheap using Aeroplan miles. My next international trip in Fall 2016 will be to Egypt. We have chosen Egypt partially because there Aeroplan miles can be used to fly on Egypt Air from Toronto to Cairo. There is a direct flight on Egypt Air (no surcharge) which tends to have a lot of availability.
Economizers will want to maximize the benefits on taxes/fees, lowest taxes and fees and stopovers and are more willing to be inconvenienced for it.
Aspirational Travelers
Aspirational Travelers are people who want to save up their miles to fly that amazing trip. They want to fly in premium cabins, but they might be willing to add a connection here or there to get it. Aspirational Travelers are likely to structure their trips around what Aeroplan gives, by taking an extra connection but will want to sit in premium cabins.
For Aspirational Travelers, I believe that the biggest factors will be getting into premium cabins, with lower taxes and fees being secondary and they would be willing to take extra connections for it
Business Executives
Business executives are people who travel a lot and are not willing to be inconvenienced. They value their time and likely just want to sit in premium cabins with direct flights from Canada.
See the other pieces in this series for the specific routes.