The Skinny
Aeroplan has some good uses on routes within the Americas. The best tricks in the Americas are:
Within North America, make use of 1 stopover on any roundtrip
For flights to the US, fly on United planes instead of Air Canada
Fly out of Brazil to save on fuel surcharges
Exploit 2 stopovers on roundtrips to South America, or to Central America / Caribbean / Mexico if all flights on Air Canada
If you want to make great use of your Aeroplan to travel around the Americas, then here are a few suggestions.
Within North America (Canada and US)
Make use of stopovers
Fly on United planes where possible
Within North America, there are 2 great uses of Aeroplan miles: using stopovers and avoiding fuel surcharges by using flights operated by United Airlines (instead of Air Canada).
United Flights
When redeeming Aeroplan miles, you will want to avoid flights operated by certain carriers, including Air Canada. As I discuss in a previous article, flying on a United plane is going to be much friendlier in the taxes and fees department.
Flights that are wholly within Canada can not be operated by United Airlines, so you are going to have to fly on Air Canada (or a subsidiary of Air Canada) when redeeming Aeorplan miles. However, if you are flying to the US, then you can look at using United as an option.
Something to bear in mind is that you are likely to get more direct flights from Canadian airports if you are flying on Air Canada. At a point, you are going to be deciding between a direct flight on Air Canada or a 1-stop connection using United Airlines for your mileage redemption. You may end up saving money using the United option, but losing time.
Stopovers
On any roundtrip Aeroplan award that is wholly within North America, you are allowed 1 stopover. If you have 2 destinations to go to on a single roundtrip, then you are going to get great value if you do this using Aeroplan miles. There is no additional cost to get 2 destinations (ie 1 destination and 1 stopover) when redeeming Aeroplan miles. Exploit this when you can.
1 stopover is a different animal than 2 stopovers. Just bear in mind that this can help you out. 2 stopovers can really help you out if you read on.
Fly OUT of Brazil
Flights originating from Brazil are not allowed to have any type of fuel surcharge on them. Since this is such a major issue with Aeroplan, this is a good way to get better value from your Aeroplan miles.
Aeroplan mile redemption flights will charge a fuel surcharge on flights operated by Air Canada. Since the Brazilian government restricts the ability of airlines to add fuel surcharges on flights departing Brazil, you should get extra value if you structure your trip home leaving Brazil.
This would be a good way to get a direct flight back to Canada on Air Canada using your miles. Knowing this, if you are going to (for example) Argentina and Brazil, you might want to structure your trip to end in Brazil and come back from there. I might structure my trip to go south to South America using United or Copa and then come back from Brazil to Canada directly.

If you are travelling to Argentina, for example and have no desire to go to Brazil, you should be aware that as a Canadian citizen, you will need to get a Brazil visa, which costs CAD$97. If you are not intending on going to Brazil, then you will likely be better off just flying home directly.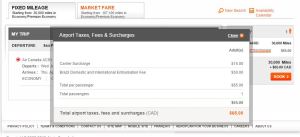 2 Stopovers for Caribbean Flights (and to South America)
For Aeroplan award tickets that are only on flights operated by Air Canada, 2 stopovers are allowed on any roundtrip to the Caribbean, Central America and Mexico.
One of the nuances is that roundtrip flights wholly within North America or the Caribbean, Central America and Mexico are only given 1 stopover flight per roundtrip. If you just want to go somewhere then back home, the single stopover is not very valuable to you.
However, if you have 2 stopovers, however, on a roundtrip, you can essentially create distinct nested trips.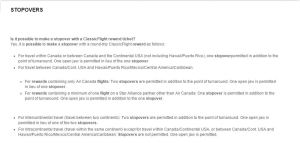 I live in Toronto, but my wife's family lives in Calgary so we travel there twice every year. Let's assume we go in December and July every year. If I were planning a trip to Central America in February, I might structure my trip using Aeroplan miles, with my 2 stopovers in my home city of Toronto.
December Return: Calgary to Toronto
February trip to Central America: Toronto to Panama
February trip home from Central America: Panama to Toronto
July trip to Calgary: Toronto to Calgary
This structure would cost me a single 35K roundtrip award from Canada (Calgary) to Central America (Panama), even though it got me 2 additional one-ways that I valued.
The appeal of this is limited because you do have to pay the fuel surcharges that Aeroplan levies on flights operated by Air Canada, but it could be useful if you are getting good value.
Notes: I would still have to get myself to Calgary in December and I would still have to get myself back from Calgary to Toronto in July.
Summary
There are a few really good ways to take great advantage of Aeroplan miles for flights wihtin the Americas.
Fly on United planes within North America
Fly out of Brazil where possible to avoid fuel surcharges
Get 2 stopovers on roundtrip tickets for international roundtrips, including Caribbean / Central America when all flights are on Air Canada