This is an article in a series where I answer reader questions:
The Skinny
Ziko is looking to take his family of 5 from Calgary to Toronto for a wedding this summer. If it is reasonable, he would like to add on a trip to Halifax.
I suggest that he and his wife each apply for a TD Aeroplan Visa and an American Express Gold card. This will net them a total of 50K Aeroplan miles each.
Adding these 100K Aeroplan miles to their existing stash of Aeroplan miles will give them enough for 5 Aeroplan tickets in economy.
Question:
Hi Al,

I currently live in Calgary and will be going to Toronto for a family wedding this summer. Since we are packing up the kids and getting on a plane, I would love to tack on a trip to Halifax and see the East Coast as well, if it doesn't cost too much more. We are quite flexible on dates and can work our schedule around flights if necessary.

There will be 5 of us traveling. My wife and I have a 5 year old and twins who are 3. We would ideally like to travel all together. However, if there is a major savings in cost, I don't mind if I arrive 2 hours earlier. This might give me a chance to get the rental car and settle in so my wife doesn't have to wait around for that.

Between us, we have about 50K Aeroplan miles (40K me, 10K her) and 5000 Air Miles (all her).

Right now, prices are coming to about $600 / person for Calgary/Toronto only for the dates we are interested in. That would be $3000 for the family. We definitely wouldn't be able to do Halifax if that were the price. Is there any way we can reduce that?

Thanks.

-Ziko
Thanks Ziko for the question. I would love to help you out.
Situation
Let's just quickly assess the current situation, and what we're hoping to achieve here.
Current Situation:
Wants 5 tickets from Calgary to Toronto (and potentially Halifax)
Not everyone has to be on the same flight, but everyone must fit on 2 flights
Flexible on flights
Reduce the out of pocket cost of this trip for the wedding
Goal:
If I understand you correctly, you want to have a plan to best reduce the cost of these flights, and are willing to be flexible to do it.
Through my experience, the best values for traveling cross country would be using Aeroplan miles or using the Westjet Companion Pass that comes with an RBC Westjet Visa.
See my article on discounting intra-Canada flights here.
To summarize that, here are some options for Ziko to consider.
Frequent Flyer Programs
Westjet Companion Pass
Airline Discounts / Booking Engine discounts
Alternate Airports
For most people, I would suggest looking at alternate airports, but with the kids, I would imagine that is not as feasible as it would be for someone with no kids.
In this case, I think it makes the most sense to look at frequent flyer programs, primarily, as we can likely get that trip to Halifax included for very little cost if we find the right program.
Frequent Flyer Programs
As mentioned, the only real frequent flyer program in Canada is Aeroplan. The Westjet program is simply a bank of dollars to be used on any flight.
Air Canada
The great advantage to using Aeroplan miles for this trip would be the free stopovers included in every roundtrip ticket. This means that the trip to Halifax will have no additional mileage cost.

The other great advantage to this is that if you have the TD Aeroplan Visa, you get your 1st checked bag fee waived on all Aeroplan award flights.
With little ones, I imagine that bags will be checked, so this route might save significant amount of money, assuming it is doable.
Air Miles
As mentioned in the article on discounting intra-Canada travel, I don't think Air Miles are very easy to use. It would cost about 4000 Air Miles each person for a trip from Alberta to Ontario. Since you don't have nearly enough and earning a large ma0unt is difficult, I think this is not a realistic option.
Airline Discounts / Booking Engine Discounts
Westjet Companion Pass
The Westjet Visa comes has a promotion where each year you receive a companion ticket for $99. This is something that we can investigate. Using this option, assuming that each of you has this benefit, we can get your fares down to ~$2000 total.
For Ziko, this is still $2000 out of pocket and you have to pay for your bags.
It looks like the best option is going to be to target Air Canada flights using a frequent flyer program such as Aeroplan.
Aeroplan Miles
I recently did a series on Aeroplan miles and used Calgary – Toronto route as my standard measuring stick. Unfortunately, using Aeroplan miles does come with a significant co-pay that wouldn't be applicable were you to use something like United miles.
Related Link: Is Aeroplan the Best Plan?
As a Canadian, though, it is infinitely easier to generate Aeroplan miles through credit card signups.
Required Miles
Each roundtrip is 25K miles + $150 taxes. For the 5 of you, that means you will need 125K miles, in 25K chunks. Remember, each ticket is 25K and you need the entire amount in each account.
You currently have the following Aeroplan miles:

Miles Needed to Accrue
Assuming you are interested in pursuing this route, you will need the following breakdowns of Aeroplan miles:

The ideal situation is to put all the miles into a single account. If that is the case, then if there are 5 seats available on all the desired flights, then everyone can be booked on a single itinerary. In the current situation, that would require more energy than it is worth since we want to split the "earning" work between 2 people.
The 25K/100K splits means that you have to put 1 ticket as 4 people and a different ticket as 1 person. This is not ideal.
Either of the 50K / 75K splits are great.
Finding Space
I have a few articles here on how to find space on Star Alliance here and here. In this situation, since you are booking Air Canada flights with Aeroplan miles, the Aeroplan site is going to be your best bet for finding space.
I have done an initial search for flights and there seems to be good availability from June onwards, especially if you are flexible. The screenshot shows availability for 5 seats on the flights that might work. With the ability to break it up, there should be no problem finding flights if you book soon.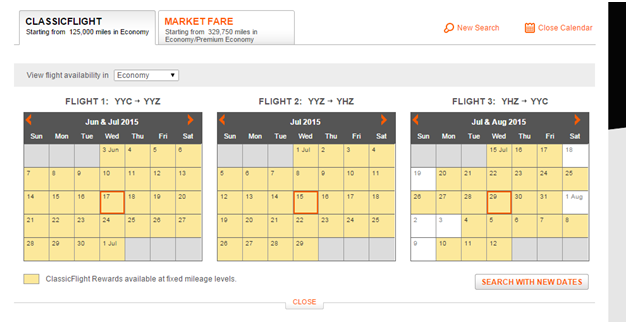 Earning The Aeroplan Miles
The fastest and easiest ways to earn Aeroplan miles are through the application of credit cards. Since you have good credit, you can benefit from that and let banks pay for your flights.
There are a few cards that will allow you to earn Aeroplan miles in one fashion or another:
TD Aeroplan cards
American Express Aeroplan cards
CIBC Aeroplan cards
American Express Membership Rewards cards
American Express Starwood Preferred Guest cards
For your situation, you are looking for a big hit with lots of Aeroplan miles coming in at once and ongoing you are not necessarily interested in using the cards. For that purpose, you would want to apply for cards with high sign up bonuses that require low spending thresholds to earn them and low (or waived) first year annual fees.
Options for Credit Cards
Right now, the 2 cards I suggest to apply are:
American Express Gold Rewards (Refer a Friend Link)
Card Name
Sign Up Bonus
First Year Fee
Other Bonus
Spending Requirement for Sign Up Bonus
TD Aeroplan Visa Infinite
15K Aeroplan miles at 1st Purchase
10K Aeroplan Miles after $1000
=25K
$0
$50 Rebate (for using Great Canadian Rebates)
$1000 in 90 days
American Express Gold Rewards
25K Membership Rewards(transfer to 25K Aeroplan)
$0
$500 in 90 days
Both of these links included are my links.
The TD Aeroplan Visa application goes through Great Canadian Rebates and will pay you $50 additional (by Paypal) if you use that link.
The American Express Gold Rewards application link goes through my referral link, which pays out 25K Membership Rewards after $500. The public offer is sometimes less than this and changes regularly. While I appreciate you using my link, I suggest you check both before applying to ensure that you are getting the best signup bonus.
My Suggestion
I suggest that each of you apply for both of these cards soon. As soon as the miles post then you can book your trip to Toronto and Halifax. The total spending requirement would be $3000 in the first 90 days. However, you can definitely get the TD Aeroplan first 15K each very quickly.
My thoughts would be to fill the spending requirements as follows:
| | Card To Use | Charge | Bonus Earned | Running Balance |
| --- | --- | --- | --- | --- |
| Ziko | TD Aeroplan First Purchase | Any Small Amount | 15K | 56K |
| Mrs. | TD Aeroplan First Purchase | Any Small Amount | 15K | 31K |
| Ziko | Amex Gold | $500 | 25K | 81K |
| Mrs. | Amex Gold | $500 | 25K | 56K (You are done at this point) |
| Ziko | TD Aeroplan | $1,000 | 10K | 91K |
| Mrs. | TD Aeroplan | $1,000 | 10K | 66K |
This would get you completing your requirements after $1000 spending (I imagine that could be easily done in a month).
Summary
Ziko wants to take his family of 5 from Calgary to Toronto for a family wedding and would like to add in a trip to Halifax.
Given that he has the time to plan, I suggest he and his wife each apply for the following 2 cards:
This will give him enough Aeroplan miles to take the trip he wants for $1000 in additional fees on top of what he earns from the credit cards.
His alternate would be to apply for the WestJet RBC card and use the companion pass, which would end up costing him about $2000.