This is part of a series where I answer readers questions. This question comes from reader Alex and wants to know about how to get great value from his RBC Avion points before he closes the card.
Part 2 – Toronto to Dallas
The Skinny
Alex has a stash of RBC Rewards points that he received from spending on his RBC Avion card. He has 3 trips coming up for himself, his wife and 2 kids.
This article will go through the analysis on his trip to Dallas.
He wants to fly to Dallas from Toronto in June. I think that the best way to do that is to transfer RBC Rewards to British Airways Avios during the 50% promotion, and book the trip using those British Airways Avios.
Recap
Hey Al,

We are a family of 4: Myself, my wife, a toddler and a 3 month old. We are making some trips this year and were hoping to get your help to maximize our points. We currently have 137,704 RBC Rewards (Avion). Basically, here is what we're doing in terms of trips this year. Obviously we know that we will not be able to use our points for all of it and the priority in getting free tickets is in order of our trips. For either trip in the US we are not opposed to fly from Buffalo if need be.

Trip 1: To Dallas (June 4 – 10)
Trip 2: To Chicago (Oct 9 – 13)
Trip 3: Calgary (Dec 25 – Dec 28/29 flexibility on departure date)

Thanks, Alex
I am going to focus on his trip to Dallas in this article. Please see the other articles in this series for further details on the other trips.
Here are my suggestions on the best ways to travel from Toronto. I claim for Toronto – Dallas, it is British Airways Avios.
Review of things that were discussed previously
RBC Rewards can transfer to British Airways, AAdvantage and Westjet if you carry an Avion card
There is currently (until June 30, 2014) a transfer bonus where 1000 RBC Rewards = 1500 British Airways Avios
Flights can also be booked using the Air Travel Redemption Schedule if you have an RBC Avion card
Options
Alex's first trip is Toronto – Dallas in June. Let's take a look at the ways he can do this trip using his RBC Rewards.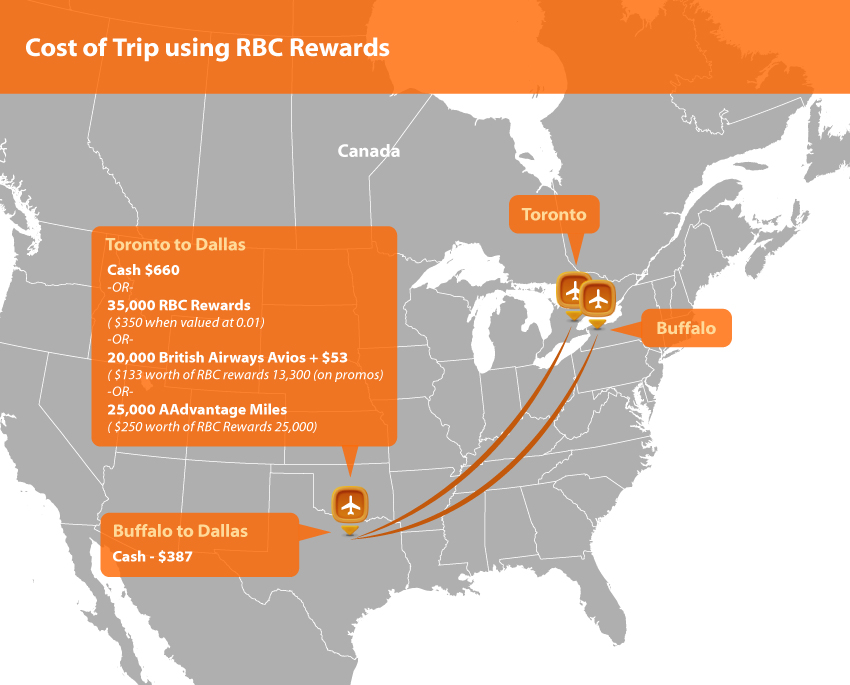 Cash ticket
The cash fare for an acceptable trip would be $660 flying return from Toronto to Dallas. It would be $387 for the return trip from Buffalo to Dallas. According the RBC travel redemption schedule, this would end up costing 35,000 RBC Avion points for each person.
Transferring to Frequent Flyer Programs
British Airways Avios and American AAdvantage allow you to book award tickets on American Airlines. The pool of flights where there is availability is the same, but the number of either miles differs depending on the flight.
British Airways Avios
It would cost 20K British Airways Avios + $53 for the roundtrip between Toronto (YYZ) and Dallas (DFW), assuming there is availability. This would require space on the direct flight operated by American Airlines. British Airways Avios awards charge you based on every segment flown, so a flight that requires a connection in, for example, Chicago would price out as a Toronto-Chicago and a Chicago-Dallas ticket. We want to make sure to get on the direct flight if possible. Assuming there is availability, this would cost Alex 20K RBC Rewards transferred to 20K British Airways Avios normally. During the current 50% transfer bonus, this would cost Alex only 13.3K RBC Rewards for the 20K British Airways Avios.
American Airlines AAdvantage
Using American AAdvantage miles, it would cost 25K AAdvantage miles for the same roundtrip. American AAdvantage prices out based only on the origin and destination, independent of how many connections there are. Assuming we can find availability and a reasonable routing, this would cost Alex 25K RBC Rewards transferred to 25K AAdvantage miles for the roundtrip.
How To Find Availability
Finding availability for award flights for British Airways Avios awards and AAdvantage awards is the same process. Remember, the available flights are exactly the same whether you use British Airways Avios or AAdvantage miles to book it. It is the same flights, but each currency prices those flights differently.
I suggest finding the flights you want and then figure out which types of miles you want to book with (whichever one will cost you less).
If you want to find routings that work, it is very easy to do that using aa.com. Simply search for the flights you want and select the option "Redeem Miles". The results you get when you give your dates, and routes will be the flights that you can book. This does not require a log in. This method will show you a price (12.5K) but remember, this is the number of AAdvantage miles.
AA.com will show you some options for Saver and Standard fares. Only Saver fares can be booked using British Airways Avios.
You can also search this specific route on BA.com. On the sidebar, select the option "Pay with Avios" and give your dates and routes. Using this engine you will need to login with your password. Also, this will show you the price in British Airways Avios. The flights that it offers you will be the exact same flights that AA.com offered you for the award flight.
Personally, I prefer to search on AA.com as it is very easy to look at a calendar and see if there are options or not.
Deciding which option to go with
In this case, it appears that the combination of the transfer bonus and the availability of a direct flight between Toronto and Dallas will make using British Airways Avios the obvious choice for this ticket.
When Alex wants to book his flight using British Airways Avios, he will have the option of either paying 20K Avios + his $55 in taxes for the roundtrip. He will also be presented the option of buying some of the British Airways Avios, in case he wants to save some. Often the rate of purchase is about 1.3 cents each. In my opinion, this is a good price to buy British Airways Avios at, if you are using them regularly and are not generating them through credit card spend.
In fact, if you are generating them through credit card spend, this is still a good rate to buy them at. By using the ideal credit cards, you should be able to generate 2 cents in rewards for every $1 spent. If you can in turn buy British Airways Avios for 1.3 cents each, then you are generating 1.5 Avios for every dollar spent ([2 cents] / [1.3 cents/ Avios] =~ 1.5 Avios) by taking the cash. In this case, with the transfer bonuses, this is essentially the same thing. If you may transfer at a rate worse than the transfer bonus, then you would be better off buying the Avios here for 1.3 cents each.
My Suggestion
I would suggest to Alex that if he is no longer generating British Airways Avios and he intends on flying on routes where British Airways Avios are valuable, there is value in buying up Avios at this rate.
In this situation, Alex can spend 20K Avios + $54.12 in taxes, or 8K Avios and $160 in taxes or somewhere in between. Doing some math, we get that the best value comes from spending 13K Avios + $144.12. He would essentially be buying the 7K Avios discount for $90 (in other words, buying 7K Avios at a rate of ~1.28 cents each).
Recap
The best way for Alex to purchase these tickets is to use transfer his RBC Avion Rewards to British Airways Avios. He can then use 20K Avios + $55 in taxes / person to buy roundtrip tickets from Toronto to Dallas. There is a lot of availability around his travel dates so he shouldn't have a problem booking his flights.