This is part of a series where I answer readers questions. This question comes from reader Alex and wants to know about how to get great value from his RBC Avion points before he closes the card.
Part 4 – Toronto to Calgary
The Skinny
Alex has a stash of RBC Rewards points that he received from spending on his RBC Avion card. He has 3 trips coming up for himself, his wife and 2 kids.
This article will go through the analysis on his trip to Calgary at Christmas.
Alex wants to go to Calgary at Christmas. I think the best way to do this is to keep your eyes out for a good fare and buy it as a revenue ticket. I think he will not have enough RBC Rewards left from his trips to Chicago and Dallas to make it worthwhile as flights to Calgary use up a lot of RBC Rewards.
Recap
Hey Al,

We are a family of 4: Myself, my wife, a toddler and a 3 month old. We are making some trips this year and were hoping to get your help to maximize our points. We currently have 137,704 RBC Rewards (Avion). Basically, here is what we're doing in terms of trips this year. Obviously we know that we will not be able to use our points for all of it and the priority in getting free tickets is in order of our trips. For either trip in the US we are not opposed to fly from Buffalo if need be.

Trip 1: To Dallas (June 4 – 10)
Trip 2: To Chicago (Oct 9 – 13)
Trip 3: Calgary (Dec 25 – Dec 28/29 flexibility on departure date)

Thanks, Alex
I am going to focus on his trip from Toronto to Calgary in this article. Please see the other articles in this series for further details on the other trips.
Here are my suggestions on the best ways to travel from Toronto to Canadian destinations. For Toronto to Calgary, I claim it is going to be either a cash ticket or an Aeroplan reward.
Review of things that were discussed previously
RBC Rewards can transfer to British Airways, AAdvantage and Westjet if you carry an Avion card
There is currently (until June 30, 2014) a transfer bonus where 1000 RBC Rewards = 1500 British Airways Avios
Flights can also be booked using the Air Travel Redemption Schedule if you have an RBC Avion card
Alex's final trip is to Calgary. Let's see what we can do to use his RBC rewards for this trip.
Revenue Fares
For this trip, cash fares are coming in around $675 range, assuming that you have to be there for the Christmas / New Year's week. Depending on where you are in Toronto City, you can save up to $50 on the roundtrip by using Hamilton or Kitchener airport as Westjet uses those airports as alternatives to Toronto. You can save some money and a lot of time at the airport by using the smaller airports.

Alex should just try to find the best fare he possibly can for the dates that work for him. I think he would do well to buy this ticket in the most efficient means possible using some of the techniques I discuss in my flight basics series on discounting airfares.
Using the RBC Avion Schedule
When we look at the schedule, we see that a Toronto-Calgary flight would be considered a long haul flight. A long haul roundtrip will cost 35,000 RBC Avion points, and will limit the price to $750. This is well enough above the $675 price point that we are seeing but gives us some flexibility in the actual flight without spending more points for a more convenient flight. Using 35,000 RBC Avion points for this flights would give a yield of close to 2 cents / RBC Avion point, which is very respectable.
Something to note about the schedule is that the price does not include all taxes and fees.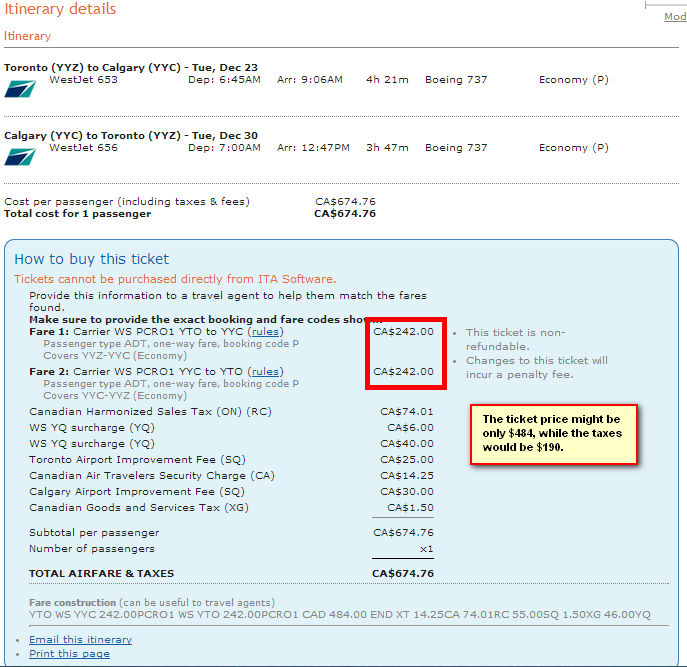 In this situation, checking out the Matrix shows us that of the $675 fare, only $484 or it is the "fare" while $190 of it is "taxes". This means that the 35,000 RBC Avion points would only offset $484 ($.0138 / RBC Avion point), while still having to pay $190 additional out of pocket. I would say this wouldnt be the best use of the RBC Avion points, but it wouldn't be a terrible use either.
Transfering to Westjet Dollars
Since the flight we want is potentially operated by Westjet, we could transfer our RBC Avion points to Westjet dollars and pay for the flight with those Westjet Dollars. Personally, I don't like doing this, because Avion points transfer at a rate of 100 RBC Avion points = $1 Westjet. The $675 flight to Calgary would cost him 67,500 RBC points if transferred to Westjet first.
I would say getting this return for RBC points constitutes a poor return. As I noted above, Alex would be better off just buying the flight from the travel redemption schedule as it would cost significantly fewer RBC points (35,000 RBC Avion points +$190 for the schedule vs 67,500 RBC points if transferred to Westjet).
British Airways Avios
Unfortunately, British Airways Avios and American Airlines do not have any partners that fly routes wholly within Canada, where you can redeem miles. There are partnerships with Westjet that allow the earning of American Airlines miles on flights operated by Westjet, but no ability to redeem.
If you are willing to connect in Dallas, it is possible to do it. I talk about this strategy in my best ways to travel from Toronto to Canadian destinations.
Using a US city to connect 2 Canadians cities is not generally allowed, but since you are combining a series of one-way flights that happen to use US cities, there is nothing illegal about it. By combining an American Airlines one-way from Toronto-Dallas and an American Airlines one-way from Dallas to Calgary, you can get from Toronto – Calgary, and it would cost you 20K British Airways Avios (10K for each leg) and $55 in taxes. The return would be the exact same fare for a total of 40K British Airways Avios + $110 in taxes. Factoring in the transfer bonus, and those 40K British Airways Avios would cost you 27,000 RBC Avion points.
That means, that if you are interested in connecting in Dallas, from Toronto to Calgary, then you can do this for 27,000 RBC Rewards + $110 in taxes (per person).
Other ways to discount travel within Canada
Unfortunately, there are not too many ways to discount your travel within Canada. On the cross-country routes (Toronto, Ottawa, Montreal to Calgary, Vancouver, Edmonton) there are really only the 2 carriers of Westjet and Air Canada.
Westjet flights can't be bought using any type of fixed value frequent flyer miles, so it is tough to really gain any discount there.
Aeroplan?
Air Canada flights can be bought with Aeroplan miles, which are readily available in Canada, as well as other Star Alliance partner frequent flyer programs. The issue with Aeroplan miles is that the taxes charged on Aeroplan redemptions is very high, and the miles generally offset very little of the actual cost of the ticket. To buy these flights at a discount, it is much better to try to find other frequent flyer programs, such as United, who will charge a reasonable amount of miles and low taxes on these flights operated by Air Canada. Unfortunately, finding these opportunities in the Canadian market requires significant investment of time and energy and is beyond the scope of this article.
Another issue with Aeroplan rewards is that there are very few seats available for award booking at Christmas. Even if Alex could generate the miles for this flight, there is a high likelihood that he couldn't find a classic reward for the dates that work.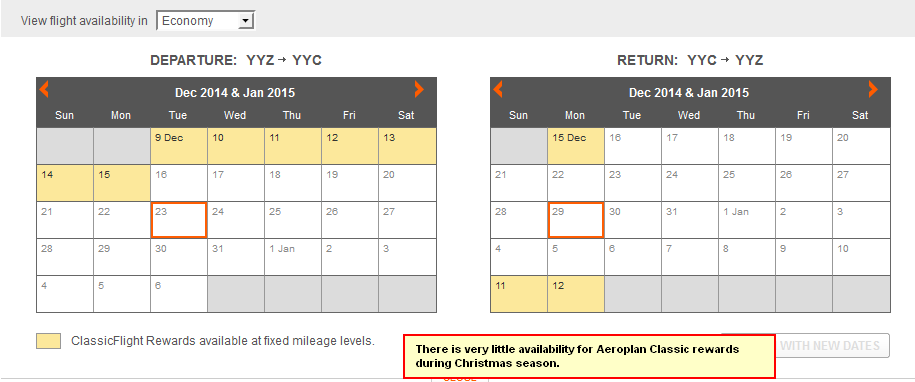 Summary
Alex should simply buy his ticket to Calgary using money, and save his RBC Rewards for a better use in the future. If he has a lot of RBC Rewards and would like to get rid of them, then he should book his trip from Toronto – Calgary using the flight redemption schedule, although this is not an ideal use of the RBC Rewards.