This is part of a series where I answer readers questions. This question comes from reader Alex and wants to know about how to get great value from his RBC Avion points before he closes the card.
Part 3 – Toronto to Chicago
The Skinny
Alex has a stash of RBC Rewards points that he received from spending on his RBC Avion card. He has 3 trips coming up for himself, his wife and 2 kids.
This article will go through the analysis on his trip to Chicago.
He wants to go to Chicago from Toronto in October. I think that the best way to do that is to transfer RBC Rewards to British Airways Avios during the 50% promotion, and book the trip using those British Airways Avios. Since there isn't enough space for all 3 in economy, he should book his wife in a business class seat while he and his kids sit in economy. The increase in price in Avios will be minimal and it will reduce his out of pocket costs in terms of bag fees.
Recap
Hey Al,

We are a family of 4: Myself, my wife, a toddler and a 3 month old. We are making some trips this year and were hoping to get your help to maximize our points. We currently have 137,704 RBC Rewards (Avion). Basically, here is what we're doing in terms of trips this year. Obviously we know that we will not be able to use our points for all of it and the priority in getting free tickets is in order of our trips. For either trip in the US we are not opposed to fly from Buffalo if need be.

Trip 1: To Dallas (June 4 – 10)
Trip 2: To Chicago (Oct 9 – 13)
Trip 3: Calgary (Dec 25 – Dec 28/29 flexibility on departure date)

Thanks, Alex
I am going to focus on his trip to Chicago in this article. Please see the other articles in this series for further details on the other trips.
Review of things that were discussed previously
RBC Rewards can transfer to British Airways, AAdvantage and Westjet if you carry an Avion card
There is currently (until June 30, 2014) a transfer bonus where 1000 RBC Rewards = 1500 British Airways Avios
Flights can also be booked using the Air Travel Redemption Schedule if you have an RBC Avion card
Finding award space can be done on BA.com or AA.com
You can buy up British Airways Avios for a good rate during the booking
Alex's next trip is Toronto – Chicago around Canadian Thanksgiving.  Let's look at various ways he can make use of RBC Rewards to book this flight.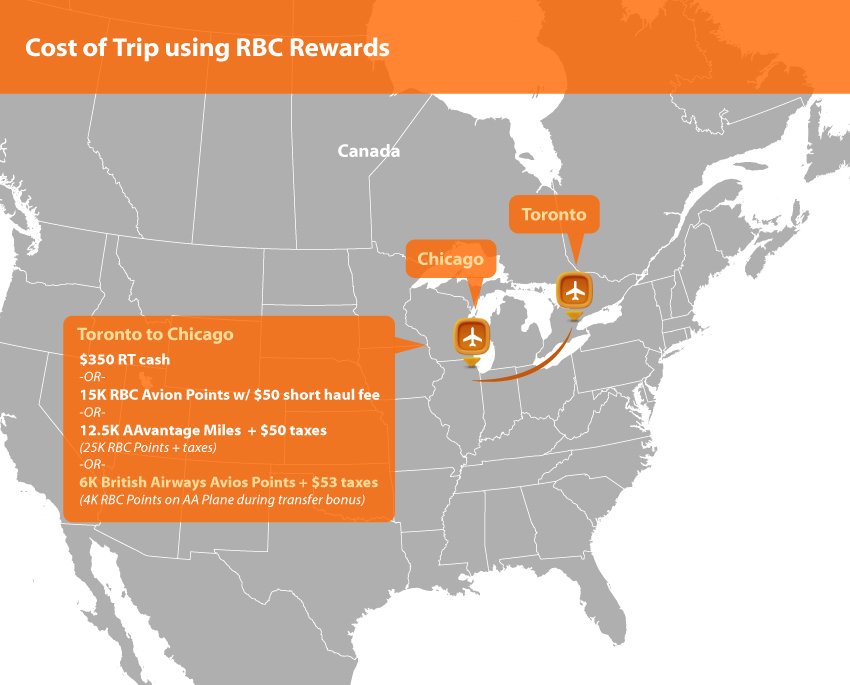 Here are my suggestions on the best ways to travel from Toronto. I claim it is British Airways Avios.
Revenue Ticket
It looks like Alex wants to go to Chicago on a long weekend and the prices for flights increase substantially for the Friday and Monday flights. Assuming that he wants to fly on the Friday – Monday, the fare is about $400 for the roundtrip. Having some flexibility around the dates lowers the price some but settles just above $350 as the cheapest option from Toronto.
If this ticket was just under $350 roundtrip (instead of just over $350), I would say this ticket is ripe for booking using the Capital One Aspire World card. With that card, you get 35,000 points with the application and paying the $120 fee, and you can use 35,000 points to pay for a ticket UP TO $350 total charged to your Capital One card.
Flying from Buffalo
A great way to discount this cash fare would be to fly from Buffalo. The savings would be about $100 / person on the roundtrip. Depending on where in Toronto Alex lives, whether he has a car, and how much time he has, this might or might not be worth it. Given that Alex has 2 little kids and there are options that we will discuss below, I think he should ignore Buffalo on this specific trip. For more information on flying from Buffalo, see my series here.
The Air Travel Schedule
Let's say that he doesnt want to use Buffalo as an option in this scenario. Assuming he wants to fly from Toronto, it would cost him 15000 RBC Avion points if he uses the flight schedule, as this is a short haul flight. This 15,000 will offset up to $350 of "fare". He would have to add on about $190 in taxes, though since the breakdown of fare vs taxes shows only $220 in "fare", and $190 in taxes.
There is a Maximum Ticket Price in effect for each destination. For example, a flight from Vancouver to Edmonton requires 15,000 RBC Rewards points and has a Maximum Ticket Price of $350.

In the event that the base ticket cost exceeds the Maximum Ticket Price (e.g. base cost is $400), the additional cost can either be charged to your RBC Avion card or you can use your points at a rate of 100 points = $1.00 CAD.
For this route, I don't think using the Air Travel Schedule is going to be the way to go. The tax portion is too high.
Transfering to Frequent Flyer Programs
American Airlines Redemption
Toronto and Chicago are both in the North America zone for American Airlines AAdvantage awards. This means that it would cost 12.5K AAdvantage miles each way + taxes and fees. We can take whichever routing we wanted to get there, but ideally we would want the direct flight. American Airlines AAdvantage gives us a lot of flexibility in the situation where the ideal routing is not available for rewards redemption. We can bounce around the country with a ridiculous routing and the price (in miles) wouldn't go up.
Assuming we could find a routing that is acceptable, be it direct Toronto to Chicago or be it Toronto to New York to Miami to Dallas to Chicago, this roundtrip would cost 25K RBC Rewards + $50 in taxes and fees if we were to transfer to American AAdvantage miles.
I don't think this is the best way to get this flight booked.
British Airways Avios Redemption
According to the British Airways Avios redemption schedule, a flight from Toronto (YYZ) to Chicago (ORD) would cost 4500 British Airways Avios each way. Fortunately, this route is operated by a British Airways partner, American Airlines. Assuming there is availability, we should be able to get this entire flight for 9000 British Airways Avios + $53 in taxes and fees each person for the roundtrip. This assumes that we can find space to fly the direct route from Toronto (YYZ) to Chicago (ORD) on the American Airlines plane.
With British Airways awards, you can buy up needed Avios at a rate of about 1.3 cents each or so. This means you can increase your "taxes and fees" portion and reduce the number of Avios.
If we factor in the transfer bonus, we can say this would actually cost 6000 RBC Avion points + $53 in taxes and fees.
Finding Availability
According to the British Airways Avios booking engine, we see that there is no ideal availability on the dates we are interested in.
Mix Economy and Business
For Alex's flights, it looks like we can actually get him the 3 seats he wants on a single flight on those days. This would be a combination of 1 in business and 2 in economy. Tickets in business cost twice the number of miles as a seat in economy. I think he should let his wife sit up front while Alex sits in the back with the 2 kids (one of the kids will not have to pay for the ticket as it is under 2 years old).
This would give the following breakdown:
| Passengers | Avios in Economy (ideal) | Avios using some Business |
| --- | --- | --- |
| Alex | 9000 | 9000 |
| Mrs. Alex | 9000 | 18000* |
| Alex Junior | 9000 | 9000 |
| Lap Infant | 0 | 0 |
| Total | 27000 | 36000 |
*Assuming the Mrs. is the one who has to sit in business
In Alex's case, he can get on flights he wants for a very small premium of 9000 Avios on the roundtrip.
Benefits of Business Class
One of the benefits of Alex letting the Mrs sit up front is that she will get a few checked bags included in her fare. Assuming they were going to be checking bags and paying for them anyways, this could end up saving the family some out of pocket expenses. Assuming they are checking 3 bags (between the 3 of them), they would have had to pay $25 each (or $75 total) if everyone was sitting in economy. If they put all the bags in Mrs. Alex's name and use her baggage allowance of 3 bags, they would be saving $75 in each direction.
In this case, the 4500 Avios premium paid in each direction is having a direct savings of $75 in each direction, along with the additional benefits of sitting in business class.
Apart from the baggage fees, I don't see there being any other real benefit worth paying for on this flight. The seat is a little bigger. Priority Boarding will be useless to them as families traveling with children board early. The ability to change a flight will also not be valuable if the other passengers can't change as well.
Flexibility
If there wasn't a business class seat available to make this work, I would suggest seeing how flexible Alex can be on this trip. If he can go a day earlier or later, then he can save some money by flying on other days. It is important to consider your cost of hotels in Chicago and the cost of time off from work etc and make sure it is worthwhile. Based on this, it is easy to book the ideal flights.
Cancelability of British Airways Awards
Once you have made the booking for the flight to Chicago on the non ideal date, I wouldn't plan to be married to those dates. We are pretty far away from the travel dates, so it is entirely possible that more award space opens up on the ideal travel dates. In this situation you will want to change your flight to the ideal travel dates. Unfortunately, there are award change fees in the range of $58 and $25.
Reducing your Change Fee
Assuming you are interested in making a change, the best way to do that is by paying the fee once for the redeposit of Avios. Your "redeposit" fee will come wholly out of the amount you gave to British Airways Avios in the taxes and fees portion. If you paid less than $58 in taxes and fees then you simply lose all of your taxes and fees but do NOT have to pay any additional owing amounts. Knowing this, we can use this to book some flights as a cheap insurance plan.
The Cheap Insurance Plan
Flights from the US to Canada (the return portion of Chicago to Toronto) will cost 4500 British Airways Avios + $2.50 in fees for each person, assuming you book it as a one way. If this is booked for an acceptable but not ideal day (say Tuesday in our scenario), then we can keep our eyes open for flights on our ideal travel day (Monday). If space opens up on the Monday, then we can simply pay the "redeposit fee" which will be capped at the $2.50 that we gave in taxes and fees for the Tuesday flight. The 4500 Avios will be redeposited into our account and we can quickly use them to book the Monday flight.
For this to work, you will want to pay the least amount in taxes and fees and the most amount in British Airways Avios and you will benefit from booking everything as separate one-way tickets instead of as a roundtrip. This works very well for the US to Canada leg. For the Canada to US leg, the taxes are approximately $50, so going the "change fee" of $25 route would be the one to go with.
| Route | Cost | Amount Returned (After a Change) | Cost of 1 Change |
| --- | --- | --- | --- |
| Booked As: Toronto to Chicago | 4500 Avios + $52 | 4500 Avios | $52 |
| Booked As: Chicago to Toronto | 4500 Avios + $3 | 4500 Avios | $3 |
| Booked As: Chicago to Toronto (with fewer Avios and more out of pocket) | 2000 Avios + $33 | 2000 Avios | $33 |
| Booked As: Roundtrip | 9000 Avios + $55 | 9000 Avios | $55 |
| Booked As: Roundtrip (with fewer Avios and more out of pocket) | 5000 Avios + $153 | 5000 Avios + $95 | $58 |
If you book this as a roundtrip, any single change will cost you $53 in change fee.
If you book it as 2 one way flights, a change to the Chicago – Toronto leg will cost only $2.50
Watching for better flights to open up
The best way to keep an eye out for flights to open up is to set up an ExpertFlyer account. The base one is free and you can set an alert for award space on the flight you want. Simply set up an alert and you will be emailed when your ideal flight opens up (if it ever does). This way you don't have to really worry about checking up.
Final Suggestion
For the Toronto – Chicago flight at Canadian Thanksgiving weekend, I suggest Alex try to target using his RBC Rewards to transfer to British Airways Avios during the promotion. Even though the ideal dates do not have flight availability for 3 in economy, I would suggest putting his wife on a business class ticket on the same flight as the rest of the family.
If he wants to save his Avios, or he can't find enough seats on the same plane then I suggest he be flexible on his dates and buy up flights around his dates. Book the  flights as one-way flights and pay the least out of pocket in terms of fees, as whatever is paid in the fee portion might be lost in the change fee. Anything paid in Avios will be returned / applied to another flight if you have to change anything.
Recap
Alex wants to travel to Chicago at Thanksgiving. The best thing to do would be to transfer his RBC Rewards to British Airways Avios during the transfer promotion. He can book using those. Since there are not enough economy seats on his ideal travel dates, he should look at buying some business seats (using Avios) and some economy seats (using Avios).