How do you go about choosing destinations? Do you spin the globe and drop your finger? Are you on a mission to see every X, Y, or Z? Do you wait for a unique opportunity or job offer? It's a big big world out there, and with so many places to see, it can be difficult to know where to start.
Dear Nora,

I don't know where to begin in planning my next trip! How do you decide where to go next? – Caroline
For me, I like to say I don't choose my destinations; they choose me – usually in the form of a unique opportunity. That opportunity might be a house-sitting or volunteer gig that caught my eye, or an invitation to visit a friend I met on the road in their home country. I like to have a reason to go somewhere that plugs me into the local culture in an immersive and rewarding way. With an entire world to "discover", I rarely go somewhere without having some sort of local connection or invitation to go.
I'm also blessed with total flexibility as a full-time traveller. Without time constraints, I prefer slow travel, which also helps me keep transportation costs low. I rarely fly long-haul for a short trip.
But my way is far from the only way; below, I've interviewed a panel of professional travellers of all kinds who share their own travel preferences and ways of choosing their destinations. It turns out, choosing travel destinations is a varied as the travellers themselves.
RAY BLAKNEY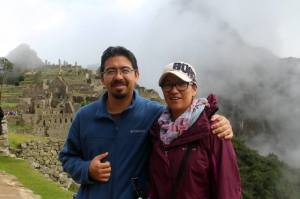 Ray is worldy by nature and upbringing; he's a Filipino-American who grew up in Turkey and currently lives in Mexico. A software engineer by trade, he and his wife run the website LiveLingua.com.
Travel Style: Total Immersion
Ray and his wife love long-term trips, with an aim to stay at least a month (ideally more) and get to know the locals and culture. They rent apartments or look for local language immersion schools.
"For people who have not done it before, the benefit of arranging accommodations through a language immersion school is that they usually have programs that allow you to live with a local family and also provide you with language and culture classes. In our experience, there is no better way to get to know a culture and country than living with a local family and learning the language. It also ends up being a very affordable way to travel since for the price of a hotel room you can normally get three hours a day of language lessons, comfortable accommodations, food with your family, and an insight into a country that most "tourists" never experience."
Choosing Destinations: Process of Elimination
Ray starts with a "bucket list" of destinations they'd like to visit, and narrows the choice down using a series of parameters, including time available to travel, what they want to do, budget, etc.
Next, he goes online and collect raw data to narrow down the choice further; this data includes cost of plane tickets, flight time, time zone difference, travel season (high or low), etc. Ray provided a simplified example to demonstrate:
Countries We Want to Visit:

– Morocco

– Bhutan

– Chile

– Kenya

– Sri Lanka

Parameters:

– Time for the trip: 2 weeks

– Things we want to do: Do some hiking

– Time we want to go: November

– Budget: $2,000 US

Process of Elimination:

Due to the time limit we have to travel (2 weeks), and the difference in timezones, Bhutan and Sri Lanka are out. Due to the budget Kenya is out (tickets are very expensive from Mexico). This leaves Morocco and Chile. Both allow us to some hiking and we can find plane tickets and accommodations in the budget. The main deciding factor would then be the date. November is summer in Chile, and still winter in Morocco. Since we would want to escape the cold we would choose Chile.
Resources: TV, Books, Friends
"The best resources we have found for picking places we want to travel are TV, books and friends. Whenever we see, read or hear about a place that sounds amazing we make a mental note that we want to go there. The list is big and growing daily".
MADAM ZOZO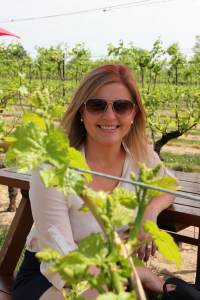 Zoë (a.k.a. Madam ZoZo) is an Australian graphic designer, creative consultant and blogger. She is a trailing spouse, following her husband and travel partner James, around the world on expat assignments. Together they take every opportunity to explore their new location and surrounds. Her blog, Duende by Madam ZoZo is where Zoë documents travel through her designer's lens—a collection of duende (Spanish for "soul and inspiration") that she finds along the way.
Travel Style: Quick Explorations
Because of James' full-time corporate job, time is their biggest constraint so their travels are generally fast. In order to reduce costs, they spend a lot of time researching and planning their trips to maximize their time. (See Also: How Much Travel Planning Do You Do?)
"Our trips usually range from 3 to 20 days in which we focus on experiencing one city, country or region as thoroughly as possible. We have broad interests and love to learn, so we are just as likely to be trekking in the Malaysian jungle, as gallery hoping in NYC".
Choosing Destinations: Location, Seasonal Activities
Zoë and James have a lengthy bucket list broken down by continents and countries, and include destinations, festivals, natural phenomena, and activities. Their ultimate choice depends on two factors:
"Firstly, as expats we take advantage of our immediate surrounds, to minimize travel time and costs. On long weekend getaways, we make localized road trips or visit places within three hours flight. When we have more time available, we look further afield to places within 5-8 hours flight. In the last year our home has been in the Midwest U.S.A, and our destinations ranged from Canada to Cuba.
Second we consider seasonal activities or festival experiences that require specific timing. For example, one of our top bucket list items for this year was swimming with whale sharks. We had to time our trip for their peak migration along Mexico's Yucatan Peninsula, to have the best chance of seeing them".
Resources: Flight Tools, Social Media, TV
"Time is such a big factor for us, so our first question when considering a destination is generally "how long it will take to get there?" Therefore, flight tools like Google Flights and Skyscanner are my go-to when determining which destinations are within our range".
Zoë also discovers destinations of interest through Pinterest and Instagram, as well as through documentaries and television. "I recently watched a documentary on Netflix about the migration of the Monarch butterfly. I'm now excited about visiting the mountains in Mexico where the butterflies roost in their masses. Watching shows such as Anthony Bourdain Parts Unknown also inspire us to consider specific destinations".
AGNESS WALEWINDER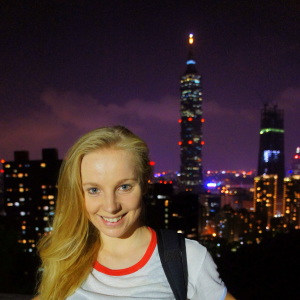 Agness is a full-time travel freak from Poland. Together with her best friend and travel companion Cez, they've been travelling for five years. This awesome duo handles three blogs at the moment: two travel sites Etramping and Atuktuk where you can find the best budget travel tips, and Run Agness Run where Agness promotes her healthy travel lifestyle.
Travel Style: Full-Time
As a full-time traveller, Agness loves spontaneously hopping from one country to the next with no time constraints. She keeps a balance between long and short stays; if she likes it somewhere, she stays longer. And whenever she's ready, she moves on.
"I'm a curious girl when travelling so if I could, I would be in few places at the same time. Thus, I try to visit as many sightseeing spots as possible when visiting a certain city and if time allows, I try to get to hidden places outside the city"!
Choosing Destinations: Flight Costs
Although Agness weighs many different factors, one of the biggest is the cost of flights. "If I see a good flight deal online, I go for it and pack my bags immediately to catch the flight the next day or week"!
Resources: Travel Blogs
"I read a lot of travel blogs regularly to get an idea of other travellers' experiences in certain places. If I bump into a travel post that truly describes an inspiring and interesting spot to see, I add it to my travel bucket list and search for good flight deals".
Secret Sauce: Flexibility
As a full-time traveller, flexibility is key for Agness. "Be flexible and it will cost you less money and effort to go to a great place where you will truly enjoy yourself"!
JASON MOORE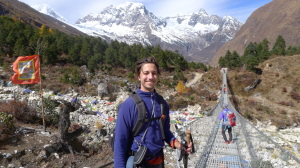 As host and creator of the top rated Zero To Travel Podcast (1.5+ million downloads in 195 countries), Jason shares thoughtful interviews, unconventional perspectives and actionable advice to help you travel the world on your terms. He is also the co-founder of the popular digital nomad community Location Indie. He loves road trips and local experiences.
Travel Style: A Bit of Everything
After 15 years of full-time travel, Jason is currently based in Oslo Norway where he is studying Norwegian and applying for residency. Although he enjoys budget travel, he refers to himself as a "free range" traveller when it comes to budget "because sometimes, when you spend months on the road you have to treat yourself"!
"Overall, I prefer slow travel because it gives you time to seek out the nooks and crannies of a place and a better chance to connect with locals. However, I have been known to blaze through a place full on backpacker style – which is extraordinarily fun when I'm in the mood for it".
Choosing Destinations: Culture, Activities, Seasons
"Often I land at the intersection between a culture I am drawn to, an activity I love, and the time of year. For example, I love the outdoors and always had a dream to visit Nepal, hike into the Himalayas and experience her culture. When I was free one October it was a no brainer – you can come on the hike with me through a new podcast series called Trekking Nepal: Your Adventure Guide. For the most part I know where I want to go and if the time feels right, I buy a ticket and go".
Resources: Book Stores
"I'm a little old school; my favourite thing to do is to head to a cozy book store and hole up in the travel section. I'll think about the months I've blocked out for travel, grab a stack of guidebooks from my destination wish list and check out the 'When To Go' section to see if the weather there cooperates with whatever free time I've blocked out for travel. After some daydreaming, I'll narrow down my list based on weather, interest level, things I want to do or people I want to visit. After that it's just a matter of picking the place that feels right".
Secret Sauce: Don't Overthink It
"I never struggle too much with where to go. It's one of those first world "problems" we are lucky to have and nothing to stress about. It's fun to land anywhere new. There is no wrong choice. If you like to be on the move then move because it's in your soul. Don't overthink it. The travel experience comes from within and we take that everywhere we go".
LAURENCE PASQUIER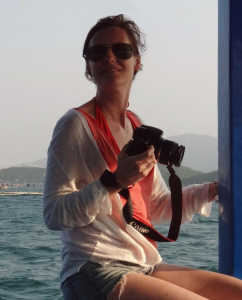 Laurence of Road to Quiet is a journalist and international speaker with a background in trend-forecasting, who spent her career between London and Paris reporting and writing on lifestyle and design, analyzing consumers' behaviours and expectations. Her combined interests for personal development and exotic travels led her to start writing about self-discovery on the road. She is currently developing a collection of guidebooks for mindful travel on spiritual lands.
Travel Style: Shorter Trips
As a solo traveller, Laurence enjoys calling the shots and staying as long as she likes in a place. She gravitates towards shorter trips, citing the ideal lifestyle as a month or two travelling, then a month or two at home. "I tend to move around a lot, usually spending a maximum of two or three nights in the same place. That can get tiring. Of course there is no rule; if I love a place I stay for longer, if I don't I move on".
Choosing Destinations: Time and Opportunity
"I tend to choose the destination depending on how much time I have. If I have two weeks then I will go to a small country so I don't feel like I'm only making a dent into it. For instance in March I could only spare 10 days, so I went to Sri Lanka. It's a small island and it made me feel like I was getting a good sense of what life in the country is like. This is also why I have still never been to Brazil or Australia. I feel that going to either for less than two months is pointless".
Laurence also travels a lot for her job as a journalist, so she makes the most of these trips. She recently took advantage of a press trip in Dubai to make a side trip to Israel for a couple of weeks.
Resources: Instinct, Guidebooks, Blogs
Laurence starts out with a gut instinct and interest in a destination. "Whenever I think about a place and I feel butterflies in my tummy, then I know it's the one I should go to next! And then I do my research. I buy a guidebook, I read blogs, I contact the tourist office there, and start planning what is it I want to do there".
SAMANTHA & YEISON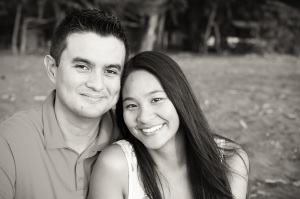 Yeison and Samantha are a Costa Rican-American couple living in Costa Rica. They are full time internet marketers and travel bloggers who run My Tan Feet, a travel blog focused on Costa Rica.
Travel Style: Short Slow Trips
This duo takes short-term trips, but with a slow pace. "We like to spend time really getting to know a place instead of seeing just the highlights. We traveled full time a couple years ago and squeezed in some short trips to different countries and found out that wasn't our style. We get burnt out easily! It's best for us to spend some time in one place to get a feel of it before we move on, plus we love getting to know the local lifestyle which you can't really experience in a day or two."
And with their home base in Costa Rica, it's easy to access North and South America and the Caribbean, which provides lots of fodder for their trips.
Choosing Destinations: Recommendations, Opportunities
Yeison and Samantha derive most of their travel destination inspiration from friends and fellow travellers. "We love hearing other people's stories and experiences so when we hear from many people that one country or destination is amazing, we know we have to see it for ourselves."
And while they both have a "bucket list" of destinations they're working towards, if a great opportunity arises outside of that list, they're on the next plane. "There are so many places to see in the world so if we get a chance to experience something new, why not take it"?
Resources: Pinterest, Blogs
"We're not big guide book fans but we use Pinterest a lot as there are many articles by travel bloggers who write about unique things to do in a country and great travel tips. And since we like to get recommendations from friends who have already been there, we get some great tips from them to help plan our trip."
REBECCA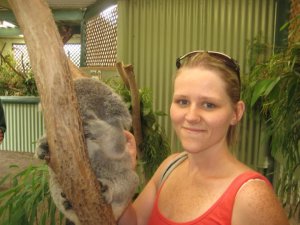 Rebecca is a graphic designer from Sydney, Australia. After starting her career in design she decided to do some travelling, so she moved to London on a Working Holiday Visa. Here she developed a serious case of the travel bug that was never cured. Rebecca combined her love of graphic design and travel, becoming a freelancer and taking it on the road. She blogs as her creative outlet on A Creative Nomad.
Travel Style: Moving Every Three Months
When Rebecca has a full work load, she stays put, but if work is light, her itchy feet may lead to a short-term trip. "I love long term travel; three months in a different country is ideal. Sometimes only short breaks are possible but I certainly can't complain about that".
Choosing Destinations: Boredom(!), Books
When wanderlust and boredom set in, Rebecca turns to Skyscanner. "I use their "everything" search function and am flexible on when I leave. I generally look for the cheapest flight or form of transport as priority, followed by trusting my instincts".
Books also get Rebecca's inspiration going. "I made a life changing decision to live in Japan based on a book I read called "The Printmakers Daughter" by Katherin Govier. Stories from other travellers are always enticing as well. I have wanted to visit Slovenia for years ever since hearing about it from someone I met in Turkey".
Resources: Skyscanner, Blogs, WikiTravel
Skyscanner is tops among Rebecca's choices for cheap transport searches. "I also read a lot of blogs, I keep articles in categories of countries to be read when I go to these places. Wikitravel is my favourite for a quick guide to a new place".
Secret Sauce: Instinct
"I think instincts play the biggest role in where I choose to travel to. Looking into cultures and stereotypes also helps, anywhere that I find interesting or that I am curious about, entices me to want to visit the place".
How do YOU choose your next travel destination?
choosing destinations, Dear Nora, travel destinations